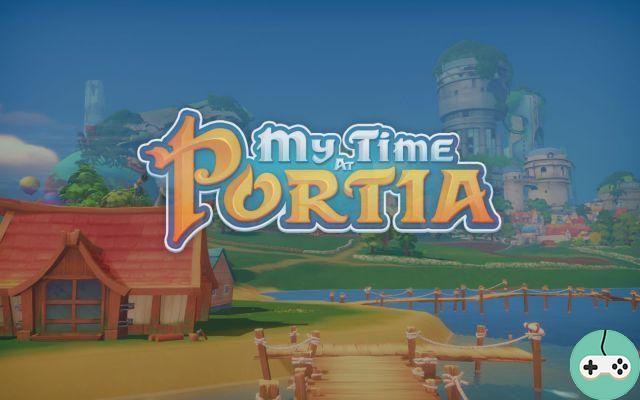 My Time at Portia is a nice game slated for early access in early 2018, after a successful fundraising campaign (in which you can still participate directly through their official website). And I had the opportunity to test it in preview during the alpha phase currently underway!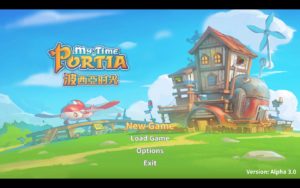 First steps
The launch of a new game involves the creation of a character. Girl or boy, My Time at Portia does not, for the moment, offer a large choice of faces or hairstyles, I still manage to create a rather cute avatar.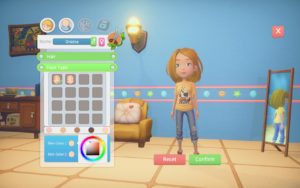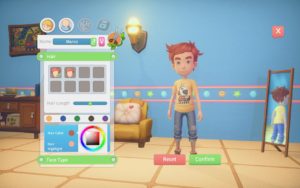 The creation finished, I sail on a boat and arrive in sight of a green and freshly colored island.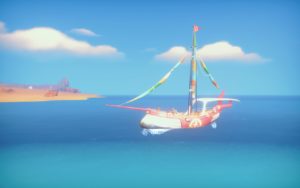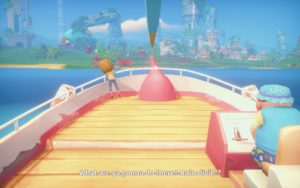 My adventure on Portia begins at the port where I am greeted by Presley, the mayor of the town. This is the opportunity to discover the commands and to switch my keyboard to American. The character moves quite classically with the arrow keys or WASD. She sprints while holding down the Shift key and jumps with Space.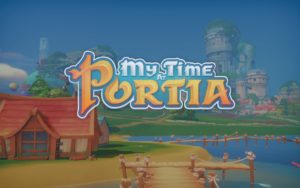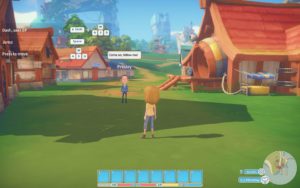 Here is a general summary of the shortcuts.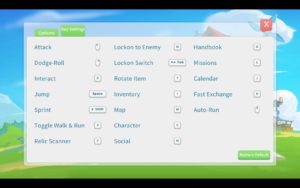 Presley takes me to my late father's old house, a shabby hovel that he leaves to me and that I will have to repair quickly to get a good night's sleep.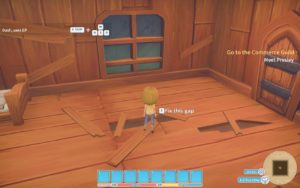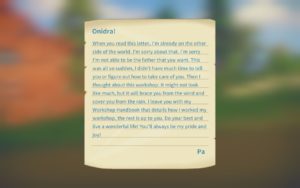 It's time to go get some wood to fix those holes in the floor!
Resource gathering
There are resources all over this world, the most basic of which are simply lying on the ground, just waiting to be picked up.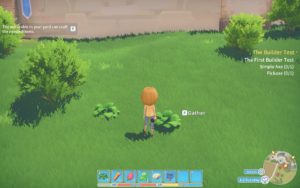 Hidden in the village, chests offer themselves to the sagacity of the climbers. They contain rare elements, usually already manufactured.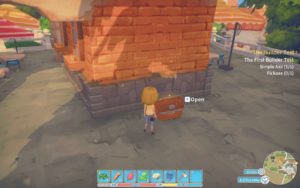 For rocks or trees, bare hands are not enough, tools are essential: pick and ax. They will need to be improved over time to collect more advanced resources.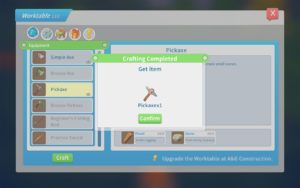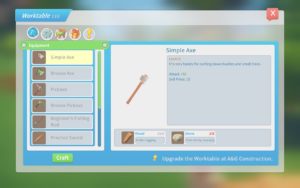 To attack a rock or a tree, nothing could be simpler, once close, I equip my tool by selecting it in the shortcut bar then right click to use it. Resources are falling all around me and then going nicely into my inventory. This is limited, fortunately there are wooden boxes that are very easy to create to store what is needed, even if this sometimes requires making additional round trips to unload.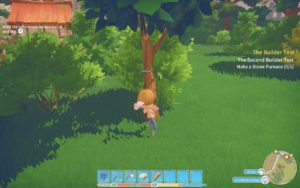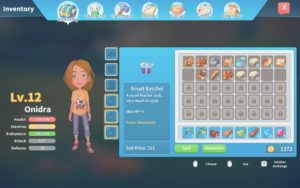 Resource points, such as trees or rocks, reappear after several days in the game. You must therefore be careful not to completely deforest an area or wood could quickly run out. Gathering resources costs Stamina, which is recovered either by eating / drinking or sleeping.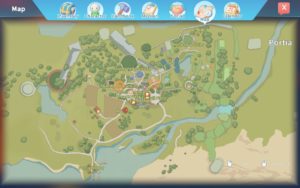 Exploring the ruins
These separate areas require you to pay a fee to access them (80 for the first time). Once there, the scanner lent by the protectors of the place makes it possible to detect the useful elements lost in the rock which appear in the form of large luminous spots. Forward for mining with, at the end of the day, essential artifacts for craftsmanship (fuel or spare part). Also great opportunity to collect a whole bunch of basic materials like tin, copper, sand, marble, stone!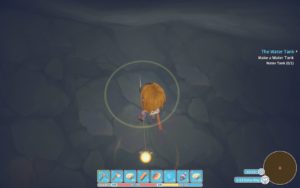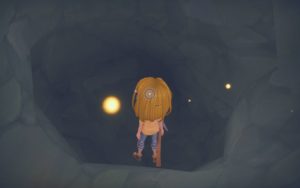 The first ruin is certain, on the other hand, it will be necessary to prepare to defend oneself in order to access the others who, for their part, are inhabited by wicked creatures!
craft
With these resources, it becomes possible to create heaps of objects. The first to do are quite simply the tools, ax and pickaxe, via the tutorial quest that guides the first steps of the novice craftsman that I am, the start of a long chain leading to ever more complex creations based on improved versions of workbenches.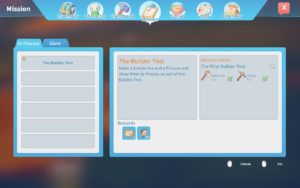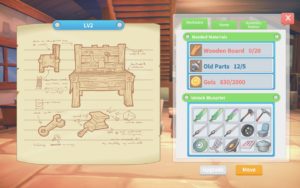 The most complicated diagrams are written in the notebook of "Pa", my father, which explains in particular how to create all the machines necessary for the making of the spare parts.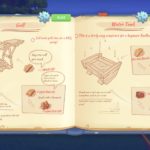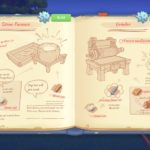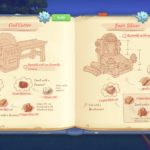 To create these complex parts, we will work at the assembly table, the shapes being to be completed with the supply of spare parts. As it is only possible to create one object at a time, you have to be vigilant and take a good look, upstream, at the required components: no need to embark on the creation of a machine if it requires components from 'another that we do not yet have.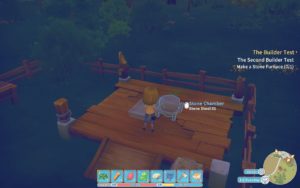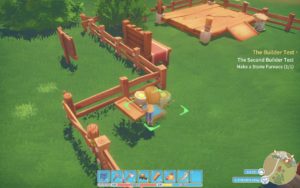 Once the item is finished, all you have to do is place it somewhere to use it. Each machine needs fuel to function, here wood, much easier to obtain than the artefacts of other machines. Once the fuel has been placed, all you have to do is choose the recipe for production to start. It will then take some time to get the result.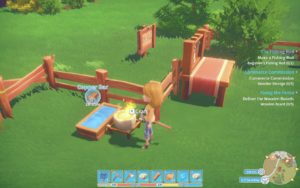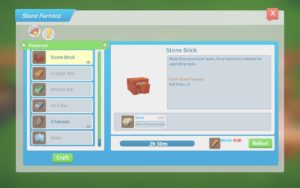 Nothing prevents to create several of these machines to intensify the rate of production!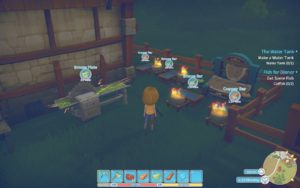 One of the ultimate goals of the moment seems to be this magnificent mini-bus!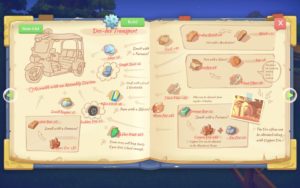 But above all, it is also necessary to build a bridge to explore the map of the world further, to become resistant enough to visit more dangerous ruins, to improve the house, workbench and assembly table ... resources and tailoring time!
Life in the village
My character evolves as a craftsman within a community, taking work orders from the Trade Guild and completing missions to help its inhabitants. After the first quests, I thus obtain my license to practice and a superb certificate.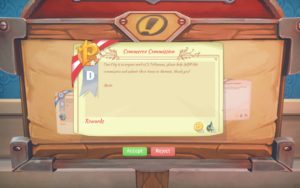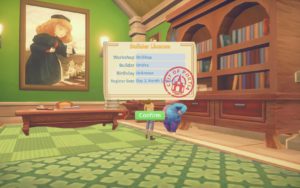 Everything has been done to make the village as alive and real as possible with day / night cycle, weather and the obligation to sleep every night.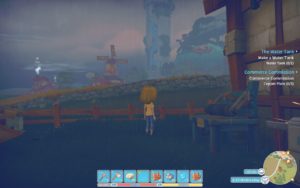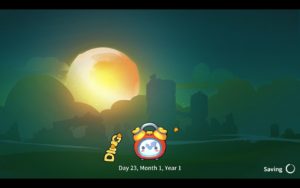 Impossible to enter a business at night, the shop is closed because its owner is sleeping, of course. Each inhabitant lives his life and goes about his business. Thus, several days in a row, I saw a painter return to his easel placed near my house, then he disappeared, no doubt installed elsewhere. Children enter and leave school at regular intervals. This other NPC I created a sword for likes to train outside. The interiors are charming, beautiful sets of objects that make you regret not being able to afford all your furniture for your home, but if the models exist, perhaps there is hope that one day the craftsmanship will be pushed. as far ?
Small note for this clock on the right which is synchronized with the time of the game!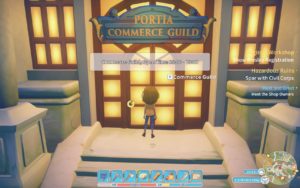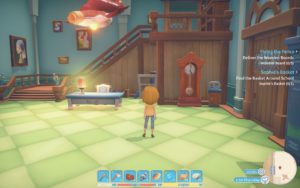 As a result, I have come to befriend the villagers of Portia and worry when they do not act as usual. There is not necessarily a quest involved, but it is indeed intriguing when a coffee regular is absent one morning. What's happening to him ? Each inhabitant has a friendship gauge, to be upgraded by discussing with him or by offering him gifts consistent with his tastes. From time to time, some also give me gifts.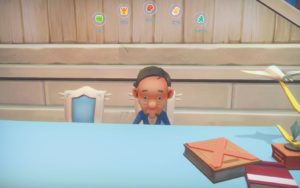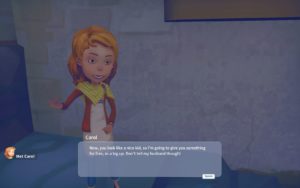 One-off meetings are announced by mail and organized in the village, it is important to keep an eye on the watch so as not to miss the event which usually triggers a quest. There's even a phone booth to chat with the game developers. Well, more or less!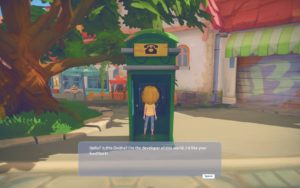 Character evolution
Beyond tools and machines, the character also evolves by climbing levels.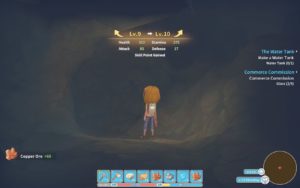 He gains in statistics and obtains access to very useful passives following three branches, combat, harvest and social.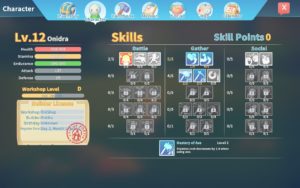 Fighting
One last note on the fight before concluding. To defend oneself in certain abandoned ruins, it is essential to know how to fight, even if this aspect of the game seems to me rather secondary for the moment. To tell you, I played 6 hours and only have one kind of snail / crab to test. To avoid killing the cute animals and to train, the village guards always agree to a little duel!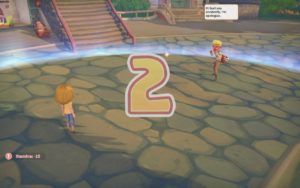 Conclusion
Early access is not planned for at least another 1 and a half months (they announce January on Steam) and yet the version presented here seems to me already more than ready. During my game, I only encountered one crash, I had no other malfunction, loss of FPS or bug. The graphics are really adorable and the atmosphere is charming. The learning curve is well thought out and, although we are in a pure sandbox, discreet quests and ad hoc information guide without giving the impression, avoiding being lost in the unknown.
From what I could see in the tooltips of objects that are still inaccessible to me, I still have many things to discover: cooking, farming, fishing, marriage ... Without count this map which should expand as soon as the bridge is finished. For my part, I hope on the one hand that they will continue to enrich the crafting system to allow to create interiors as beautiful as those of the NPCs and on the other hand that they will be able to offer multiplayer support to share Portia with some friends. In any case, I will continue to follow their updates closely: my adventures in the lovely world of Portia are not over.
In conclusion, a little gameplay video:
Play
Do you want to play immediately? A free demo is available on their site for an estimated playing time of 6-8 hours. If you're convinced, it will cost you $ 25 to invest on the second tier of their fundraising campaign and get beta access. Or you can wait for the release, the game will be available in 2018 on Steam, with a console release planned thereafter.