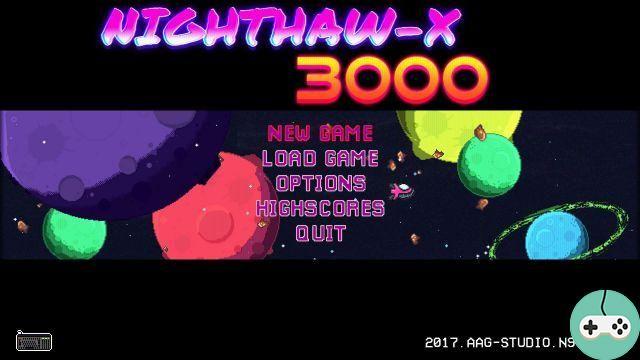 We are in 2000 and aliens are invading Earth! The only hope of humanity is me ... At the controls of my spaceship, my mission is to repel the invasion.
When the game is launched, immediately, I have the impression that I am more like 1980 in an arcade room. The graphics, as well as the music, are there to take me back to the past of video games. The interface is simple, flashy, with a story mode and a cooperation mode. Being alone, I opt for story mode and get started.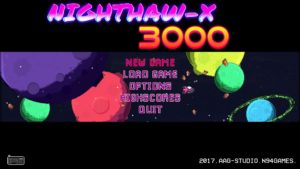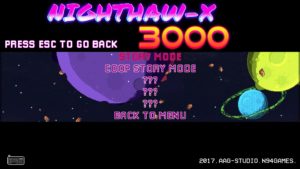 A brief cinematic explains the situation already exposed above. The aliens. Save the Earth ... Well, nothing unusual! I'm going for it.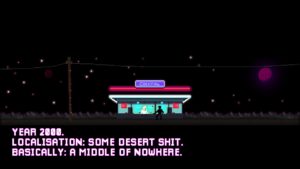 Nighthaw-X3000 is therefore a vertical scrolling shooter, the ship moves in four directions while the scenery scrolls automatically from top to bottom. I can dodge quickly by using Ctrl + an arrow key (or just quickly pressing the arrow key). With X, I shoot and over time loads a boost and an ultimate mode that inflicts damage across the line thanks to ships arriving as reinforcements.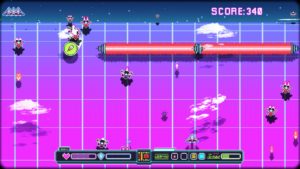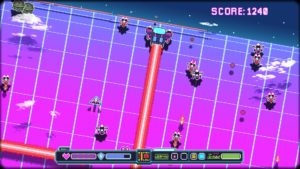 After having hardly managed to survive until the end of the first level, a boss takes the opportunity to attack me. He's mean, shoots lots of missiles, and gives me a hard time!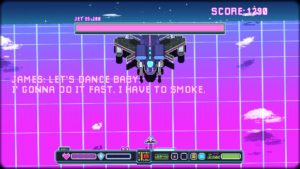 Laboriously, I manage to kill him and I have the right to a reward to choose from three.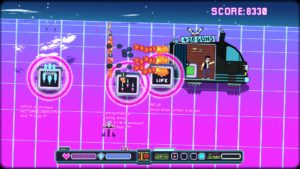 Without any other transition, the next level starts, with a different music and a more orange atmosphere this time.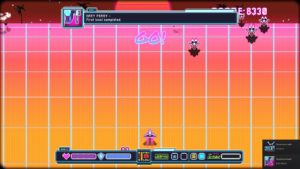 Unsurprisingly, being already particularly low in life, my ship explodes ... and I have the bad surprise to see that I am taking level 1 again. As the press release says so well, this game with high difficulty and levels Murderers is a reminder of how expensive it was to play arcade games back in the day (rest assured, no need to spend anything here to try again!). Offering a varied arsenal, each weapon with its own speed, fire range and power, Nighthaw-X3000 also offers a large amount of enemies, all with specific behavior.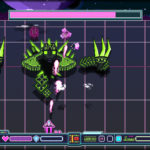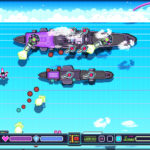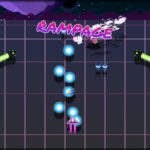 Clearly, Nighthaw-X3000 is not everyone's game. Particularly difficult, I put a number of tries before even passing level 1. So from there to survive to pass level 2 and then go see beyond, you imagine ... The enemies are very numerous, deadly bosses and the slightest inattention is not forgiving. If you are looking for a real challenge, to match your skills that made you successful in arcades at the time, or simply want to improve your reflexes, do not hesitate. There is a challenge and players are already exploding the scores: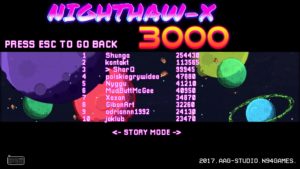 On the other hand, if you don't feel inclined to try again and again the same level to improve yourself, to avoid a possible death of a mouse smashed against the wall in annoyance after the thirtieth death, I don't think that this game is really for you. The game will sell for € 9,99, which I think is excellent value for money if you have the skills, and the patience, to advance through the levels sufficiently. Of course, if you find yourself stuck on level 1, well, there, obviously, it's expensive!
Feel free to share your scores in the comments!