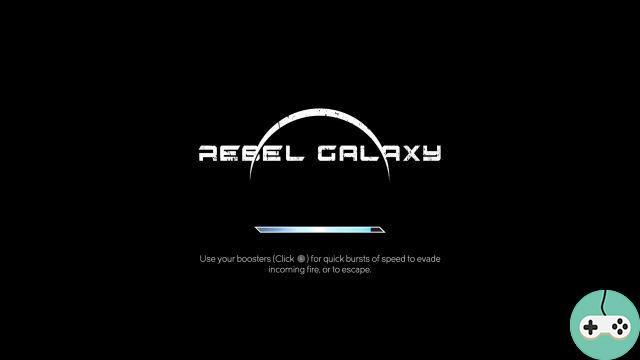 Today we are going for a walk in space with Rebel Galaxy, a space game developed and published by Double Damage Games. The objective of the game is to explore space as a mercenary.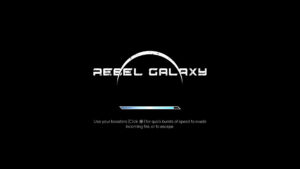 Let's talk a bit about the team managing the project, we find for example Erich Schaefer (Diablo, Hellgate : London) et Travis Baldree (Torchlight). It must be said Rebel Galaxy draws a lot from its two characters because we can define it as a hack'n slash with futuristic sauce. So let's talk about the game now, you play as a mercenary looking to survive in space with your ship armed with gentle cannons.
The game is classically broken down between main quests and side quests. You also have the opportunity to walk around to collect resources mined on asteroids. But beware, you are not alone in space and this is where the game gets tough. At the moment, we have 3 factions in the game with whom you can be on more or less good terms depending on your actions:
Citizen: By completing missions and saving the miners you will be able to increase your reputation
Militia: Same as citizens
Mercenaries: Quests only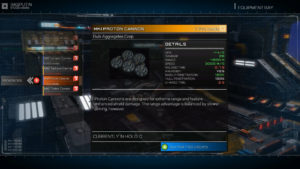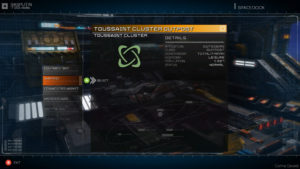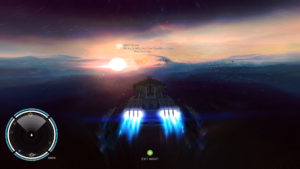 You should know that the universe is large enough to avoid boredom, your ship is equipped with super-speed (warp) technology. However, it is deactivated in some cases as a large obstacle in your path or when encountering enemies. Not being very friendly with them, I was often taken to task to protect a freight convoy or just because they wanted to blow me up.
There is no level in Rebel Galaxy, you can simply change ships or upgrade them with your credits. These credits can be acquired in different ways such as quests or protecting or eliminating a target in the open world. But how do we know if we can destroy our opponents in a battle? At the start of the game, we don't really know the enemy ships (corvettes, bombers, commander) so to remedy this we have a threat indicator:
Blue: No enemies or light ships → Easy battle
Yellow: A medium ship and a few light ships → Medium battle
Orange: Several medium ships and / or light ships in support → Difficult battle
Red: Go quickly ... very quickly ...
You should know that there is no respawn point in the game and that the only game saves will be made in space stations (place where you can take quests and equip your ship). Suffice to say that the "It goes wide" will make you return quickly enough to the harsh reality of the space world.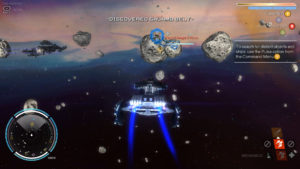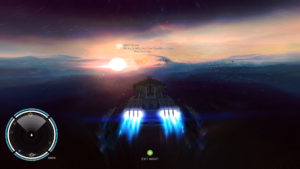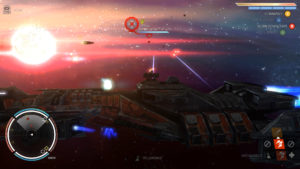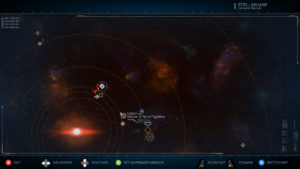 On the playability side now, Rebel Galaxy can be played with both the controller and the keyboard. For my part, I preferred to play with the controller even if I am not a fan of the practice. I found it more fluid in terms of movements and fights. Regarding the graphics, the game is quite nice but you should know that even if we are in a space game with a 3D dimension our ship only moves on a linear plane. Only the environment and light ships will be able to use the entire dimension of the galaxy. This system does not interfere too much either in the general gameplay of the game but it can sometimes be difficult to avoid an asteroid during a fight for example.
Here's a little preview of a Rebel Galaxy start-up with an attempt to try and destroy an enemy stronger than me ...
In conclusion of this article, Rebel Galaxy is a good spaceship game. The management of credits and improvements is also very well done. The fights themselves, are also very well constructed whether it is against the mercenaries or the militia. I hope that the next updates will bring new content or an expansion of the universe. The game is currently only available on PC but a version should arrive soon on console.