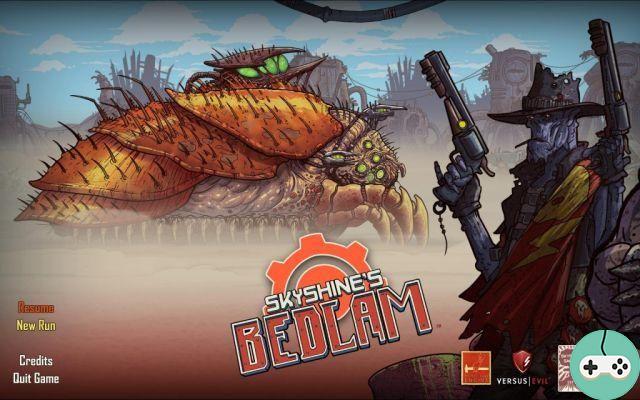 The world is not what it used to be. The victim of an unprecedented atomic war, the world is now plunged into chaos. To survive in this now hostile world, humans have had no choice but to take refuge in large cities protected by immense ramparts, thus cutting them off from hostile lands and mutants and robots who rule the law there. . But your city is slowly dying and choking. Your only chance of survival lies outside its walls, in a mythical city called Aztec City. Armed to the teeth and taking a vehicle transformed into a real fortress, you are off to this legendary destination. A long journey through the desert and its many dangers awaits you.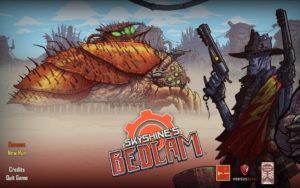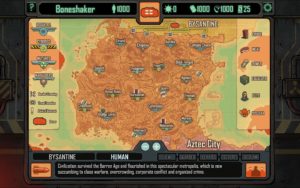 Taking the form of a tactical RPG, Skysham Bedlam therefore offers you to explore the desert steppes of this new world. As you can easily guess your trip will not be easy and there are many battles ahead. Based on a turn-based combat system, you will have to lead your team of adventurers to victory. But be careful though, because the title will be very demanding. Leaving very little room for error, Skyshine's Bedlam is ruthless. Indeed, artificial intelligence will be aggressive and will not hesitate to take advantage of your weaknesses to quickly exterminate the weakest members of the team. In addition, once dead your teammates cannot be brought back to life. You will need to recruit new warriors ready to go on an adventure with you.
Fortunately, it will quickly be possible to level up your troops and recruit new ones. You will find yourself with more powerful but also faster teammates, allowing you to be more efficient against the different hordes of enemies who will regularly present themselves to you. Of course, it will also be possible to customize the roles of everyone within your team. From the real bodyguard, through the stealthy characters or the ranged shooters, you will be able to create various strategies in order to survive in this hostile and radioactive desert.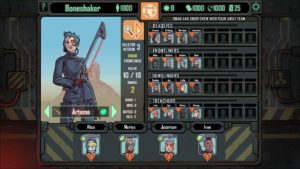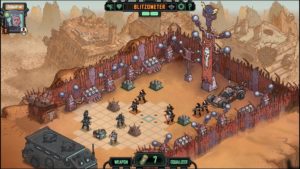 Your vehicle can also be improved. Indeed ; the latter will be able to benefit from improvements that will allow him to travel longer or to respond effectively to certain attacks. The goal here will be to carry out some missions so that you can find the parts necessary for its improvement. You will therefore be able to end up with a real rolling fortress capable of accommodating more team members but also of driving for longer and of thwarting certain ambushes thanks to state-of-the-art weaponry. A true mobile base for your squad, this vehicle will be as much a part of the team as any other character.
You should also know that this will be of great use to you because you will encounter many enemies on your way. The bestiary, derived from the greatest classics of post-apocalyptic worlds, will be varied but also extremely dangerous. From belligerent artificial intelligence to wild hordes and poisonous animals, this friendly bestiary will give you little respite. Thus, many missions await you and will make you meet a multitude of enemies all as surly as each other.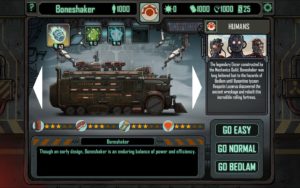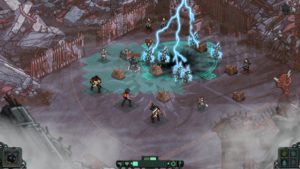 Graphically neat, the title has an original atmosphere that will delight fans of post apocalyptic westerns. With a richer script than it first appears, Skyshine's Bedlam is a deep title that has an original and gripping touch. So we end up with a game with very worked gameplay and scenario.
In the end, therefore, Skyshine's Bedlam offers us a complete and demanding adventure that will delight Tactical RPG enthusiasts. Although ruthless in its first fights, the game will be apprehended more easily with the increase in skill of the characters to finally deliver a more complete and pleasant experience. With an original atmosphere and a more complex story than it seems at first glance, the title from Skyshine may well make you travel to the depths of what is meant to be a post apocalyptic western. which would not have much to envy in the world of fallout. A great success.