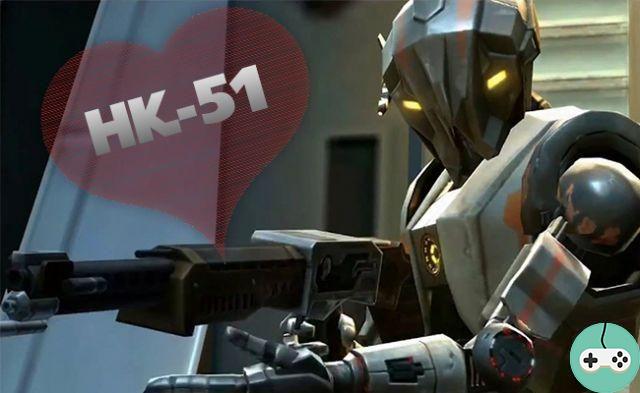 Being a veteran of the two KOTORs, and having really liked HK-47, I could not miss HK-51, released during my absence on SWTOR!
Before I started showing affection I had to unlock it, which I did using this guide: HK-51 Mission, if you still haven't unlocked it.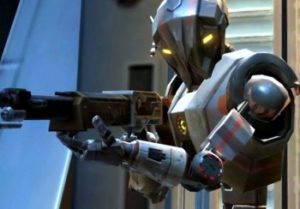 Unblock conversations
Choices in conversations
Partner Gifts
Unblock conversations
Personal conversations with HK-51 will unlock once you reach these different levels of affection:
0
1428
2856
4284
5712
7140
8568
Choices in conversations
Each time you reach the various previous levels, you can join your partner in the cantina or in your ship to have a personal conversation with him. Here is a table showing the different choices you will need to make to increase your affection with HK as much as possible.
Partner Gifts
HK only likes type gifts Technology, Trophy, Military equipment et Poor.
Tech, Trophy, and Military Equipment type gifts will have an overall low affect gain yield, grade 5 gifts are still worth it, and other grades are not to be overlooked, especially when you start to earn. build affection.
The type of preferred gift is therefore the Weapon type, which will always have a higher affection gain than another gift of the same rank. On my server (Darth Nihilus - Empire), this is unfortunately the rarest and most expensive type of gift in the galactic market, it will be easier with the mission crew skills: Illegal Trade, Treasure Hunt, Investigation and Diplomacy with which you can get gifts for your partner.
I couldn't find a list of "Weapon" gifts in spanish anywhere, so here is the full list to help you find them in the galactic market:
I hope that with all this, you will easily manage to show the affection of HK-51, I will just add that in conversation other than personal, he will obviously like all that will be of "the elimination of pests", so the obscure choices! Gentlemen Imperialists and Evil Republicans, this partner is for you! ?