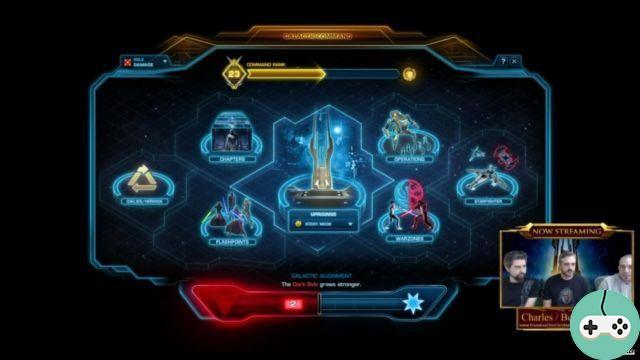 This third KotET presentation livestream reviews the few new features already presented in the previous two, galactic command and its dark vs light component. It will then focus on uprisings.
Summary
Community Discussions
Promotions
Galactic command
Uprisings
The planning of blogs and direct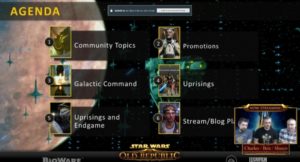 Community Discussions
A look back at the mechanics of building equipment. If necessary equipment it will always be possible to build it. It will not be the best possible equipment, but it will be possible to equip it for a secondary discipline while waiting to obtain the optimal equipment via the command system. Set bonuses will only come from this latter system and will not, as they are now, be accessible through equipment construction. Details will be coming to us later in the coming week as to what is needed, including the materials and blueprints to build this equipment.
Cartel Passes will be refunded to players who own them, whether they are in your inventory or in one of your banks. Passes in guild banks must be withdrawn before 5.0 or they will simply be destroyed without any compensation for lack of a player to assign them to.
Players who do not have access to the expansion will not be able to level up to level 70. As usual, F2P will therefore be limited to the old content which means that they will not have access to galactic command or uprisings.
Promotions
Small reminder of the subscriber benefits:
Subscribed to 27/11: Rapid Recon Walker mount.
Subscriber from 25/10 to 27/11: Early access on 29/11.
And here's a look at the recently released Despoiler Cartel Pack.

Galactic command
New brief presentation of this system. We don't learn anything new. If you missed the last livestreams, you can always find our two summaries to discover this system: the galactic command and its dark vs light component.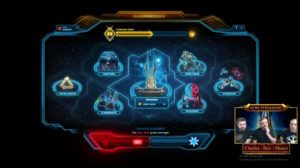 In summary, you will be able to access new and old content through a new interface and you will choose an alignment to join the effort as you play and try to win a victory of your allegiance and many rewards.
A new feature is coming to light with this livestream: it will be possible to play the 9 new chapters repeatedly and in several difficulty levels. However, be aware that only the choices made during your first visit to the story mode will be counted for the rest of the chapters. The highest level of difficulty (Master) will not happen immediately upon exit and will be based on the highest level of equipment expected.
Uprisings
Uprisings are new Flashpoints accessible through Galactic Command for subscribed players. Indeed, their access will only be possible from level 70 and without any other prerequisite than having reached this level.
There are three powerful bonuses that can be used in these new Flashpoints. They will be shorter than regular Flashpoints with fewer cutscenes to prevent players from wasting their time hitting the space key when they return. You will have to face more enemies there at the same time than usual.
Three difficulty modes will be available, story and veteran. The Master level will arrive later and will be designed to form a more serious challenge for groups, which will need to be well organized. To choose a mode, you will have to use the galactic command interface which will place you in a queue for this content. It is not specified whether it will be possible to queue in a group.
Planning of blogs and direct
Here are the next meetings expected for this last month of waiting before the release of the extension.
November 3 - Galactic Command: Combat and class changes.
November 10 - Repeatable chapters and difficulty levels.
November 17 - Preview of the new planets.
23 November - Kote wrap up the Q & A
Finally to confirm what was said during the last cantina tour, they recall that the beginning of next year will see group content coming. They will talk about it in more detail during January of next year.