Does the world seem bland and you dream of giving free rein to your desires for discovery and creation? Do not wait any longer, Trion Worlds now offers you an experience capable of satisfying you. So grab your shovel and your sword because the adventure is waiting for you. Trove, since that is its name, is a recently launched MMO that will let you play as an adventurer in search of glory. And although the game is still in its infancy, that does not prevent it from being already very complete. Yup Trove, more or less direct descendant of the Minecraft family, has a lot more to offer than just cubes and pickaxes.
Graphically, the aesthetics do not deceive. Directly inspired by minimalist pixel fashion, the title directly announces the color. But be aware that this simplistic graphic aspect has its uses. Indeed, the simple-looking worlds will be fully customizable, the graphics are therefore directly at the service of gameplay and creativity.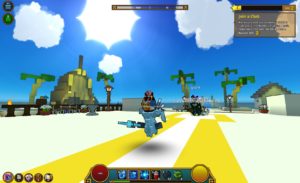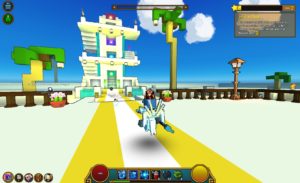 The latest from Trion Worlds will offer you, as it unfolds, many possibilities, both in terms of exploration and manufacturing. We therefore find ourselves here with a title capable of offering you a rich and varied experience skilfully mixing adventure, exploration and creation.
Your cubic adventure begins in a central world, a real hub for the different game territories to explore. What may surprise at the beginning is that there is no character creation phase. Indeed, you will just have the right to choose your starting class. The title will still pay for the luxury of offering you no less than 11 different classes. All featuring a specific style of play, they will allow you to explore every facet of the gameplay offered by Trove. Know that you can also change class over the course of your adventures to find the one that suits you best. And while not being able to create your character the way you want to start out might seem frustrating at first, know that it serves a very specific purpose: personalization. Because yes, as you can now strongly suspect, Trove is a sandbox type adventure game where you will have the possibility to create all kinds of objects, weapons and armor, which will allow you to excessively personalize your avatar.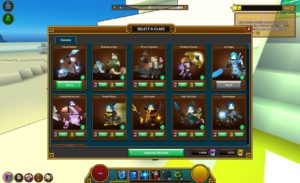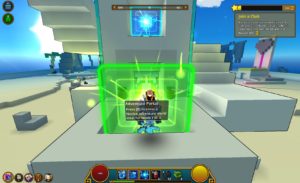 From then on, different worlds are available to you. Adapted to the different levels of your character, these give the possibility to explore different external worlds but also to browse dungeons and territories. Going on an adventure allows you to gain experience but also building materials. And it is precisely here that Trove stands out strongly from its elders. Indeed, the adventure and exploration side has been put forward and we end up with a title that will make you live great adventures alone or in a team. Many dungeons, more or less large, are spread around the world, each with its own objectives and quests. Consider bringing friends with you. Homogeneous groups are able to decimate large hordes of enemies and that's good because the dungeons offer a fairly tough challenge with bosses to boot. However, once this big monster is defeated, you have the right to open the coveted treasure chest, which offers you equipment and materials.
Because, like any good self-respecting MMO, social interaction is very important. You even have the option to create a club where you can invite your friends. This club offers members a world to allow them to meet but above all to build whatever your imagination will command you, a real treat.
From then on, great possibilities of construction open to all. By using the different forges available in your house, you will have the leisure to build a whole bunch of elements. This house, which you can take with you to the different worlds, can also evolve. Your only limit here will be your imagination and the materials available to you. Because yes, not everything will be accessible at first, and you will have to explore the different worlds to find new materials.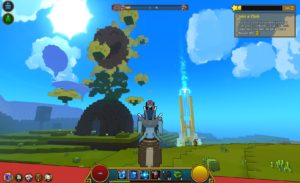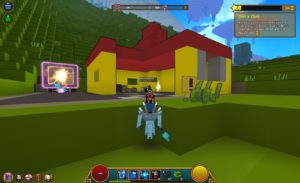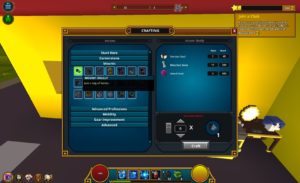 In terms of constructions, therefore, a lot is achievable. From the simple block of color through the workshops to the mounts and various gates. Everything has been designed to make the Sandbox experience long and interesting. We thus discover an important facet of the game, where you will have to go hunting for ingredients if you want to create and improve equipment and characters.
In the end, we end up with a title that is much more varied and pleasant than it seems. After the first levels which serve mainly as a tutorial, the game gains in depth and you will spend many hours exploring dungeons and wild lands in search of the ingredients necessary to perfect your little world. You will understand, an infinite number of things can be created and remodeled. From simple blocks to different mounts and pieces of equipment, everything is done to make the "LEGO" experience pleasant and in-depth. Trove the game that will awaken the curious and creative adventurer in you.