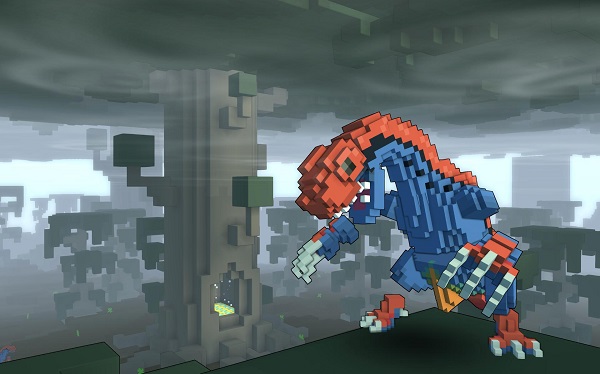 A new, very Jurassic update is coming to console versions of Trion's Cube game today. In preview yesterday, I had the opportunity to attend a presentation with the developers and to discover these dinosaurs which will very soon invade your biomes.
Class
This update first brings a new class, the Dino Tamer. This dinosaur tamer is a ranged fighter. He has four active skills:
A ranged attack with a dart.
A trap that stops and weakens any creature stepping on it. The size of the trap can be controlled by pressing the spell button for a longer or shorter time on casting.
A summon of one to three random dinosaurs that fight with it. The Raptor deals damage, the Pterodactyl stuns, and the Triceratops taunt the target. Obviously, when the three of them are there, it's carnival!
The ultimate that summons a dinosaur mount, increasing movement speed as well as attack power. The trap is also more powerful, always available, and will inflict additional damage.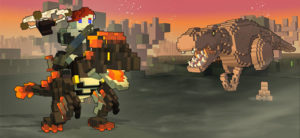 The dinosaur tamer looks like a lot of fun to play. It is a very dynamic class, dealing significant damage from a distance. The possibility of summoning dinosaurs brings a real plus in hard knocks, facilitating the fights against the bosses. Summoning the dinosaur mount is handy for escaping a bad situation, or just showing off in the hub with friends!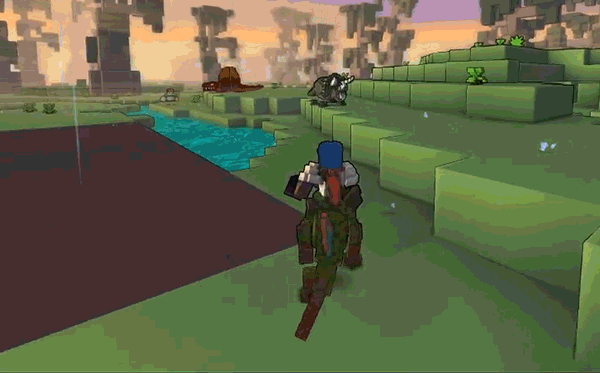 Biome
La jurassic jungle is a new biome filled with dangerous dinosaurs, deadly dungeons, and villains. There are two levels, so you can choose the difficulty according to the level of your character.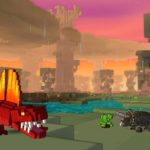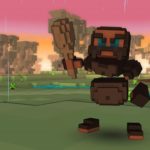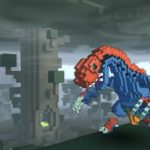 It is really very colorful, the dinosaurs are of all colors and come from everywhere. There are greener areas, with fairly abundant vegetation, luxuriant style, and others more desert. On the other hand, I think you have to be of a decent level to be able to venture here, because even in the lower difficulty, the monsters seem tough.
Dinosaur attacks
As we have seen in Jurassic World and its sequels, dinosaurs are not creatures that like to sit quietly in their world. And Trove is no exception to the rule, as dinosaurs are going to invade all biomes in a big event called Dino Attack. And it will also be on PC!
In a large 9-step quest line, you will be able to fight dinosaurs from anywhere and also collect a daily connection bonus. We didn't see the event, but they seemed very excited at the idea. The discussion quickly drifted towards the need to add a Candy Dinosaur to go with the Candoria area! Well, this is not planned, but who knows?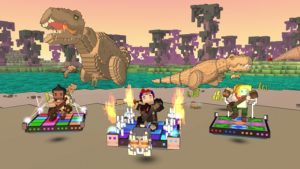 Mini games
Do you like to complete challenges every hour? So here are some other activities for you that you will find at the top of the same tower where you already find your challenges. Two types of mini-games are added:
A race requiring to go through as many rings as possible in a given time. There will be bonuses to be collected to improve performance.
A collection asking to collect as many objects as possible in a given time. There will be silver coins worth 1 point and gold coins worth 5 points.
Builders will be happy to be able to customize their own mini-games and be able to enjoy an additional type never before seen in their Club worlds. Indeed, they will be able to set up target training where the goal of the game is to shoot as many targets as possible from a distance.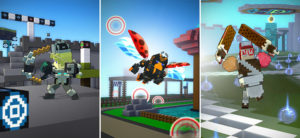 But also
Added translations in spanish and in German for the console version
new daily connection system starting in July which will allow you to collect coins to be exchanged for various prices which will change monthly. For this first month, the jackpot is a dragon egg to get Aurym, Keeper of Histories.
Now free "Chaos Chest", obtained by playing only. The new "Chaos Core Crafter" station allows you to create 45 costumes, peaceful allies, mounts and class unlocks. All classes in Trove can now be created for free through crafting.
It is difficult to realize the interest of an update through a presentation made by the developers. Even if this gives a good general overview, their enthusiasm shines through and, of course, everything looks super cool! In any case, the dinosaurs seemed really great to me and this new class makes you want to play without delay. Good news, the update available in-game, now and for free, so don't hesitate to take a look, you could fall in love with Trion's briquettes!