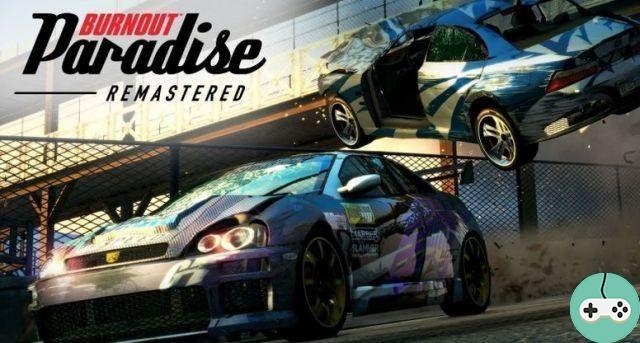 Burnout Paradise, initially released in 2008 on PS3, Xbox 360 and (and in 2009 on PC), has been available since March 16, 2018 on PS4 and Xbox One in a remastered version and will be released later this year on PC!
Burnout Paradise Remastered takes again what made the success of the base game (or the misfortune, according to the tastes of each one). Pure arcade racing, with crumpled iron, exploding cars and perpetual stunts, all in an open world, something that is sorely lacking lately, the "fashion" being more for simulations than the arch (which is also very good for making our steering wheels profitable: D)
If you've played the game 10 years ago, you'll instantly find your marks, the remastered version doesn't change anything from a gameplay standpoint, nor does it add anything new. The good thing is that this version includes all DLC released at the time, namely:
Big Surf Island
This DLC adds a new zone of zones (!), With new challenges, elements to discover (panels, barriers, jumps, etc.), new events and nine new vehicles.
Boost
Another DLC that adds two new vehicles
Burnout Paradise Party
A game mode that allows you to play multiplayer locally
Motorcycle Burnout
This DLC adds motorcycles in addition to four-wheeled vehicles. And allows you to perform new races and stunts dedicated to these vehicles.
Burnout Paradise Toys
This one adds remote control vehicles, miniature versions of base vehicles and new vehicles
Legendary cars
Four new vehicles are available in this DLC.
Cops and Robbers
This DLC adds 33 (!) Police vehicles (all of which are variations of the base vehicles) and also features a new game mode for the multiplayer version.
Cagney
This latest DLC adds several new modes and challenges, two new vehicles and additional finishes (appearances / paintings).
All these DLC are present in the remasterised version and are immediately available as soon as you launch the game, there is no need to reach a certain point in the story, unlock certain permits, etc. Which is both good, and on the other hand, not necessarily good. Because many of these vehicles are very powerful and can make the game very (even too much) easy at the start of the adventure. Of course, you are completely free to decide if you prefer to use these vehicles or the "basic" ones, just to have a minimum of challenge!
Now let's talk about the remastered side, because that's the main point of this release. The game first underwent a little facelift on the image side. There is no longer the "fog" which was very present on the old version, the "dull" effect of the colors and the image has also disappeared and there is much less aliasing.
If you have a PS4 Pro or an Xbox One X the game is running at 60IPS and you can play it in 4K. If you have a PS4 and Xbox One «normal», the game will run at 30IPS at 1080p, which is more than enough and looks great! After a good twenty hours of playing on it, I did not notice any drop in framerate, the latter being stable all the time, whatever the conditions.
As regards the graphics, there are not very big changes, but enough to make a difference. Most of the work has been done on the vehicles, particularly with regard to the effects of lights and reflections on the bodywork. The rest of the game, such as buildings, roads, "lambda" vehicles, ground, scenery ... has undergone some changes, but quite minor, such as more detailed textures. A lot of work has been done on the effects of lights and reflections, which were barely visible before (or even absent for some effects), but also on effects such as smoke and particles, now making everything much more realistic. and beautiful. Basically, taken one by one, these changes are hardly noticeable, but put together all together, this gives a very nice result !
But the graphics aren't the only ones to have been remastered. Music Also, as well as the dialogues of DJ Diabolica (who is not the voice of Dorothée as one can read it everywhere, but that of Carima Amarouche, alias Karimouche, a spanish singer). The soundtrack, meanwhile, is still excellent and well provided. Not a single track is missing compared to the old version. We therefore find legendary artists and groups such as Guns N 'Roses, Adam and the Ants, B'z, Faith No more, Twisted Sister and so on!
Conclusion
This remastered version is very pleasant to immerse yourself in the Burnout adventure or to discover it! However, for those who have already had the pleasure of playing the version of 10 years ago, this is a good remastered. Without reaching the visual standards of a game of this generation, we approach it quite well and we perceive the changes. In short, it's really a remastered version and not just a simple port presented as a remastered (which happens a lot lately!)
If you've played the regular version on console, the changes between the old version and the remastered are pretty glaring.
It's very pleasant to find Burnout! The fact that all DLC is included is also a great thing and it's nice to crumple the tin again! In short, whether you already fell in love 10 years ago or not, Burnout Paradise is a sure bet if you are looking for an arcade and fendard racing game!