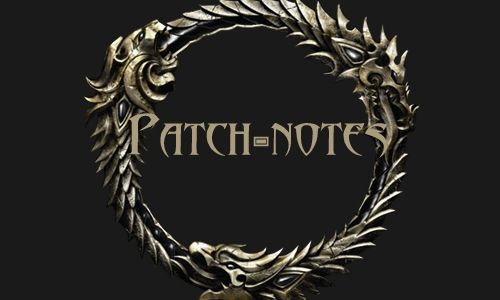 After the update that took place last night April 7, here is the patch notes of the fixes deployed.
General
The Elder Scrolls Online v1.0.2 makes a number of fixes to existing content, especially issues with quests blocking progression.
Fixes and Improvements
Alliance War
General
Fixed an issue that resulted in siege engines behaving strangely after a crash.
Crafts and Economy
General
Fixed an issue where the game could crash when selling an item to a merchant.
Supplier bags can no longer be exchanged.
Dungeons and groups
General
Changed the names of several items that can be found in dungeons.
The Tongue of Sheogorath: The cave boss will now respawn at a suitable rate.
Crucible of Elders: Choking Bramble will now always become aggressive when tapped.
Veteran Darkshade Cavern Boss: Engine Guardian's green phase properly engages.
Black anchors

Fixed an issue where a Black Anchor could get stuck when a large group attacked it.
Dark Anchors return to their original state when no one is nearby.
Diverse
General
Fixed an issue where members of a guild who could only deposit deposits could not do so in the Guild Bank.
Fixed an issue where the player could not ride their mount if they discovered a new area while on horseback.
quests
General
Fixed an issue occurring in several areas where monsters or other players could be knocked out of the world.
Auridia
Frog races are now prohibited; the organizers are holding a petition right now in support of their return.
Wishing wells have been removed from Skygarde.
Cut the Bridges: High Matriarch Estre should now appear at the appropriate time.
In the Name of the Queen: Colanwë should no longer get stuck and hamper quest progress.
Queen's Rights: Queen Ayrenn should no longer get stuck and hamper quest progress.
La Mallari-Mora: Uricantar no longer instantly respawns.
Deshaan
Challenge Gruznak: Gruznak can no longer be continuously summoned.
Glenumbria
Ghosts of Westria: Fixed an issue where the "Listen to Rosalinde and Leon's Discussion" stage correctly ends and advances the quest.
Return of the Elements: Each player can now open a portal and progress the quest.
Master the Talisman: Gabrielle will always respawn next to the tree now.
Champion of the Guardians: If a monster defending the Wyresses gets stuck, it will reset correctly and advance the quest.
Return of the Elements: Fixed an issue where the quest would break when abandoned.
Wolves Among Us: Refugees will now transform into werewolves as they should.
Graht wood
Haven of Agitation: Jeer-Tei will always spawn on the ship.
Haven of Restlessness: Enemies should always spawn during the ritual.
Prasin
Craft Guardian: The Bosmers are no longer interested in brawling with the Sutures.
Scare the Dreadful: Kollopi's Essence Disguise will no longer work in Cyrodiil.
Reclaiming the Pass: You should now be rewarded for closing rifts in the "Close Shadow Rifts" step.
Mages Guild
Forgotten Knowledge: Fixed an issue that sometimes prevented the portal from being able to be used at the end of the Rumbler Hollow.
Main quest
Worm Castle: Overwhelming Power is now properly removed from you.
Cleavage
The Taillemont Split: High King Emeric should correctly spawn.
The Yokuda Children: Poison barrels should now appear in the "Let the Poison Conspiracy Fail" step.
Fangeombre
Fangs of Sithis: Barvyn should now respaw if he gets stuck.
The Screes
Desperate Souls: Boss events reset if the boss gets stuck.
Slaves of the Hereafter: Spectral slaves should be able to be freed.
The Brothers Will Rise: You should no longer be stuck after being killed by a Summoned Atronach.
The Brothers will rise up: Brimstone and Hateguard should now respawn if they get stuck.
La Brêche
Gift of the Worm: Sepulchral renderers should now respawn correctly if they get stuck.
Interface
General
Added a warning message warning that deleting a character will cause all items attached to that character to disappear, including pre-order bonuses, Imperial Edition, and beta.
Reduced the limit on the number of characters that can be entered in a chat message. This should fix the viewing issues in the chat window.