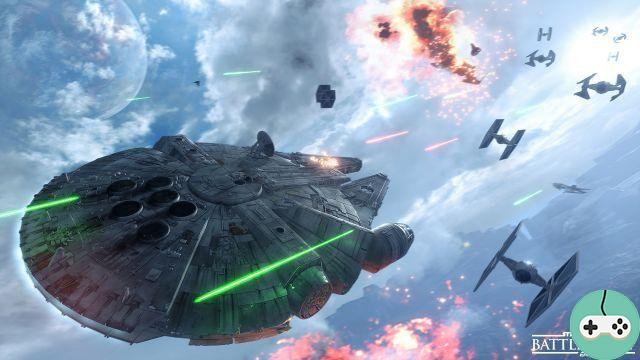 Following the release of the gameplay of the new game mode announced by Electronic Arts during its conference at Gamescom 2015, new information is gradually arriving concerning this game mode.
Ships
The ships that will be available in this game mode will be the X-wings and A-wings for the Rebels and the TIE Fighters and TIE Interceptor for the Empire. In addition, you will cross the road of twenty AI-controlled ships.
Objectives
The goal of this mode is of course to make the most eliminations, but not that. Indeed, in addition to shooting you, specific objectives will enhance your game. You will take turns either protecting a transport shuttle or destroying it.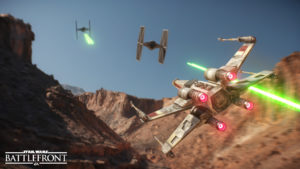 Bonuses
Each team has its own bonus for their ships. TIE Hunters and Interceptors will be equipped with a speed booster while Rebel ships will have a shield for a few seconds. On the other hand, all ships are equipped with a feature allowing them to initiate an evasive maneuver in order to be able to get out of all situations.
In addition and in order to give the advantage to your team, several bonuses are scattered around the map. Often placed quite low or on difficult airways, these will allow you to either repair your cuckoo or reduce the cooldown of your missiles.
Finally, there is the special bonus, which in my opinion will be coveted by more than one of you because it will allow you to take control and this for a few minutes of an emblematic ship corresponding to your faction. In this case Han Solo's Millennium Falcon for the Rebels and Boba Fett's Slave 1 for the Imperials.
We do not yet really know how we will be able to unlock these special bonuses, perhaps through rarer bonuses placed on the map, or even via "killstreaks" (series of eliminations). Nisador and Juliaan, who were able to test this game mode during Gamescom, in any case did not find it!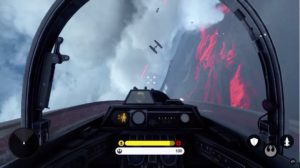 In addition, Peter Forsman explains to us that this game mode is accessible to all, indeed by introducing enemies controlled by the AI, it allows players to get their hands dirty while helping their team. Juliaan and Nisador were indeed able to realize it, the game seemed to them extremely accessible and easy to handle.
I let you discover or rediscover the gameplay trailer with spanish subtitles:
Are you tempted by the adventure of Fighter Squadron mode?