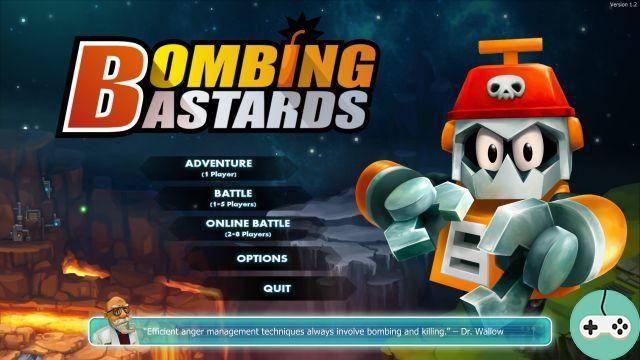 Did you like playing Bomber Man when you were little? Then you are going to love Bombing Bastards!
If we had a doubt about the type of game when reading the name, we no longer have it when launching its first game. The story holds in one line: we embark with Doctor Wallow to conquer the galaxy! Moreover, said professor explains it to me from the start when I launch the adventure mode for the first time (solo mode).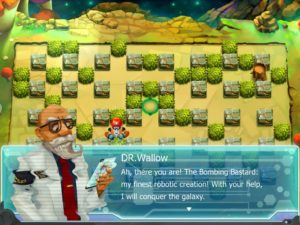 The first few minutes serve as a tutorial. We learn to drop a bomb (space key) and run quickly to hide behind an element of the scenery or out of reach to survive the explosion. The second lesson consists in recovering what was hiding in the bushes and other elements of scenery destroyed by the bomb.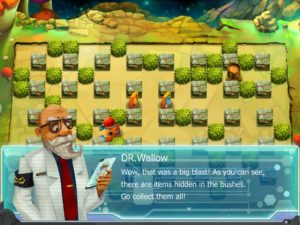 If we made a mistake when throwing a bomb, it is always possible to pick it up using the Alt key. This is also useful for throwing a bomb. Because when you wear it, if you press Alt again, the bomb goes over the obstacles. Kaboum!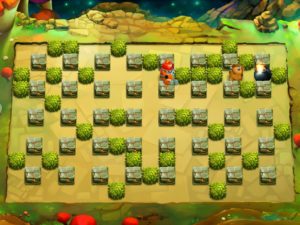 Even better, it is possible to detonate a bomb from a distance! After these few tips that we hope to remember, it's time to take action. The good doctor absolutely does not put pressure on us ... Everything is on our shoulders now: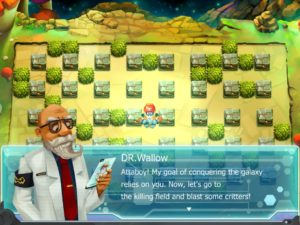 From there, we will advance in different levels, linked to worlds. We are starting out in the magical world (we also notice that the tutorial is in fact only level 1 of this same world).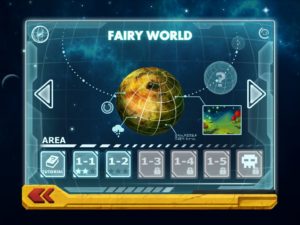 Each level looks the same: safe zones and destructible zones with lots of monsters walking around and our mission will be to destroy the pests in the allotted time without exploding with them. If we succeed, then the next mission is unlocked and our score (certainly based on the time achieved) allows us to have stars. Otherwise ... I think the screenshot on the right says it all!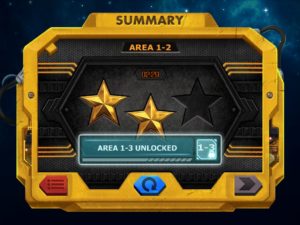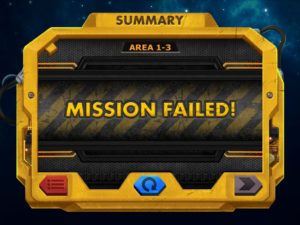 As our adventures progress, we can access new worlds, with ever faster and smarter villains. Obviously, when the vermin escapes from the bombs, you will have to start thinking to surround them ... while not finding yourself in the middle of the circle!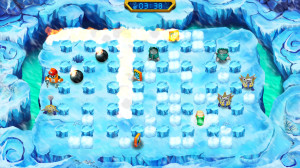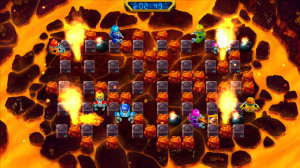 This single player mode therefore offers 5 worlds with 30 mazes and, at the end, a particularly tough boss from each!
If you prefer to go on an adventure against friends rather than the computer, rest assured, there are 3 modes:
Solo adventure
Local battle (1 to 5 players via joysticks)
Online battle (2 to 8 players via internet)
On the music side, it is provided by Samuel Safa, being described in the press release as "classical music massacred electronically". Don't ask me if it's a new musical genre but in any case, it's going pretty well. To conclude on this aspect, Doctor Wallow's comments are provided by David Goldfarb, an actor who notably participated in many voices in Mario Kart 8.
Originally released on Wii U, the game has been available on Steam since early December: