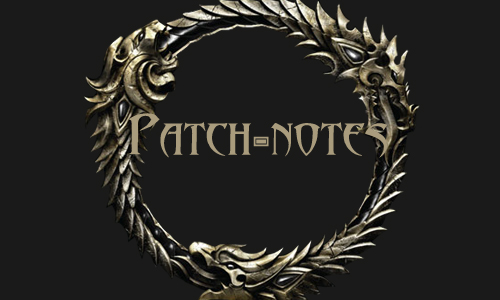 Here is a new list of hotfixes applied recently to the game that fix, among other things, quest issues with some fixes for dungeons, gameplay and NPCs in Cyrodiil.
Alliance War
General
Scrute-the-Path has decided to find the correct path to the North Gate of Morrowind, and is selling Elite gear.
Part-Loin has reduced the price of its goods, and now charges prices comparable to its neighbors.
Art and Animation
Animation
Riding a horse while wearing the Goblin Disguise from the Goblin Affection quest will no longer cause an animation error.
Light attack animations will now chain together more smoothly.
Combat & Gameplay
General
Fixed an issue where certain bonuses stacked more than intended, and in some situations could make them permanent until you log out.
Fixed an issue when switching weapons to take a bow: arrows could disappear, and the health bar could get out of sync.
Wizard
Daedric Summon

Fixed an issue that prevented weapon attacks from being used after switching weapons while Explosive Familiar is in your action bar.
Monsters
Vampires can no longer suck blood from camels.
Fixed an issue where most peaceful pets would no longer collide.
Dungeons & Groups
Raidelorn
Members of Aldmeri Domain or Ebonheart Pact can no longer attack Petronium Libo.
dungeons
Selene canvas

You will no longer be out of sync with the dungeon if you log out during the fight against Selene and that fight resets.
hardship
General

Trial quests on hard difficulty will now grant you level loot suitable for Hard difficulty.
Fixed an issue that did not increase the value of weapon enchantments from Hard Mode in Trials.

Citadel of Hel Ra

When playing on Hard difficulty, you can now use the Destructive Access synergy to free yourself from the Stoneform monster skill.
Exploration & Objects
General
The Divine armor line now increases the effect of the Mundus stones as expected.
Success
The White Gold Tower achievement has been removed from the achievement list until content is available to complete it.
quests
Auridia
Queen's Rituals: Queen Ayrenn will no longer get stuck during combat in the heart of Tanzelwil.
Raidelorn
The Corrupted Stone: You can now help your party during the "Reach the Warrior's Apex Stone" phase even if you don't have this quest.
Warriors Guild
The Prismatic Core: Fixed an issue where Merric could get stuck and prevent the quest from progressing.
Glenumbria
Brambles and Rascals: You will now be able to progress this quest whether or not you have the Scarlet Rook disguise in your inventory.
March of the Camarde
Path of the Two Moons: You can now discover and complete the POI in this area, and Cadwell's Silver quest will no longer progress until the Path of Two Moons is completed.
Scree
Sadal's Last Defeat: Fixed an issue that prevented Sadal from being defeated.
Interface
General
Fixed an issue where you would incorrectly pay for items that were not deposited after the 30 days allowed when repeatedly depositing items in the Guild Shop.
Fixed an issue that resulted in stacks of Runes of Enchantment appearing as unknown attachments when returned by return mail. You will now receive the correct items.