Having proposed to the editor Chef to test this game, I install it on my smartphone and launch an assault on the little creatures of this world. At first glance and after a few games, Brave Frontier clearly did not please me. The start of the game (the first 5 minutes actually) has a lot of text (in English) and I found it lacking in pizzazz in RPG-style turn-based battles. But hey, I was trapped so I had to continue the adventure ... which is ultimately really nice! Here is my opinion ...
The pitch
You play as a group of adventurers in a world mixing Final Fantasy and Pokemon but also with a mechanic based on these 2 universes. To advance in the increasingly complex levels of the game, you will have to evolve your creatures but also choose the right combinations of teammates to achieve victory.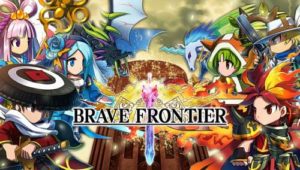 At the start of the game, you need to choose a good character from one of the four elements (water, fire, thunder or earth). No primary choice at this level, I personally chose Selena (water) because I liked the character. Subsequently, this character can evolve into much more powerful forms.
Once this character is chosen, you get after a series of dialogues your first allies, cute little round beasts. Immediately afterwards other summoned characters will join your team. It is then time to go on an adventure in the first quest area.
The gameplay
Each quest is a series of 5 or 6 more or less difficult fights with a final boss to defeat during the last confrontation. The team that you must choose for a quest must carry out the combats in succession and without possible change. Thus, if one of your creatures dies in one of the first fights, it will no longer be available afterwards. Likewise, wounds remain but can be healed. So you have to choose your teammates well, like in an MMORPG, in order to have different roles and strengths in your group, which I hadn't seen too much in my first games. So the game turns out to be much more tactical in the long run than I thought and in fact more interesting.
You can manage your team by selecting the "Manage Squad" option from the main menu. You can then compose with a multitude of combinations in which you will draw the one you want at each beginning of the quest. You can choose up to 5 units and also assign a leader who will bring different bonuses.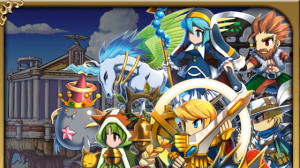 In addition to this mode of combat via quests, you can perform PvP Arenas, but they are rather reserved for more advanced players. Bonus dungeons are also available in addition to the main quest but are much more difficult because the gains are higher.
Finally, you have access to your small village that you can improve as you progress. it contains several more or less useful buildings and resource areas to be harvested regularly. These resources will allow you to create potions or develop your adventurers.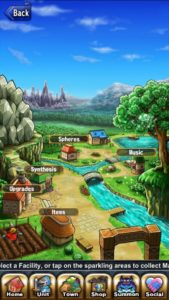 Game Tips
There are six elements in the game. They are Fire, Water, Thunder, Earth, Darkness and Light. Each element is weak against another.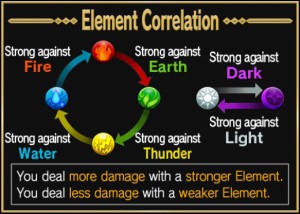 This will help you in the long run especially knowing that the dungeons in the game usually have 1 main element. You can then choose a team that has an advantage over this element in order to facilitate your fights.
The fusion system is the best way to level up your allies. In addition, a 50% experience bonus is applied when they merge with a unit with the same element. At certain levels, you will also have to evolve using gems or materials that you have collected. Not having been that far, I cannot tell you more.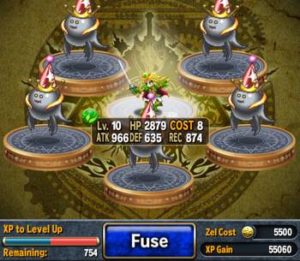 Events : Every day there is a special event that gives you access to quests that will allow you to get better rewards. As a beginner, these dungeons are very useful to obtain the gems necessary for the evolution of your adventurers.

The city : it is the central point to visit before going on an adventure. Each building can give you important help.
"Upgrades" - This allows you to update your structures. Upgrading a building requires karma which can be obtained from dungeon battles.
"Synthesis" - This allows you to create consumable items like potions for use in battles.
"Items" - This allows you to manage your combat inventory. You can store up to 5 different items.
"Spheres" - This allows you to create spheres that give the bonus abilities or stats of your units.
"Music" - You can unlock the music you hear in the game. It is the least important building.
Mountain - Provides Fang, Claw, Pelt, Stone and eye resources when clicked.
River - Produces drop-type resources when clicked.
Forêt - Produces grass, bones and feather-like resources when clicked.
Closed - Produces bug and nuttype resources when clicked.
The combat system is very simple but requires, for the sake of optimization, the application of some advice:

choose your team well based on element and leader bonuses.
use the special technique of each ally at the right time (so rather against bosses)
Knowing well the special techniques (some heal others increase your defense or your attack ...) to use them better. No need to heal a team that has not taken damage.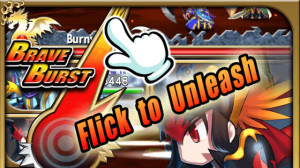 Abuse potions, they are not very expensive to manufacture and their use does not replace the attack but is added. You can thus at the beginning of each turn decide to attribute as many potions as you wish to your heroes.
use the potion suited to your condition: poison control, treatment ...
My opinion
Graphically very successful
A successful combat and evolution system
Ultimately very addicting
Not yet in spanish
Always need to be connected to the internet to play
A bit long in the progression
Finally, I was really pleasantly surprised by Brave Frontier. The game has a lot more complexity than I had imagined even if it is still relatively light. Compared to other games where we do not intervene at all on the outcome of a battle, here we have a lot more the impression of acting because we really have to choose the right moments to cast more powerful spells. For all these reasons, I therefore advise you to test Brave Frontier as soon as it comes out and give it a chance.
The game is not yet available but will be released soon for iOS and Android. We will be sure to keep you informed!