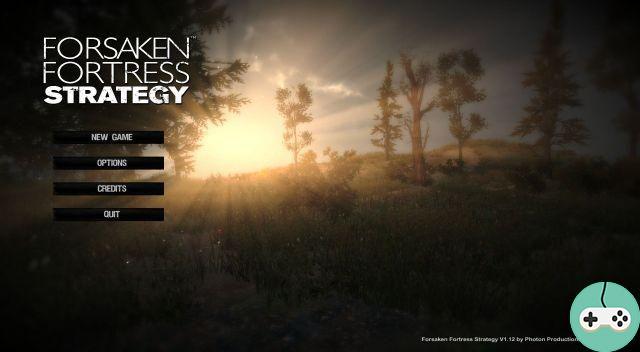 Currently in early access on Steam following a successful fundraising campaign at the end of 2012 (and $ 121 raised), Forsaken Fortress Strategy is a survival / strategy game where you find yourself at the head of a small team seeking to survive. by all means in a hostile post-apocalyptic world.
It all starts with a stripped-down interface where I can choose between 3 modes. In Survival mode, our team is stuck in a dangerous city and we have to survive 30 days while waiting for help. In challenge mode, we have to fight our way to the city gate where we are trapped. Finally, in free mode, resources are limited and you just have to try to survive as long as possible.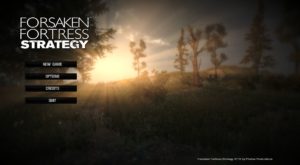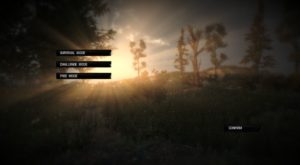 I start my first part in free mode, preferring to be able to take the time to adapt in complete ... freedom. As in all modes, the game begins with the choice of members of my team among 6 potential recruits, each with strengths and weaknesses. I prefer to choose Dawn (a doctor) and Joshua (an engineer) who will, I hope, help each other to survive. They unfortunately have very basic skills in all things weapons so hopefully they won't have bad encounters.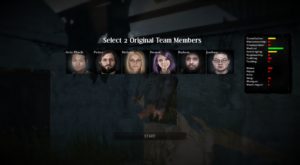 And I find myself catapulted into the world! First small disappointment: impossible to configure the keyboard keys. So I switch my keyboard to QWERTY and I then correctly adjust the camera without having to make big gaps with my fingers. The camera thus moves with the keyboard, while the characters move with the mouse (left click) after being selected. By making a zone around the characters, I direct them all at the same time. On the other hand, it does not seem possible to change the viewing angle even if some people talk about it in the comments on Steam.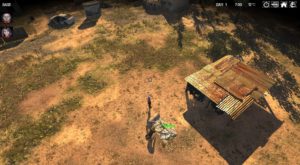 Different information is displayed: time, date, temperature. Thanks to the icons at the top, I can go directly to the next night or day (the stopwatch), access the world map, switch to construction mode or open my inventory. Thanks to the world map, I can quickly get to certain places. Besides the fact that it's very far, I don't think going to the eastern plains where the difficulty is "insane" is a good idea after 3 minutes of play ...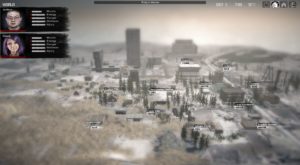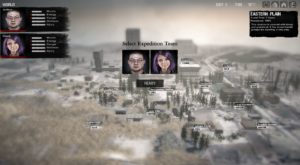 Being at my base, by opening the inventory, I see the resources stored in my safe with the option to transfer them to the personal bag of each member of my team.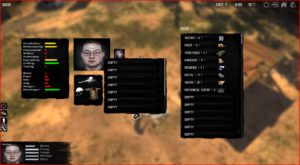 When I select a character, a summary of their stats is displayed. The little icons above are there to define the attitude in combat. In order, we have: fire at will / do not shoot, take out your weapon / put your weapon in the holster, crouch / camouflage and reload.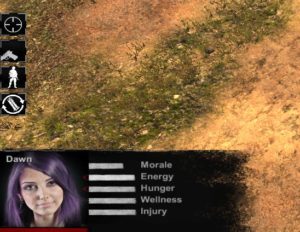 By double-clicking on the character's portrait, I access its details. My engineer is really good at submachine guns! I would have to find one for him. On the other hand, my little guys are starting to get demoralized, the poor. After building a bed in my base, I go exploring a bit so that I can upgrade buildings or build new ones.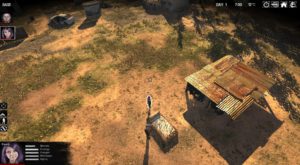 Very quickly, I meet disreputable individuals who attack my characters without hesitation. This world is brutal, very brutal, and bloody. No one has mercy on our survivors and they are all hostile. They don't have a lot of hit points and I make it out alive even if the guy attacks with fists (I really have to find him a machine gun).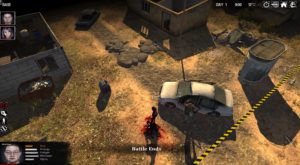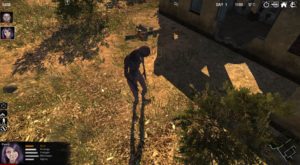 In the houses, I find other resources. I have to go back and forth between my base and the resource crates due to my limited inventory space.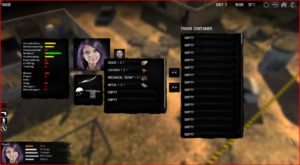 With these resources, I can now build new buildings. Maybe putting up a metal wall or building a fire could be a good idea for a safer night's sleep? Unless it is better to cook beautifully?
The night is rather quiet even if it is cool. As I only have one bed, they alternate their sleep but the guy falls ill and, at dawn, only the girl is able to go exploring again. It's pretty well done because the sick guy is dragging his foot and the character looks really bad, both in his statistics and his appearance.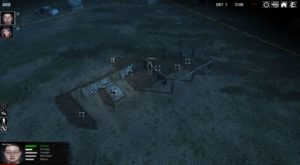 I let him rest quietly, while keeping an eye on him. I go back to where the resources were the day before but everything is gone and nothing has reappeared yet ... My situation is getting worse because I have used almost all my resources to improve my base, my guy is still sick, the girl is starting to be really hungry. And there, everything changes when it unfortunately falls on zombies having taken up residence in the houses which were however safe the day before. The guy gets up to try to give him first aid, but the zombies are still lurking and the worst happens quickly ...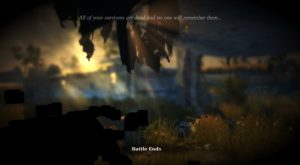 Ruthless, Forsaken Fortress Strategy is a promising survival game. The difficulty is there and there are many ways to fail to survive. The crafting system is nice, the music in tone and the graphics are decent. A game to be followed carefully because, if they add other modes, perhaps difficulty levels to facilitate handling, larger areas, friendly NPCs ... Forsaken Fortress Strategy could become an excellent little survival game! In the meantime, for 9.99 €, you don't risk much if the genre tempts you!