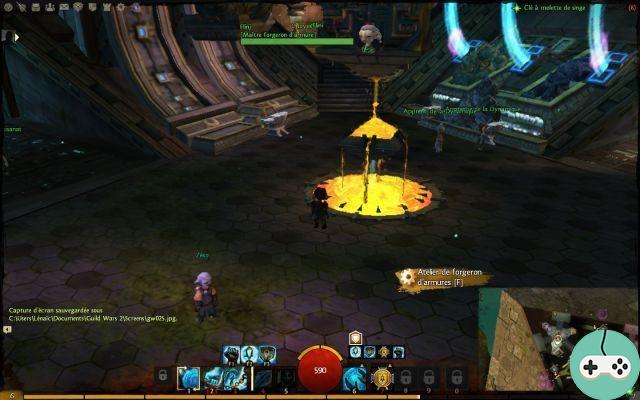 Are you lost in the content of crafts? Too many things? What to choose? What's the point?
I suggest you the craftsman's guide in pictures to help you fully understand all the tricks of crafting in Guild Wars 2.
You can also read our presentation of crafts.
Take the example of my little Guardian Asura specializing in armor forging. Here we are in Rata-Sum, the capital of the Asura; there are several spaces dedicated to the eight trades but let's move forward to the Master Armor Blacksmith since this is the profession we want to exercise.
Do not hesitate to click on the images to enlarge them.
Talk to this Master Armor Blacksmith to let him know that you too would like to become a Great Armor Blacksmith! You learn the trade, cashing in a few coins.
From this point on, you can press F when you are in the armor crafting compound. You can then create your own equipment! If you're a RolePlay player like me, you'll still be able to get close to the Forge, Anvil, or the various tools featured. Is it always nicer?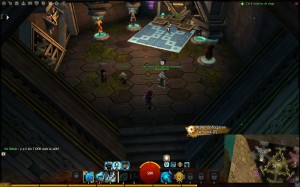 Arrived in front of this forge, press this famous action button F to open your armor crafting workshop. Obviously this works for each of the trades. In your workspace, press the action key (It is notified just next to the mini-map at the bottom right when possible) to access your workshop.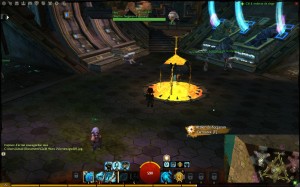 So you've opened your workshop and come face to face with a long list of things to do: equipment, components, badges, upgrades (Runes will improve your equipment but I don't think it's possible to 'make it at level 1 ... Or so I looked wrong), and even bags to place your items!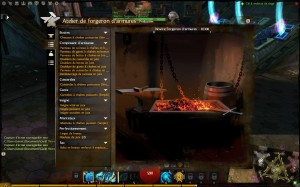 You notice that on your workshop page, you have four tabs on the left. The first represents the "discovery" part: you can place up to four components in order to find new recipes for your profession (By recipes I mean new creations possible by your profession). The second is the list of what you can create. The third tab is your bank; you can directly access your bank from your practical workshop. The fourth tab represents your collection; this is where you can drop off all your crafting materials.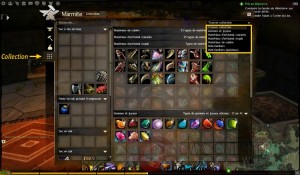 small tip, when you are far from your workshop, in the middle of nature, you can send all your blue craft materials to your collection. To do this, open your bag and click on the small gear at the top right of the bag, then click on the collection line. These items will be visible when you are in a workshop and click on tab 4. You just need to take them out in order to have them in the bag and to be able to create new equipment.
Here I tried to deposit a luminous dust. The game informs me that there is 1 possible recipe with this component. Unfortunately I don't have any other components that can go with this luminous dust. For information, if you add a bronze bar to it, will you get something?
I also point out that discovering new recipes brings a lot more experience points in the trade than building already known equipment.
Now let's try to create a piece of equipment. I chose to make a thigh high with powerful chains (weak).
Guild Wars 2 differs from other MMORPGs on this point by the creation of equipment. If we want to make for example an iron sword, we will first have to create the blade, then the guard (the handle) of the blade. By putting the two together, we get an iron sword. If in addition this sword has an endurance bonus, we will also need to create an endurance badge.
So let's see how to create this powerful (weak) chain thigh boots. You have surely been able to find jute falls during your journeys by picking them up on humanoid monsters or by recycling various items.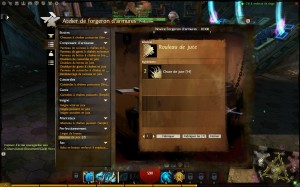 Let's start by creating jute rolls with these jute scraps. Note that the more you make the same item in a row, the faster it will be so as not to make us wait too long. You also gain experience and your Armor Blacksmith level increases.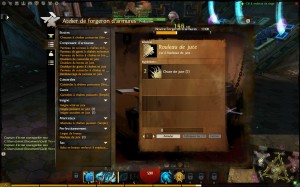 So we need ... 1 vial of weak blood, 1 bronze chain thigh panel and 1 jute thigh liner.
Let's see to create this panel of bronze chain thigh boots.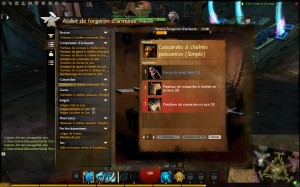 Ah! We obviously need bronze! Let's go see to cast bronze bars. I have an idea, but hey ...!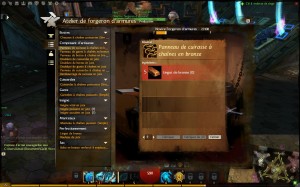 The creation of bronze ingots (by 5) requires 10 copper ores and 1 tin ore. Tin Ore can be purchased from the merchant right next to the Master Blacksmith. There is always a merchant to sell things that cannot be found in the world of Tyria.
Unfortunately for me, I haven't mined enough copper so I only have 4 out of 10.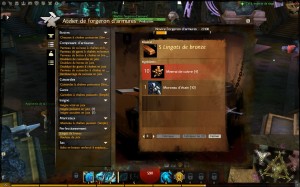 For my waders, I need 1 roll of jute, which we created at the start, as well as a spool of jute thread that this nice merchant offers us for a few coins. So I bought some and redirected myself to this forge.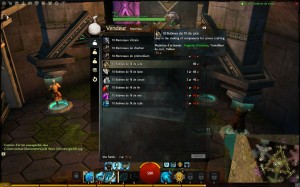 So I have the jute thigh liner that I just made, 1 vial of weak blood, and that thigh panel that I couldn't make for lack of components.
By putting all of this together, I can therefore create my powerful (weak) chain thigh boots! Pfiou!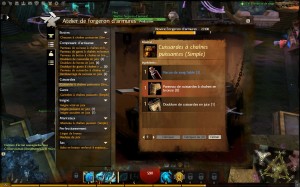 A profession in Guild Wars 2 requires time, application, but also a small amount of money. You don't get into a job on a whim, it's a real business!
As you may have read in the craft presentation at the top of the page, the various professions grant us Runes, Seals, and Jewels. You can therefore trade with other players in order to complete your equipment, choose a second profession, show another character with a new profession, ... Many other openings are available to you but one thing is certain: We have no finished having fun with crafts in Guild Wars 2!
Small information, jewelry and cooking are the easiest jobs to set up. I advise you to take only one trade of equipment (sewing, hunter, artificer, blacksmith of weapons and blacksmith of armor). Taking two will slow you down enormously as they all need the same blue materials such as blood, bones, totems and more ... Prefer a single equipment trade instead.
Thank you
Thanks to Mickeycdx for the help in proofreading the guide.