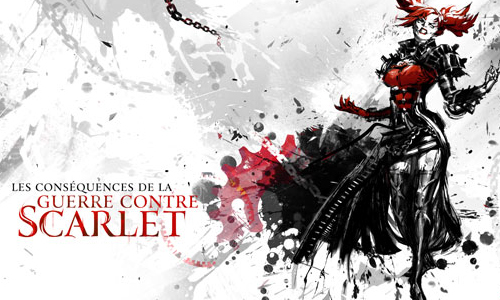 For its second summary of Living History Season 1, ArenaNet redirects us to an article by Leah B. Jackson from IGN.com to learn more about the aftermath of the war against Scarlet.
Let's just hope that ArenaNet takes care of the next summaries because, even if we appreciate the IGN articles, it would be more appreciable for the francophone community to have a communication in spanish.
But luckily if you are not a fan of Shakespeare's language, I offer you this little translation:
Beginning in early June 2013 with the Dragon Festival, the living world was set in motion when the leader of the Aetherblade Pirates, Mai Trin, sabotaged the effigy during the lighting ceremony, killing Captain Theon Ashford, member of the council of Lion's Arch, in an attempt to increase pirate influence in Tyria.
In the following event later released in Huin, the Sky Pirates of Tyria, players learned that the evil was from Scarlet Bruyère when Mai Trin spoke her name shortly before being stopped by players in her hideout. secret.
It wasn't until the events of Queen's Jubilee and Mechanical Chaos in August that Scarlet chose to show off. She took control of the towering mechanical sentries of Queen Jennah who hoped to use her as guards, and subsequently escaped once more.
In October's Twilight Offensive, players finally discovered that the Aetherblade Pirates and Scarlet Heather were working together and also that Scarlet planned to use a fleet of giant airships in a massive attack. His base was later discovered during the Tower of Nightmares event. In Heart of Nightmares, the mid-November episode, players finally got the chance to meet Scarlet in addition to a Krait / Sylvar monster.
Released in January 2014, The Origins of Madness event caught the attention of hundreds of players with a huge crazy puppet boss to beat, summoned by Scarlet. Once defeated, the boss gave a clue as to what Scarlet was willing to do, pointing to the heart of the Lion's Ark.
In February, during the season's final episodes, Refugees from Lion's Arch and The Battle for Lion's Arch, Scarlet finally set her sights on the legendary city that eventually fell under the minions of evil. The destruction of Lion's Arch was a roller coaster of emotions for Guild Wars 2 developers and players.
While Scarlet may be out of reach right now, in her final moments she made it clear that the heroes of Tyria must prepare for a new master. We'll find out more about this new threat in Guild Wars 2 Season 2 coming July 1.
Stay tuned for future returns!