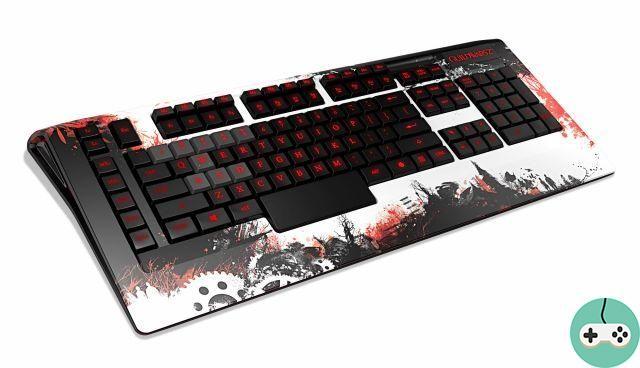 During the Guild Wars 2 Community Night, I had the chance to win the new SteelSeries keyboard in the organized lottery (thank you again!).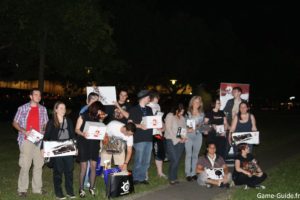 I thought it would be nice to give you a brief overview of the product! The keyboard is therefore entirely in the colors of Guild Wars 2, no doubt about the game with the typical graphics on the entire upper part, including "under" the keys. The keyboard is luminous, according to 8 levels of intensity. Besides, we hardly see the keys when it is off. The keyboard is rather thin, almost aerodynamic, which can be raised by feet.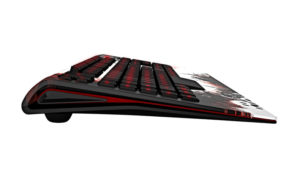 Beyond the really nice aesthetic, this keyboard offers all the classic keys of a keyboard (unfortunately in qwerty), completed with keys for macros, on the left and upper parts. These last keys are above the function keys, thinner and higher for easier access. According to the editor, there are thus 17 keys dedicated to macros, which can be used to trigger 34 actions (via 2 different configurations). I take his word for it, I have not tested!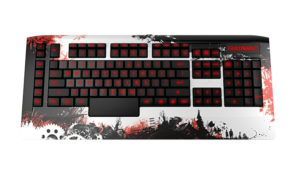 The most used keys (W, A, S, D and the numbers 1 to 5) are of a slightly different color (a little gray) and have small pins to find them without having to look. Note that these keys and a few others, ie twenty in all, incorporate anti-ghosting technology allowing up to 6 keys to be activated simultaneously. The direction keys are supplemented by 2 other directions (up-left and up-right). Finally, a special SteelSeries button provides access to a special function configured through the SteelSeries application such as blocking the Windows key.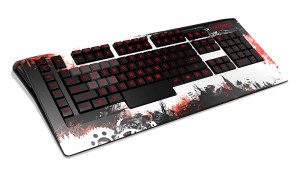 The touch is pleasant, it makes me a little weird having for several months now a mechanical keyboard. Because it is not one, it is therefore necessarily different, softer and quieter on one side, but also less ... sensitive perhaps. After that, it's just a matter of getting used to and if you've never tested the mechanical keyboard, it certainly won't shock you.
This keyboard is without a doubt a must have for all Guild Wars 2 fans. Being able to play your favorite game with stamped hardware is truly enjoyable. Beyond this geeky aspect, the keyboard is of good quality and pleasant and should be effective in taking you to visit Tyria ... or other virtual universes!
You can find more information on the dedicated mini-site of the SteelSeries site and buy it at the listed price of 79.99 €. On the other hand, you will unfortunately have to wait a bit, because it is currently out of stock ...