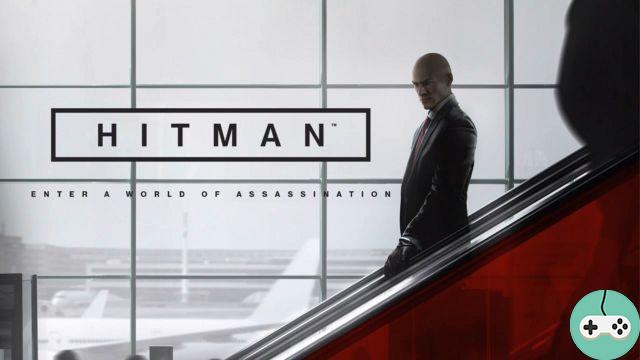 The youngest of the series is finally out. Developed by Io-Interactive and published by Square Enix, this latest opus goes back to the sources of the license.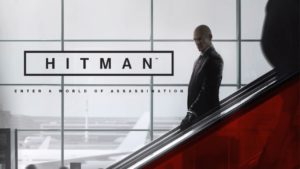 The format
Before entering the preview itself, you should know that this opus is sold in a different way from previous and current games. Indeed, as already announced previously, the latter is sold in episodic format. Three packs are available for purchase:
Pack d'introduction
Complete experience
Upgrade Pack
This is the basic pack.
Price:
Content:
Prologue (2 missions)
The Sanguine fashion show in Paris.
Access to "Contracts" mode.
Access to "Climbing" mode.
Access to fugitive targets.
Access to all live content.
Price:
Contents:
This pack allows you to unlock all of the content present when it is released as well as access to all future content.
Price:
Contents:
Allows to upgrade the "intro pack" to the level of the "complete experience pack".
Content is planned to be released throughout the year.
April - Sapienza Mission Package - Italy.
Mai - Pack of missions «Marrakech - Maroc».
Current year:

"Thailand" mission pack.
United States Mission Pack.
"Japan" mission pack.
Now let's get to the game itself!
The game
This Hitman opus changes a lot from Hitman Absolution. Indeed, there is a return to (very) large fully open levels, offering multitudes of possibilities of approaches and assassinations.
In addition, we will note in this opus a significant novelty: the number of NPCs (Non-Player Characters) is very significant. If you have played Hitman Absolution and found that there are a lot of NPCs in the Shanghai level, know that this is only a quarter of the number of NPCs that make up the first level of this new Hitman.
In return, the game does not meet the "standards" of current graphics, but the game is still very beautiful. The configuration of the latter also allows players with a modest configuration to enjoy the game. In addition, Hitman is compatible DirectX 12.
Minimum configuration
Recommended configuration
Operating system : Windows 7 - 64-bit
Processor : i5-2500K 3.3GHz / Phenom II X4 940
RAM: 8 GB of memory
Graphics: GeForce GTX 660 / HD 7870
DirectX: version 11
Operating system : Windows 7 / Windows 8 (8.1) / Windows 10 - 64-bits
Processor : i7 3770 3,4 GHz / FX-8350 4 GHz
RAM: 8 GB of memory
Graphics: GeForce GTX 770 / Radeon R9 290
DirectX: version 11
On a computer with an "average" configuration (I5 4570 - 3.20Gh / GTX760 - 4GB), the game runs between 45-50 IPS with the options in medium-high. Personally, I haven't had any slowdowns or IPS drops. Of course, given the immensity of the levels and the rather huge number of NPCs present in the levels, it is not possible to play with all the options in ultra, even with the recommended configuration.
On the story side, the game begins about twenty years before the Hitman series. We discover the recruitment of Agent 47 by our favorite liaison officer Diana. We learn how 47 was recruited by the agency, why Diana chose him, etc.
Despite the fact that the game is in episodic format and that there is only one big mission, the story looks quite promising and secrets and mysteries will undoubtedly be there.
gameplay
Let's get into what makes the strength of a Hitman! This opus puts forward the methods of assassinations. The game makes a point of offering immense levels with a multitude of possibilities of access and assassinations which offers great replayability of levels. You can complete your missions through many methods: through the main door, stealthily, by picking locks, through a window, by climbing, by stealing a costume, etc.
On the side of assassinations, we find classic methods such as piano wire, firearms and poison. It can also cause accidents, such as dropping a scaffolding, drowning the person in the toilet bowl, pushing them into a vacuum, etc.
A great novelty of this game is in how NPCs react to actions of 47, including when wearing a disguise.
Indeed, some of the NPCs will pierce you up to date, even if you have a disguise and are authorized to be in the area. If you walk into a parking lot wearing a security guard costume, chances are the gate guard will know that you are not part of the team! If you are disguised as a crew member on a boat, the deck manager is sure to spot you and give the alert. To overcome this, you will be able to pretend to "work". For example, serving cocktails if you are disguised as a bartender, wiping down the bar, etc.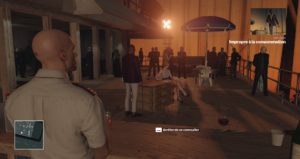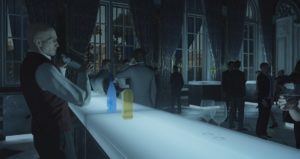 If, for example, you are disguised as a mechanic, do not think you can walk around with an assault rifle on you, even "stowed". Besides, weapons and bulky objects cannot be hidden on you. Do you have an assault rifle? Agent 47 will have to put it behind his back, visible.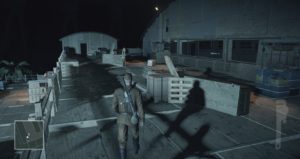 It can also happen that guards decide to search you if you access a restricted area, and if you carry weapons on you, even hidden (such as a pistol for example) they will find it and be on alert.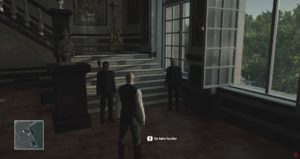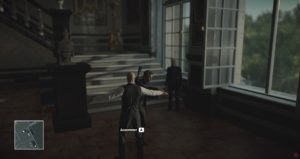 Generally speaking, theArtificial intelligence is pretty good, but unfortunately quickly becomes predictable. We quickly come to understand how to easily divert the attention of a guard, the patrols are always the same, etc.
Another new feature is "opportunity points". These allow players to know of an opportunity to gain access to a building, find information or even assassinate a target. There are a number of them for each level.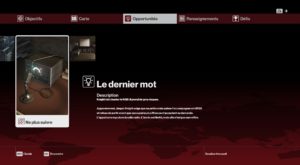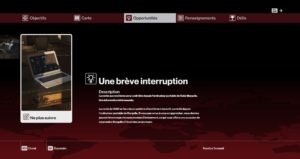 For players who like difficulty, it is possible to deactivate these indications, as well as all the others. It is also possible to completely hide the interface to play in total immersion.
Behind the scenes
Once the missions are completed, you will earn points based on your actions. The method of assassination, the means of infiltration, the number of alerts you triggered, etc.
These points allow you to gain levels which themselves allow you to unlock many tools, weapons and even hiding places and new access points to missions.
The hiding places allow Agent 47 to go and retrieve one or more items that you have chosen in the level. This is very useful for, for example, retrieving a gun from an area where guards will search you before you gain access.
In each mission it is also possible to have information before starting a mission. We will get more by doing the missions. In addition, each mission has many challenges. Challenges asking to kill the targets with a costume and a specific weapon, to find this or that hidden object, to find all the costumes, etc.
In addition to story missions, the game has many other modes like the climbing mode which requires achieving more and more difficult goals. There is also the contracts, already present in Hitman Absolution.
Conclusion
The game currently only has one main mission (not counting the intro missions) and several game modes like escalation mode (with only one mission at the moment) and contracts. The replayability is however quite enormous thanks to the numerous possibilities of access, realization and assassinations. Personally, after more than fifteen hours of play, I still haven't finished it 100% and I still haven't touched the contracts.
If you are unsure of the game, the fact that it is in episodic format is a good idea, as you can spend "only" € 12,99 to experience the game and the missions. If you hang in there, it is then possible to purchase the upgrade pack.
Huge levels.
Great replayability.
Better AI towards disguises.
No spanish dubbing.
Some unsubtitled discussions.
Obliged to wait several weeks before having access to the next missions.