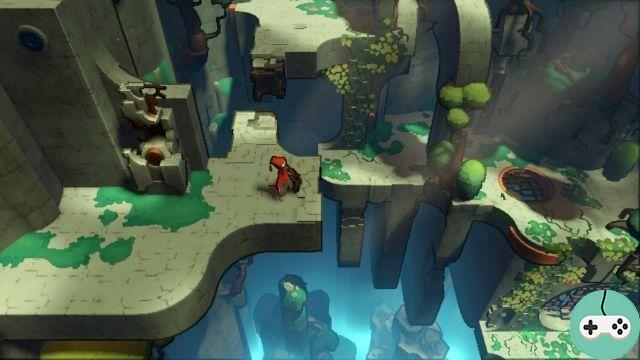 Although mainly known for its license Torchlight, the Runic Games studio (unfortunately closed since) had tried another game style: the adventure / platform game. Hob was released in 2017 on PC and PS4, and had appealed to many players who have tried it. During the last Nintendo Direct, the latter was displayed in "Definitive Edition", with a release scheduled for the beginning of April. On the menu: HD vibration support, a redesigned interface and tactile support. Is it enough to go back to the cashier? And for newcomers, is it still a good pick? Answer below.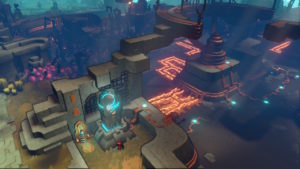 The Switch port does not honor the game ... Weak resolution and pronounced aliasing in the program
Hob, first of all, it is a small avatar dressed in a red cape, revealing two large blue eyes, and two arms, a "normal" arm and another much more massive which replaces the one we have just seen. to lose. Our character will therefore wake up, discover his arm and go on a great adventure: save the world. Not very original, of course, but given the world that is offered to us here, we will not shy away from our pleasure and we will gladly do whatever it takes to save it.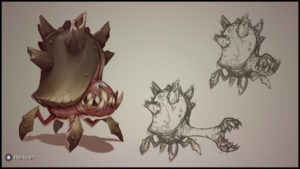 Discovering certain areas and moving forward in the main frame will allow access to some artistic concepts highlighting the game universe
The title published by Perfect World puts us in awe. Behind a rich architecture and shimmering colors, we discover a dreamlike world where everything is interconnected. At first, it is not obvious, but the few cutscenes appearing here and there clearly expose the genius of the developers, who have made a fabulous world, somewhat marred by this port, due to some technical hiccups. The game remains fluid in both modes (docked and portable) but loses a lot in its nomadic version. The weak resolution coupled with a pronounced aliasing sometimes spoils the rendering. The effect is particularly pronounced on his character and on the various creatures that inhabit the game. In docked mode, most of the flaws are corrected. Aliasing remains but is much less pronounced.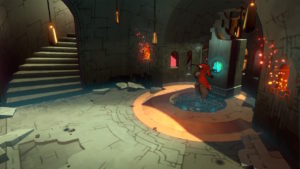 Mute as a grave, our protagonist nevertheless exudes a charismatic aura
Hob mixes different genres, between the adventure game, the puzzle-game, the platform, some suspicions of RPG and combat phases which take up the codes of Beat'em All. We are faced with a somewhat bastard game which nevertheless manages to keep in balance, by dosing just as it should its different phases. Brilliant. We will survey this generally calm world by searching many corners, to be able to improve his arm, his health, his skills ... the game is not stingy in secret areas, and exploration is systematically rewarded. Who says secret area says Puzzle. These are, my faith, not very complicated. The solution often seems obvious, but the execution will sometimes require a little exercise, the fault of certain phases of a little twisted platforms. The camera won't help either. Not too annoying outdoors, it tends to reduce readability in cramped places and will sometimes piss us off.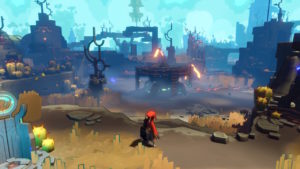 Artistically, Hob will not leave anyone indifferent.
The other element that will cause some sweating is the progression in the game. The first part is quite simple, since we will try to change the world in order to access more remote areas, however, it happens. a moment when you do not know what to do, where to go, and the objective indicator will not be of much help, since it indicates the end, and not the way to achieve it. We will therefore find ourselves strolling here and there, in search of an element that would have escaped us, with which we can now interact, thanks to the evolution of our avatar. At such times, Hob gets lost somewhat. And there is no doubt that some will drop the case. Allow a dozen hours to complete the adventure ... and add 3-4 hours if you want to recover everything in the game.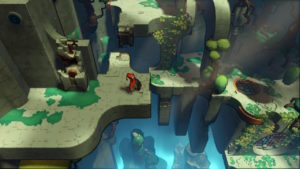 The title offers some nice platform passages
Finally, Hob remains interesting to discover in 2019, thanks to the richness of its universe, its artistic beauty, its exploration which rewards our efforts, its effective combat phases. Be careful, however, for those who wish to repeat the adventure in portable mode, it is difficult to recommend this version, which is much less attractive than the PC and PS4 (and docked Switch) versions. Adding touch and HD vibration doesn't add up either. So, to choose, you might as well go for the PC and PS4 versions, more beautiful and available at a lower cost (it is not uncommon to see them fall under 10 €).
PlayStation 4 - € 19,99
Nintendo Switch - 19,99€
Steam - 19,99€