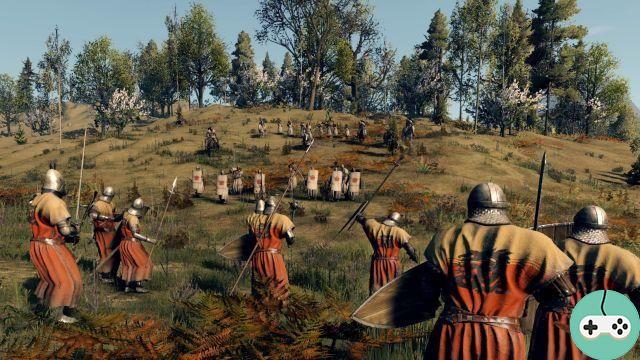 In the big family of survival games, here is one of the hardcore uncle: Life is Feudal (subtitled Your Own), released in November 2015. In a medieval universe, you have to learn to get by from literally nothing. , by collecting resources, useful to make tools necessary for its survival.
Clearly, the stated ambition is to offer a real challenge. The game is not for Sunday gamers! Demanding, that it is! In time, in reflection, but also in terms of sociability. Alone, we can survive, of course. But if you want to build a real medieval village, or even a castle, you have to hang in there.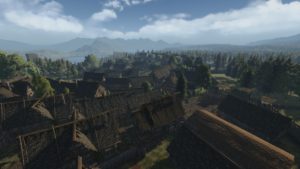 But today, we are going to focus on the MMO version. Of course, we find the ingredients of its big brother: survival, harvesting, crafts, combat, etc. But on a larger scale. Where in the first game, we were confined to a dedicated server, this time it is in an open world that we begin the adventure. More players then. But suddenly a little less freedom. Indeed, to avoid "garbage" worlds, it is necessary to impose some limits on the construction. Before you can hope to build something, you will have to reserve a territory.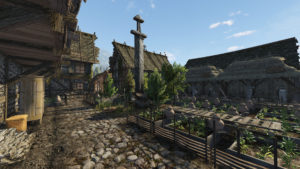 First steps
So here we are, dumped in the world of Life is Feudal, with simple pants on our bodies, in the middle of dozens of stranded boats. We are in "the island of beginners", which serves as a small tutorial to learn the basics of the game. Not always clearly, but by hanging on a little, this tutorial allows you to learn in particular how to collect resources ( tree branch, flint, plant fibers) to build a first tool, a saw, which will allow you to discover new resources (cutting a tree into pieces of wood for example).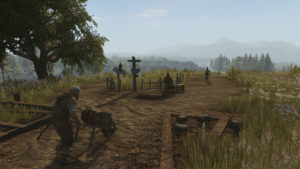 Some NPCs are indeed there to guide us (a little bit). But don't expect to be taken by the hand. The learning will be done in pain, with great blows of trial and error, of tests and of research.
After a few quests, direction the "Ferryman" to leave the island of beginners and go to Abella, the main island where the adventure will really begin.
Serious things
From there, we are in the wilderness, literally, in the middle of nowhere. First useful step: build a camp. You just have to go and collect some resources, including branches on trees. A small right-click on a tree and a contextual menu opens, with several options. 5 branches picked up later, all you have to do is click on the ground, where you want to place the camp, select the appropriate option and add the branches. The camp will be particularly useful for cooking food. But beware, a fire can keep you going, so you have to add fuel regularly!
Next step: tools! If we want to evolve and be able to manufacture new things, the tools are necessary. Branches, flint, vegetable fibers, these are the components to be recovered to start making the first tools: ax, saw, shovel, knife, fishing rod, etc. Rather easy to find, for flint and plant fibers, you just have to right click on the ground and choose the desired option.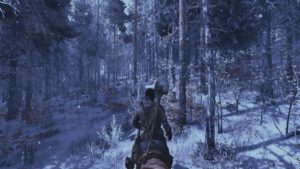 You will quickly see that in terms of gameplay, things are going quite logically. The game is meant to be realistic and therefore, we must finally act as if we ourselves were delivered in the middle of nature.
Several
Clearly, this type of game finds its full potential in group play. Life is Feudal is large, with a lot to do. Sharing tasks can therefore be a very good idea. Hunting, fishing, farming, building, forging are just some of the many possibilities the game has to offer.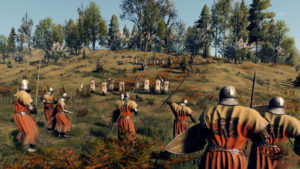 Comparison with the "Your Own" version
Since ultimately, two fairly close games coexist, maybe you will be a little lost wondering which one to buy: the MMO version or the Your Own version? Let's do a little comparison to see which one would be the most suitable for you.
The first comparison is necessarily made at the level of the world. 64 players maximum for the Your Own version, and thousands for the MMO version. The size of the world is suddenly in line with these figures, since the region represents 3x3 km against 21x21 (MMO - a size that may be enlarged in the future).
As I explained before, given the persistence and the large number of players, this has a big impact on freedom and what one can and cannot do in the MMO world. Thus, it will not be possible to build where you want, unlike the Your Own version. You will first have to claim land (personally or in a guild) in order to be able to use it later.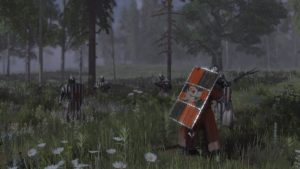 Of course, the difference in size will be at the level of the administration. Where each admin could manage his server as he wished, by setting progress, skills, etc., in the MMO version, it is the developers who decide all that.
In the end, even if the games are clearly similar in form, the persistence of the world and the number of players offer completely different experiences from one game to another.
Conclusion
The first version of the game was clearly not accessible to ordinary players due to its depth and difficulty in handling. The MMO version is no exception to the rule and ultimately offers few changes, except for the game on a larger scale (and therefore all the social side that follows).
Clearly, Life is Feudal is not to be put into everyone's hands. This game needs to be tamed, you have to take time, a lot of time, to understand all the mechanics. And even more time to farm and develop your camp to whatever you want. So to make it short, if you don't plan to spend several hours a day on a survival game, go your way and check out the more accessible competition side. For those who want a challenge, who like to spend time farming, this game may well please you.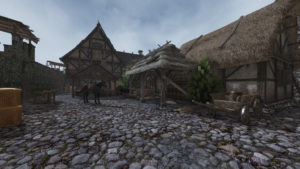 Be careful, however, the added MMO mention does not mean that you will have scripted quests, dungeons and company. I admit to having believed it and to have been a little disappointed on that side. But after all, it is indeed an MMO (massively multiplayer) and not an MMORPG (with role-playing).