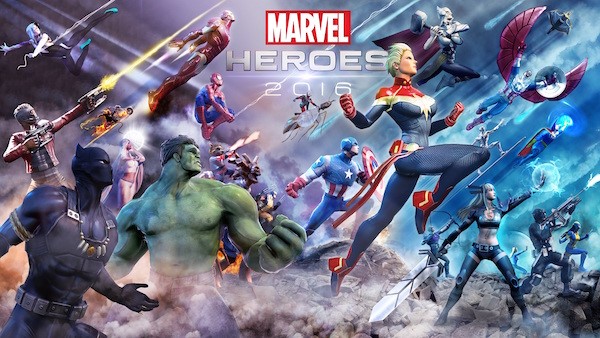 As David Brevik, legendary developer and spearhead of the Marvel Heroes revival, left the ship a few months ago, one wondered if Gazillion would continue to support his superheroic Action-RPG as much. It seems so, even if the mode of distribution of the updates has changed (wanting to focus on the qualitative more than the quantitative, as was the case before), in view of this next update, including we are starting to see the beginnings. In other words, there will be change!
According to TheArtOfRawr, Lead Systems Designer, this is the biggest system update to date on Marvel Heroes, which should focus on four points:
Hero Powers Update
Updating Items
Omega System Update
Difficulty adjustment
He thus offers us a first glimpse of the changes on the powers of the heroes.
The first thing to know is that unlike some hero tweaks, like Deadpool, Cable, etc, this time ALL heroes will be tweaked. Once.
Power Points
The goal of this update is to provide more "impactful" choices in player builds and allow them to change quickly. It is clear that currently, even if you can save several builds, changing one requires spending some time there, especially when you do not know the character well. The Powers window will therefore be more direct and simpler. There will be no more power points to distribute between each. Each power will now have the maximum basic statistics, but which will be adapted according to the level of the character. So no more Power points from now on, it will suffice to select a Power to obtain it at its maximum capacity.
This will have an impact on the Items, the Power bonuses brought by certain items will be removed and replaced by other types of bonuses.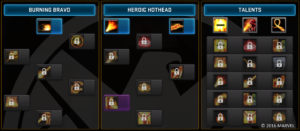 Talents
Currently, some powers have "Specializations," usually a choice of three, which often dramatically change the way a power or the character's entire gameplay behaves. The developers wanted to go even further with a Talent system, replacing Specializations and unlocking as the character progressed. These Talents offer a variety of modifications, ranging from passive bonuses and mechanical changes to completely replacing one power with another.
Talents will be migrated to the third branch of the Powers window, thus moving all active powers to the first two.
Features
Traits are passive bonuses for each hero, available at level 1 and remaining constant throughout advancement. They are there to reinforce the "theme" of the character and to make itemization easier (know which indexes will be more suitable). Each hero will have a Defensive Trait and an Offensive Trait. In the past, the developers have explored this track of passive bonuses, but this update will bring them together in one place, for simplicity.
Each hero will also have a "Mechanic" Trait, serving as a means to explain how the hero's Resources work or even more complicated mechanics on a particular Power. This trait does not provide any bonus, it is only intended to define the unique mechanics of a hero.
Other changes
For this update, the developers have planned many other changes, especially for the still so sensitive issue in every MMO of balancing. To do this, it will now only be possible to choose 8 powers at a time (and 5 Talents). It may seem "simplistic" at first glance, but this idea of ​​limitation of powers is not new and has already been seen elsewhere (Guild Wars 1 and 2 for example, where it works very well). So, in order to be able to really choose the powers you want to use, they will remove a lot of limitations, such as shared cooldowns, non-stackable effects, Specializations blocking powers, etc. The watchword is generally "freedom". Freedom to be able to choose the Power that we want. "Dispel" Powers (against control effects) will be removed. Now, Movement Powers will dispel these effects.
A final word on the release date. Of course, no specific date given, this update promises to be daunting and Gazillion certainly wants to be careful (we still remember the postponed Marvel Heroes 2016 update), but they plan to open a Test Center in October. with some heroes (maybe not all). Maybe for a global release in December, on the occasion of Marvel Heroes 2017?