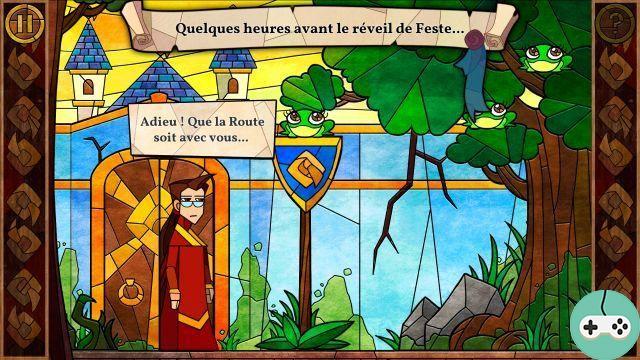 Message Quest is a little game point-and-click in which we control Feste, a character quite atypical and having no desire to be the hero of this game. And he will do everything possible to demonstrate it on all occasions. Our task is to find a real hero to deliver a message of the utmost importance. Unfortunately, Feste is a very lazy young boy who has a life he would like to see consisted only of sleeping and eating treats and this simple task is going to prove to be much more difficult than it seems.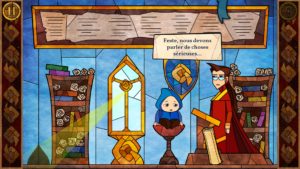 Right from the start of the game, the most striking thing about Message Quest concerns its graphic style : the game is entirely drawn in stained glass. Everything is therefore very colorful and, it must be said, sometimes magical. The background music, far from being off-putting, also plays an important role in this immersion.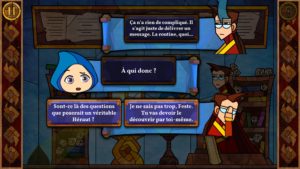 Le gameplay is simple, most of the time it comes down to having to find the right object on the screen, interact with it and thus be able to continue the story. Sometimes a puzzle presents itself to us in the form of broken stained glass windows. Fortunately, they are not particularly difficult.
About the dialogues, they are well thought out and you will have the choice between several answers, even if in the end it does not seem to really influence the story.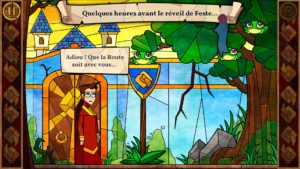 Moreover, like any "adventure" game, there are combats ! Like the game, they are simple, even anecdotal, because you will have the choice between a maximum of four attacks, some of which are only intended to "discourage" your opponent (yes yes, when Feste can do as little as possible, in all situations, he does not hesitate).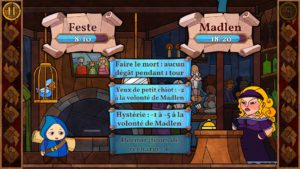 This is a simple and refreshing game that you will complete in about two hours. Players in search of history will undoubtedly take great pleasure in discovering it, if only for its original graphics and the character of our lazy little companion, Feste.
Available entirely in spanish, you can acquire this tiny (the studio says so) adventure game of Russian origin for a price of around three euros:
It's hard to know what else to say about this little indie game so why not try it out for yourself? Because, something quite nice for such a small game, a demo (therefore free) is available on the Message Quest site on your browser or to download (Windows):
Test the demo