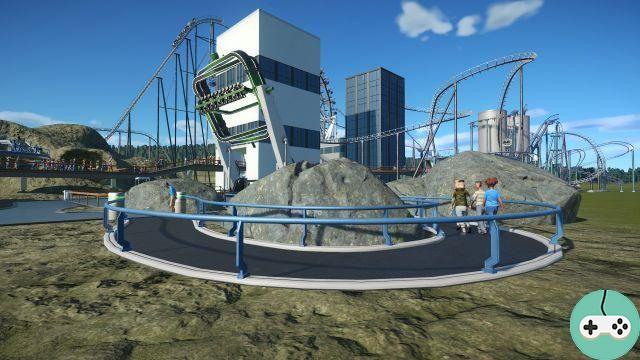 We're not going to lie, there hasn't been a truly revolutionary game in amusement park simulators since the first Rollercoaster Tycoon, I also spent many hours on the 2nd and 3rd, which gives me enough elements to be able to judge correctly Planet Coaster, Frontier's new baby, which has been officially available since November 17th!
Presentation
Planet Coaster is an amusement park creation simulator. What does this consist of ? Well, in a lot of things! First of all, the parks will have to be managed from all angles, as well the decorations and rides, but also the employees (maintenance agents, repairers, mascots ...) and even more complex things than I have certainly not seen yet!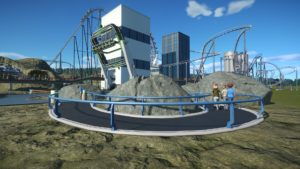 The game will offer you different modes :
Careers : this is the game's campaign, there will be a succession of missions to be carried out with increasingly difficult challenges but which will allow you to learn how to become a real amusement park manager!
Sandbox : this is certainly where everyone starts, this is the mode where we have everything unlocked and an infinite budget, enough to do whatever you want!
challenges : you start as in the Sandbox in a virgin area, but you have a limited budget and challenges to overcome
I'll admit, I've barely touched the Sandbox so far, but the possibilities are so immense that I really want to do whatever I can think of for now.
Create your park
Shops, Environment and Building
We are now going to see in more detail the possibilities offered by the game. To make it all more fun, we are going to make a nice area together around an energy drink stand. First of all, and here I am going to surprise you, we are going to put the energy drink stand where we want it. This done, we enter building edit mode, which means that we can add in this instance all the decorative elements that we want and they will be linked.
I'm going to create a fantastic themed area, starting by putting walls and windows in order to have a castle aspect: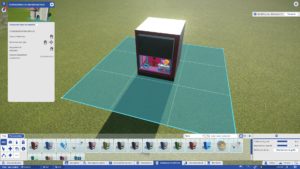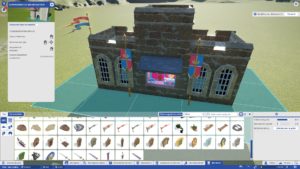 The walls are available in the Building menu which contains the walls, roofs, doors and windows, decorations and wall signs. This building achieved, I will now add decorations around via the Environment menu which is composed of elements for the aisles, various decorations, natural objects, special effects and artistic forms. These 2 menus offer objects that mainly revolve around 5 themes : Fairy, Western, Pirate, Futuristic and Horror.
Note that you can create the buildings as you want with dozens of options for all themes, you can even change the color of the rooms.




Realism also comes from the terrain which is also modifiable, it can be hollowed out, raised, smoothed, etc. but also texturize it or add water to the hollows, you can even choose the type of water you want (calm, hectic, heavenly ...).
There is obviously a Aisles menu to add the paths on which visitors can move, there are 2 main types: queues and single aisles.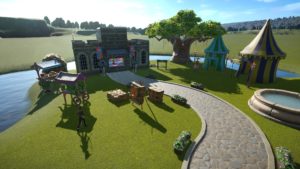 This is a very quick example of the possibilities. Note that anything you create can be saved to your plans, and you can even share them with other players on the Steam Workshop of the game, or download buildings / attractions / player parks!
Attractions
There are several types of attractions, quite similar to the usual ones that can be found in current parks and fairs. Some are calm and some are more extreme. They are obviously only to be placed, you can then choose the colors, the music and the line and its decorations. Here are some examples of possible rides: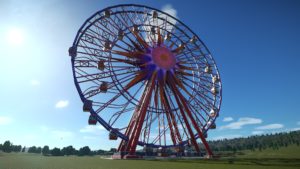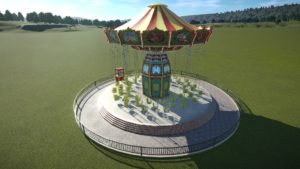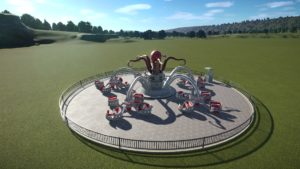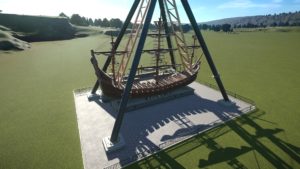 Russian mountains
This is certainly the most interesting point for the majority of players: the creation of roller coasters ! Here again, the possibilities certainly offer what is freest possible, while always respecting the laws of gravity!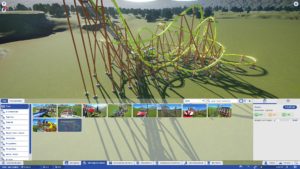 The game offers pre-made attractions but you can of course make your own. There is a fairly large selection of attractions offering each their specificities which may vary on the type of train (standard, suspended ...) and the possibilities of construction (rise by chain or acceleration, loops, vertical rails ...).
Here is a very quick example in picture of a roller coaster creation: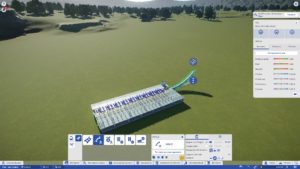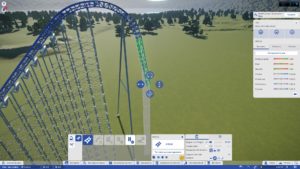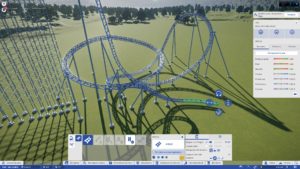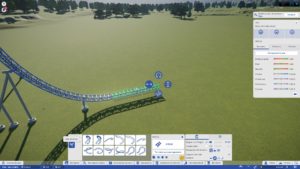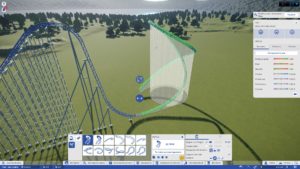 Also some additional gifs allowing to see some possibilities of the editor:
While completing a roller coaster, or when you are done, you can throw a attraction test which you can attend by getting on the train. At the end of this test, you will have the results on 3 points:
Excitation : sets the degree of fun on the attraction, the higher the better
Peur : represents the fright rate, it must not be too high or visitors will not go there
Nausea : indicates if there is a strong possibility of getting sick while going on the roller coaster, it should be at least possible
Apart from these indicators, there is another nice one: the quality of decoration of the queue ! Indeed, a well decorated line will have a high percentage and visitors will react more positively to the wait.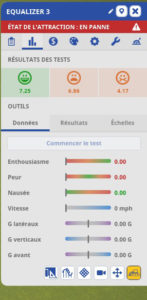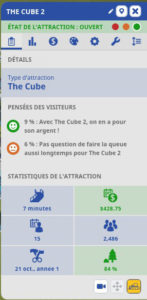 Obviously, there are still a lot of things like priority queues, triggers during attractions, employee management, ... I can't talk about everything but some of these points will most likely be the subject of future guides on the Game !
A little recap to conclude:
Almost infinite freedom
Numerous attractions
Several varied themes possible
Make your own buildings
Up-to-date cartoon design
Steam Workshop
Maybe limited in terms of variety from a certain point if you make a park on a single theme? (Honestly I don't believe it too much lol)
You will have understood it, I am conquered by the game which does not display in my eyes any defect. It takes time, patience and creativity to be able to do amazing things, but fans of the genre are certainly going to have a hard time giving you a different review than mine!
If you play it, feel free to share pictures of your parks, buildings or attractions with us! Maybe we will even share it regularly, with the creations of players from the Steam Workshop!