In Skyforge, the lack of a cursor changes the way you interact and converse with other players. But while the system adopted may seem confusing at first, it still effectively fulfills its function once you get the hang of it.
Discussion channels
In Skyforge, you have a chat window, visible at the bottom left of your screen (above the prestige indicator). This window displays all messages received in the channels you follow, as well as private messages (which will open their own channel). Open channels are visible at the bottom of your screen when opening the menu. You can leave or join a public channel at any time.


In order to send a message, the "enter" key will open a dialog window. By using the "TAB" key, you can scroll through the channel you want to write to between the channels that are open. The "CTRL" key will open a list containing, among other things, your friends list, the private channels you have joined, the "region" and "proximity" public channels. Once the recipient has been chosen, all you have to do is type your message and send it.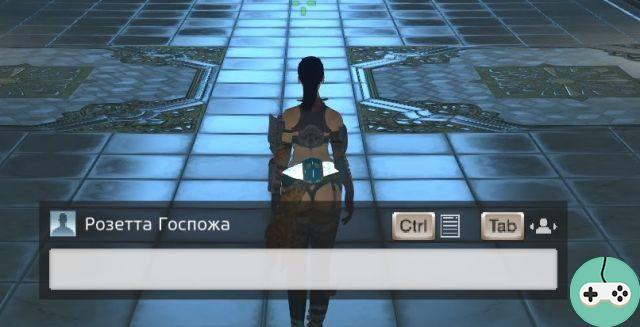 During the Russian beta, the chat interface was accessible via the official website beta forum, a feature that should be present in the game, allowing you to stay in touch even when you are not logged in to the game.
Interactions with other players
In order to see the members of your group, as well as your connected friends, you can go to the "Community" menu (Y key by default), a menu which will also give you access to support and to the bug report.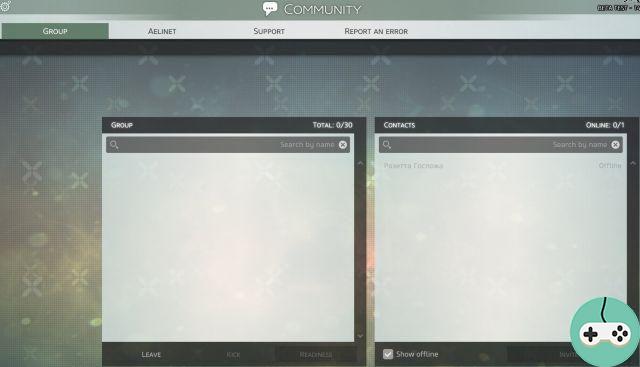 To invite someone to your group or your list of friends, you can search for their name or go through the game. To do this, you will have to target the person by bringing your viewfinder over it and lock it (to make your life easier. ). Then, you must display the contextual menu (G key by default) giving you the possibility (via the function keys) to invite him in a group, in your list of friends, to send him a message, to ignore him or to consult his profile. It is also through this menu that you will have access to emotes.