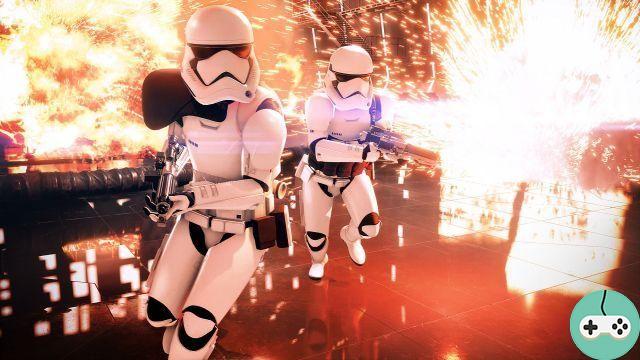 After a first part (well technically a third) in half-tone, the fault of a rather limited content when it was released, the Battlefront series returns at the end of the year, and this with great promises!
A single player campaign ... finally!
One of the main complaints one could make with Battlefront was the lack of a single player campaign. So, clearly, it makes me laugh softly when some people who make this criticism are the same ones who admit not doing the single player campaigns of multiplayer games. But it is true that for people like me, who appreciate a few hours of storytelling, this absence was sorely missed. Especially in a game stamped Star Wars!
This new opus therefore offers a single player campaign, and that feels good! Especially since, even if the lifespan is quite short (5-6h, which remains in the standards of this type of game), the staging is rather well done, if we put aside transitions between the somewhat steep scenes. The script takes place in the original trilogy, and highlights events parallel to what may have happened in the films. To take an example, the first mission asks to infiltrate a rebel ship to intercept and destroy an encrypted communication, announcing the position of the Imperial fleet near Endor. Thus, the script impact is certainly reduced, but gives even more relief to the story that we already know.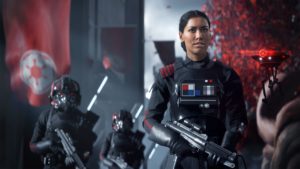 Over the course of the missions, we will be able to travel to places known as Naboo, whether on land or in the cockpit of a ship. In total, 11 missions. With in each of them, hidden objects to recover, unlocking crafting parts (useful for making cards, for customizing characters).
To put it simply, it remains a single player multi FPS campaign, namely very scripted, very interventionist, but rather pleasant for those who like to discover a new story for a few hours.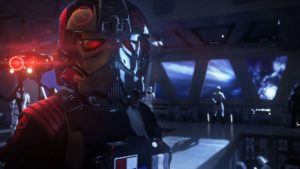 Arcade
For lovers of solo challenges, Arcade mode is here! Through 16 scenarios (8 Luminous, 8 Dark), taking up the major events of the saga, we are propelled into kinds of arenas, in the guise of one of the emblematic heroes, and where the principle is simple: to decimate everything the world !
The modes are very repetitive, it's a shame. I, who really liked the Arcade mode of the previous game, based on Survival, here we end up with a simple team deathmatch. Nothing very original. And above all, once again, that it is repetitive!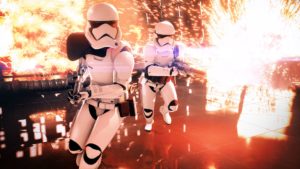 There is the possibility of creating your own scenarios, with a whole bunch of settings. But hey, it's still very incidental. Especially since this Arcade mode is purely and simply solo. Not even possible to play in co-op to brighten up a bit. It's a shame!
Here is a video of a short session in Arcade mode:
Multiplayer
We finally arrive at the heart of the game: multiplayer. This is after all what makes 99% of gamers buy this type of game. And from the start, I still have a bit of the same feeling as its predecessor: it lacks game modes! Only 5 in total is really little.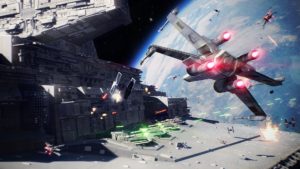 In most modes, eliminate enemies, play objectives, perform certain actions, award battle points. Accumulating enough allows you to choose a hero or a vehicle to be even more dangerous on the battlefield.
Galactic Assault

It is the most famous game mode. A large-scale battle, where 40 players face off divided into two factions, with vehicles and heroes at their disposal.
Space battles

What would a Star Wars be without space battles? Here, Empire and Republic clash in the air for multi-stage objectives.
Heroic confrontation

In 4v4, only heroes are available.
Hit

A little more competitive mode, two teams of eight players compete.
Skirmish

Sort of a 20 player Deathmatch, in close maps.
To give you an idea, here are three videos, one on Assault mode and two on Space combat mode.
The angry question
It's hard to get a preview of Battlefront II without talking about the terribly annoying subject: micro-transactions. Because yes, in fact, Battlefront II offers micro-transactions, in the form of loot boxes (open boxes containing loot). A process that has become very common for several years and yet is causing a scandal only now with this game.
To make it clear, Battlefront II is not Pay-to-Win, unlike what we can read from some of our colleagues, yet journalists (as others have said that Destiny 2 was Pay-to-win also). All content is accessible without paying. Of course, buying crates allows you to go faster, of course you get cards (similar to equipment) in them, but this is not compulsory. And above all, that's not what makes you play well. And even more, it is possible to buy everything (even the crates) with the money of the game. Even if, we agree, it seems relatively long to get heroes like Darth Vader.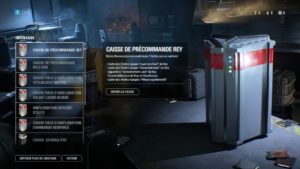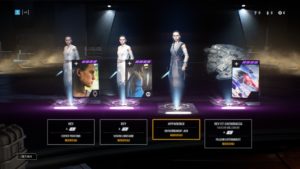 It likes it or not. Me personally, as soon as I can get everything anyway, without having to go through the credit card box, it doesn't bother me that much. And above all, we have the impression that Battlefront II is the first to do this kind of micro-transactions. But a lot of AAA games got into it way before. Overwatch for example. Admittedly, this is only cosmetic, but the principle is the same. Perhaps it is the Electronic Arts effect, which is less popular with people. Also, let's not forget that Battlefront II is scheduled to be updated regularly, free of charge, without any DLC.
In any case, the Redmond firm did not pray, and faced with the multiple complaints received, it decided, on November 17, a few hours after the game's release, to temporarily deactivate micro-transactions, to rework the subject and propose a more balanced system. We will appreciate it or not, but we can in any case note the responsiveness of the publisher / studio, where many others would have been content to let things settle down when they saw where it was leading.
Conclusion
This "lootboxes-gate" has grown to such an extent that it completely obscures the heart of the game, which is much less subject to discussion. Battlefront II is a great game, let's be clear. Granted, as I explained, the game modes could be a bit more varied, but the main one is: large-scale and space battles. And when we start to immerse ourselves in the battle, we take full eyes! The graphics engine does wonders, in addition to being extremely well optimized. The immersion is total, and that's what I'm looking for in a Star Wars game: to be able to fully immerse myself in this universe that I love so much.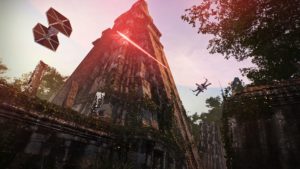 Sublime graphics
The extremely faithful and immersive universe
Accessible and nervous gameplay
A real single player campaign
Not enough game modes
Basic Arcade Mode, not very interesting
High credit price of unlockable items