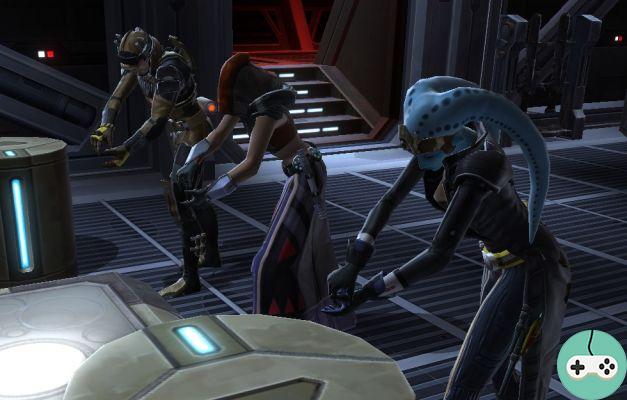 We have received new data from datamining. Please note, they are taken from the PTS which is not yet open. As a result, this data is very highly subject to future changes.
Statistics
All the main statistics will be replaced by a single municipality: "Mastery". objects and datacrons with old statistics will see them replaced by Mastery. Endurance is not affected by this change.
The statistics "Critical index" and "Influx index" have been combined into one which will be called "Critical index" and will be found in tertiary statistics on sophistication and not on modules. The "Influx Index" statistic will be removed from the game.
Components
Here is a table showing a comparison between the current component grade system and the new system.
Grade 11 materials are now Grade 8, and Grade 9 materials are now Grade 7.
Obsolete components
The following materials will be converted into items, which can be sold for a few credits from the PnJ.
Archeology
Bioanalysis
Recovery
Treasure hunt
Biochemistry
Prehistoric Artifact Fragment - Grade 3
Fragment d'artefact alien - Grade 5
Cristal d'Eralam - Grade 2
Bondar Crystal - Grade 3
Phond Crystal - Grade 5
"Strain" bacteria - Grade 1
Luminescent culture cell - Grade 2
Toxic extract - Grade 2
Unknown microorganism - Grade 3
Blue Jelly - Grade 3
Medicinal Fluid - Grade 3
Cosmic Particle - Grade 4
Inert Virus - Grade 4
Agent "Quick-Growth" - Grade 5
Red jelly - Grade 6
"Psychoactive" component - Grade 5
Neurochemical extract - Grade 6
Viral residue - Grade 9
Biological chemical compound - Grade 9
Aluminum - Grade 1
Laminate - Grade 1
Plastoïde - Grade 2
Chanlon - Grade 2
Diatium - Grade 4
Resinite - Grade 4
Neutronium Grade 5
Carbonite Amorphe - Grade 5
Exquisite Yellow Crystal - Grade 1
Precious jauen crystal - Grade2
Immaculate Yellow Crystal - Grade 3
Yellow "prystine" crystal - Grade 4
Yellow "flaxless" crystal - Grade 5
Orange Perfect Crystal - Grade 6
Yellow Perfect Crystal - Grade 6
Crystal impeccable Orange - Grade 9
Impeccable Crystal Yellow - Grade 9
The following implant processors are deleted
Single-Pulse Implant Processor
D-Package Implant Processor
Double-Pulse Implant Processor
Advanced Power Implant Processor
Rybcoarse Implant Processor
Synth-net Implant Processor
Diverse :
Perfect upari crystal
Enriched Duracier
Equipment modifications
This list is not exhaustive :
Advanced Heavy Armor 43 - Armor Crafting
Advanced Versatile Armor 43 - Synthweaving
Advanced Resistant Barrel 43 - Weapon Crafting
Advanced Versatile Cannon 43 - Weapon Crafting
Advanced Heavy Duty Handle 43 - Fireworks
Advanced Versatile Handle 43 - Fireworks
Advanced Lethal Module 43 - Cybernetics
Advanced Warding Module 43 - Cybernetics
Advanced Adept Sophistication 43 - Cybernetics
The upgrades, Headsets and consumables appear to be still in the works.
Exotic components
Personal Conquest Goal - Strategic Resource Matrix
ZL Hard Mode - Exotic Isotope Stabilizer
Building components
Most of the recipes have been updated to require pre-made components rather than traditional components. These prefabs will require two harvest components and two vendor components. Military Reserves will still require harvest components.
Example: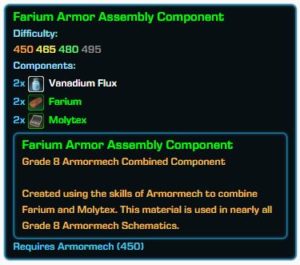 Recipe archive
Most of the non-modifiable equipment and parts have been relocated and moved to an archive section of the skill window. Prototype Quality and Adaptable Armor have been added as a replacement. These items can be reverse engineered once to obtain a random Artifact quality blueprint.
Examples: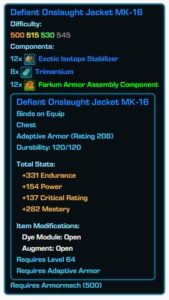 We remind you, all this is taken from the datamining of a PTS not yet open, and not from an official source. All of this may therefore not be just a test, or it may be completely subject to change.