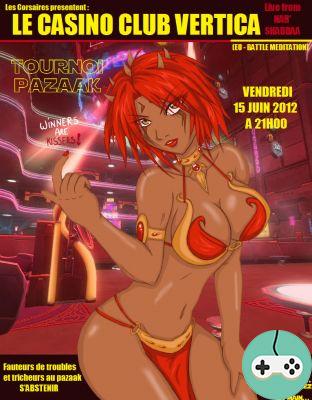 The servers keep busy and this weekend, you can have fun on Battle Meditation, Republic side.
Ladies and Gentlemen, Club Vertica is pleased to announce its reopening to the public! During the last weeks of closure, the management has invested large sums to renovate your favorite establishment and ensure its standard. For the occasion, we invite you to our inauguration gala and for the occasion a big Pazaak tournament is organized. But let's ignore these soulless machines as we find so many in the competition. Club Vertica offers tables hosted by real professional croupiers, nothing replacing the warmth and pleasure of a smile!
Meet on June 15 from 21 p.m. at Club Vertica for an evening hosted by the Corsairs and their merry lurrons. On the program, alcohol, Pazaak and scantily clad waitresses!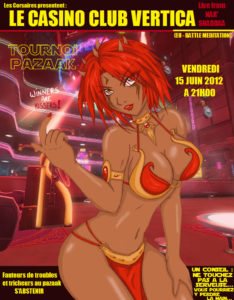 Poster by Shadney
To be easier to manage, the parts of Pazaak will be animated by volunteers in order to simplify things and create animation. The rules have also been amended:
Games in 3 rounds, new hand in each round, no double cards. All in a desire to make the game dynamic and fluid in the absence of IG support. A table for beginners where the rules will be explained regularly will also be offered.
Whether it's for games, drinks or flirting with our waitresses, come in large numbers so you can meet new people and get to know each other! We hope to see you on Friday!
If you like to immerse yourself in the Star Wars universe and experience your adventures in first person, I recommend that you check it out.