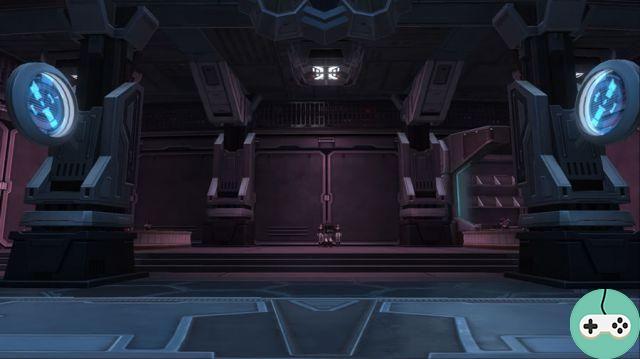 May 1.2
Here is a third article in the series, "What to do at level 50?", Proposed by Hadar and which is now interested in how to get the PvE stuff. Other articles will follow with tips for equipping as well as strategies for difficult modes of instances.
Have you just passed level 50 and PvP is giving you buttons? Want to dedicate yourself to high-level PvE but don't know how to get the right gear? This article is made for you ! I would focus for this article on Operations and Flashpoints and therefore not talk about the other alternate means (like the daily quests on Ilum and Belsavis).
First of all, be aware that the PvE equipment vendors are located in the Reserve (the district to the North-West or South-East depending on whether you are from the Empire or the Republic).
As with PvP equipment, merchants are located on either side of a daily mission terminal. There are therefore 12 merchants, 4 per class and not per advanced class.
Now the question everyone is asking is "How do you get this equipment?" "
Contentious Areas and Operations
As I said in the introduction, we focus on ZLs and Operations. As you might expect, operations yield better equipment than litigation areas. As a reminder, hot spots are four player dungeons while operations are 8 or 16 player raids! Currently, there are three operations: the Chamber of Eternity, Karaga Palace and Explosive Conflict (1.2), both playable with 8 or 16 players.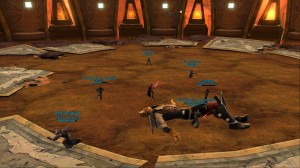 Either way, you gain the same item quality, but not the same amount.
PvE Coins
It's all well and good, but it doesn't tell you how to get the gear you want. This is a constant on all bosses, whether in operation or in ZL, you can have:
a piece of equipment
a distinction or a crystal
a token (only on optional bosses or end bosses in ZL)
A token is a token to be exchanged to obtain part of the equipment (chest, head, belt, weapon, etc.). Here are the distinctions and tokens you can find:
Tionist Crystals (item awarded in Flashpoints on Hard Difficulty and Normal Operations)
Tionist Distinction (item awarded in Hard Mode Flashpoints and Normal Mode Operations)
Columi Distinction (item awarded during Hard Mode and Nightmare Ops)
Black hole distinction (1.2)
Token Columi
Token Rakata
Black Hole Token (1.2)
To obtain Tionist Crystals / Accolades or a Columi Token, you must complete a Flashpoint on Hard Difficulty (Heroic Level 50) or an Operation on Normal Difficulty (Chamber of Eternity / Karagga Palace). If you want Columi accolades or a Rakata token, you will need to complete an operation on hard or nightmare difficulty (Chamber of Eternity / Karagga Palace).
With 1.2, in addition to existing sources, Columi distinctions can be found in Lost Island hard mode and Rakata distinctions can be acquired by defeating the boss of the new Flashpoint Lost Island (in hard mode) and in the story mode of Operation Explosive Conflict over Denova.
Also be aware that to get your gear faster, you can also do quests. To do this, simply go to the Mission Terminal in the Reserve, right next to the PvE equipment vendors.
Weekly / Daily Quests
There are repeatable quest missions at the Terminal that can be repeated once a day. Here are for example the quests I have today:
[Daily]: Emerging Conflict V (Help the Empire by completing one of the following missions: Directive 7, The Battle for Ilum, A False Emperor)
[Weekly]: Galactic Ops: Defeat Gharj on Normal Difficulty
[Weekly]: Deadly Ops:: Defeat Gharj on hard difficulty
[Hard]: Flashpoint: Boarding Party: Board Dorin's Sky and complete the Flashpoint
The quests will grant Tionist distinctions (hard mode quest) or Columi distinctions (operation quest).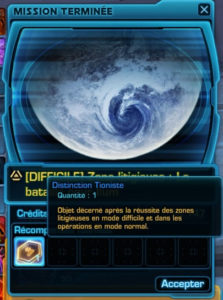 Many players cannot pick up quests at the Mission Terminal. Here is a tip given by Yuna and Naroon:
- put yourself on the left side of the terminal, then spam at the bottom left end.
- invoke a partner and spam at the same time on the terminal.
Equipment available
"I have one last question; what is Tionist, Columi and Rakata? ". These three prefixes correspond to the three armor sets available:
but Tioniste: niveau 126
Columi set: level 136
Rakata set: level 140
To buy the equipment Tioniste, it is necessary :
24 recommendations and 37 crystals for the secondary hand.
32 recommendations and 51 crystals for gloves and feet.
39 recommendations and 62 crystals for the torso, head and legs.
72 recommendations and 113 crystals for the main hand.
For missing parts such as implants or ears, it will be necessary to contact a craftsman.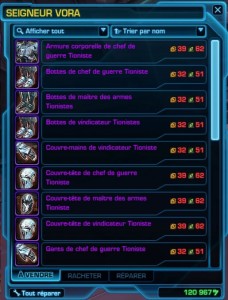 For equipment Columi, it is necessary to obtain:
56 recommendations for hands and feet.
67 recommendations for the torso, head and legs.
The primary or secondary hand, cuffs, belt, atria and implants cannot be obtained only through accolades.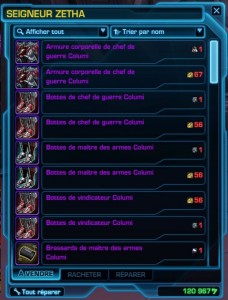 For equipment Rakata, practically all the set is obtained with tokens except the implants and the headset which requires 120 recommendations offered as rewards of the daily quests of Ilum.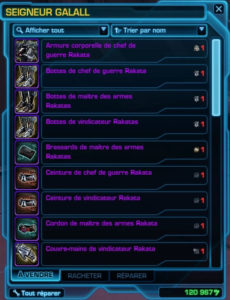 Read the rest of the article on 1.2 and the Black Hole set