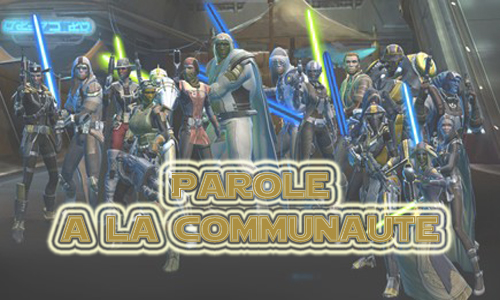 Today we are going to introduce you to the Keibatsu guild working on the Mantle Of The Force server.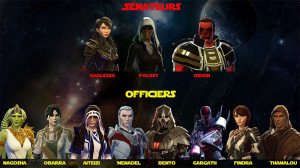 History of the guild?
The Keibatsu guild was created on November 29, 2012 after the departure of the majority of the members of the "Infini's tears" guild. Following disagreements with the established power, we brought the Keibatsu Guild to life.
Multigaming? If so, on what other games?
Not really, but it has happened to us to go from time to time on other games in small groups while staying on our vocals so as not to separate ourselves from the guild atmosphere. Some players have left the game to invest in other games such as WildStar or ESO but they come back from time to time to come and say hello. Also, there is a small group playing on Eve Online, but this is just a side activity while waiting for new content on SWTOR.
Why this name? Motto ?
To be honest, Keibatsu was originally a project outside the Star Wars universe that I had designed (the name is even a registered trademark since this project). When creating the guild, I simply proposed this name since the referencing and the forum was already established. Thanks to this, we saved time by not redoing this job.
In Japanese, Keibatsu means Judgment, although some guild members still ignore it.
Orientation (PvE, PvP, RP)? In-game activities?
There are quite a few of us, and we bring together players with diverse and varied objectives. Some are casuals who occasionally spend a bit of PvP or daily quests with guide members. Others are gamers looking to finish their codex of reputation and success. Some still prefer the Galactic StarFighter mode.
But the majority of the guild is focused on PvE HL, where currently two teams are exploring the Nightmare content of the Dread Fortress, and one of them will soon be heading to the Nightmare Palace.
Small peculiarity of the guild, we are on both sides of the Force. However, we have only one motto: "The Keibatsu are crazy, crazy, crazy, we prioritize the atmosphere above all."
Even though we focus on HL PvE, our first goal is to have fun among ourselves. This is why we sometimes go on Normal operations, whether for fun or to introduce them to newcomers.
Hierarchy? Family guild, organized?
We are 3 guild leaders, Poussy, Khalessa and myself Isidon, assisted by officers. Each one is in charge of a role in particular, concerning the members they have the role of advisers, they validate with us certain projects and the periods of test of the new members. The goal is to avoid that one person decides everything.
After two years of playing, we could also speak of a family guild, we have already organized an IRL and organize more afterwards. We take very seriously that everyone finds their place in the guild and we help them achieve this goal. If some members want success on Denova NM, for example, we go together. Our number of members being quite large, it is sometimes difficult to organize well, so sometimes we have to make some sacrifices but we try as much as possible to suit everyone.
Reviews of the game?
Currently, and like many people going around in circles, we are lucky not to be discouraged from Nightmare mode yet, but unfortunately this mode only attracts half of the guild. The other players carry out the other content of the game (daily, success, ...) or even temporarily go to other games. We hope to see some new content soon, because the planet Oricon has been here for a while and it is getting heavy.
An anecdote about the guild?
We are extremely deceitful, and we often record conversations about our mumble, being half crazy, we sometimes have key moments (some lines have become cult with us) that it is a farrier who talks about gentleness of the genitals of his horses or even myself which makes me yell by my dear and tender with a recording which goes around the forum. If you want to taste our psychiatric (or psychotic ...) asylum atmosphere, prepare your aspirin and come a little on our vocal, you will not be disappointed with the trip.