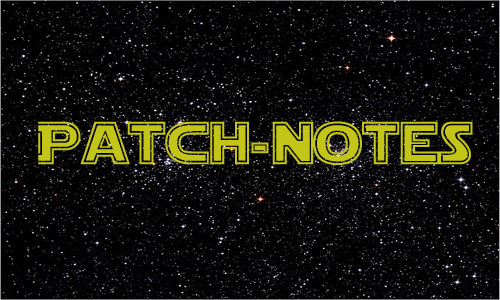 Update 4.3 Obscures Visions will be deployed today from 14 p.m. to 18 p.m. KST.
Date : April 5, 2016
Schedules : 14h00 to 18h00
Duration : 4 hours
Patch-notes
Highlights
Chapter XII: Dark Visions! Face Valkorion in the Odessen Wilds as the Alliance prepares for a perilous mission into the heart of the Eternal Empire. Players subscribed to April 2 have access to this new chapter. The other subscribers will have access to it on Thursday April 7.
Season 7 of the Classified Warzone Arenas has started, so give it to your heart!
New Warzone: The Alliance's proving ground! Train as you join an Alliance inter-faction team to take control of the various sectors of this new war zone on Odessen! Use the bonuses so that the outcome of the fight is in your favor!
New Warzone Arena: Rishi's Cove Arena! This all-new warzone arena is the setting for 4v4 deathmatching and will be available in Ranked and Unranked Queue.
New gameplay option: PvP / PvE interest! PvP and PvE instances are now available on all servers, allowing friends with different game preferences to play together on the same server. Players can activate this option from the minimap icon.
Unlock additional fortresses! Your Legacy now allows you to activate all five strongholds!
More flagship decorations! The number of starting hooks for Republic and Empire flagships has increased to 300 decorations (+ 50%).
Select your favorite mounts and vehicles! Players can now set their preferred mounts and vehicles by right clicking on them, or by going to the Vehicles tab in the Powers window. The activation power of a random mount will choose from your favorites once selected.
Bounty Hunt Contract Week is back! Hunt down dangerous criminals during this recurring event that begins April 19 at 13 p.m. and ends April 26 at 13 p.m. KST.
General
Guilds can now accommodate up to 1 players (up from 000).
Guild members can now be sorted by Legacy to group together characters from the same Legacy.
Guild leaders can now mark a character as the "main" character of a Legacy.
The Guild tab has been removed from the sociability window.
Additional information has been added to the Guild window if the character does not belong to any guild.
Fixed a bug that prevented the Guild Bonus Tooltip from closing when closing the Guild window.
Players can now include a single space in their character name, for example: "John Smith".
The limit of common decorations has been increased to 999 (from 50 previously). The limited decorations remain unchanged.
The character limit for character names has been increased from 16 to 20.
If the number of results for the "/ who" command is less than 10, they will be presented in the chat window rather than in a new search window. This option can be modified from the Preferences menu.
Previous search information of the "/ that" command is saved in the search window.
Characters created at level 60 who mistakenly received the Chapter 3 ending unlock for their class (and the corresponding Legend status achievement rank) have had it removed.
It is no longer possible to use mounts exclusive to conquests outside of conquered areas.
Using Alt-Tab with an Intel HD 4600 on Windows 10 will no longer cause a crash.
Koth's dialogue in the first scene of Chapter IV will now play correctly for spanish and German clients.
The missing replicas of the Messenger of Zildrog and the Knight of Zakuul from Chapters VII and VIII are now present in spanish and German clients.
Fixed the description of Hylo Visz's Rank 20 achievement to clarify that it is necessary to reach Rank 20.
Aric Jorgan is now in the correct Alliance category.
Reduced the intensity of the light effect when using the Fast Travel power.
Partner Slug K'lor Soldier's stats and health have been increased to match those of other partner creatures.
Fixed an error in the description of the Deafening Scream power of the K'lor Soldier Slug.
Objects + Economy
Dark Matter Catalysts can now be purchased from the Contraband Merchant on Odessen.
All HK Subscriber rewards have been added to the collections.
The Revan Memorial Statue that you could obtain from the Temple of Sacrifice is now called the "Revan the Revenant Memorial Statue".
The Zakelink Info Terminal decoration now rotates correctly.
The SI-04 paint for Imperial Scout now unlocks normally in Galactic Hunter.
Players who lost their HK-51 and Treek customizations during patch 4.1 update will find them in their inventory.