Responding to my call, two visitors sent me information about this World Boss from Quesh, Shakasw, our trusty mouseclicker, who once made Snow Blind and Eltana a member of the Scholars Guild on Battle Meditation. So I made a summary of their two contributions for this ultra complete sheet!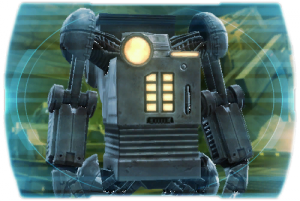 This level 38 Renegade Cartel battle droid has 800 health. He is located in the Infinite Loop area of ​​Gonk, patrolling between the fences with Empire soldiers on guard outside the entrance (coordinates 490, 285 to 160, 300). The Priority Targets III weekly mission will show the location on the map: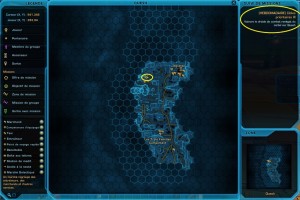 So we find ourselves in front of this big washing machine not very impressive, but which still has some resources. A group of 4 (level 38 more or less) will overcome it (in a few minutes all the same) if you avoid the zones.
Most of the fight, he'll just hit the tank with his staff and experimental explosives (sticking a mine on whoever has the aggro, causing him to lose by the same causing and dealing damage 10 seconds later). This little clever hides his game well and bombards the area with a shower of lightning aimed at each player for ten seconds. These zones are fixed, you just have to move around (reminiscent of the Zorn & Toth zones for those who know). This attack can wreak havoc on an ignorant group, so be sure to let your friends know about it, which will avoid dead beasts to the immobile (of course with a 50 in the group no worries, since he can defeat him solo without taking almost no damage).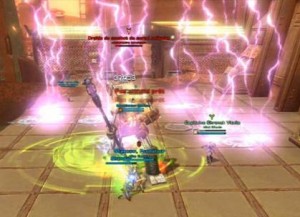 For information, he is enraged at 7m.
Here are two videos of the fight:
And the list of booty :
Force-imbued Handwraps
Gonk Circuitry Implant
Miracle Worker's Boots
As well as one more codex entry to your collection! Only Gargath remains on the list now, yay!