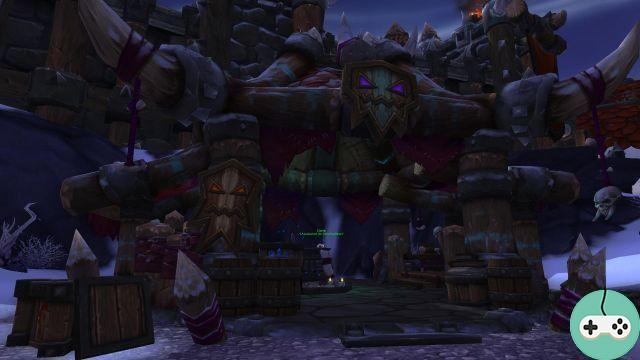 The Enchanting Cabinet provides the magical bases necessary for enchantments, as well as enchantments of ready-to-use items.
This small building can be installed on its stronghold from level 1. The enchanting cabinet offers items for enchanters. It is possible to assign a subject to it at level 2.
With Enchantment
Without Enchantment
For everyone
An NPC sells enchantment recipes.
An NPC can create certain enchanting items for us even without having the profession. Of course, this does not dispense with having the components.
Level 1: Breath enchantments for rings, Luminous Shard, Enchanted Dust, and Weapon enchantment (Mark of the Shattered Hand).
Level 2: breath enchantments for capes and necks and gift enchantments for rings
Level 3: gift enchantments for capes and necks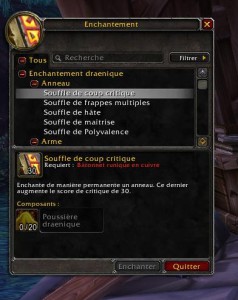 It is also possible to disenchant items by clicking on the item in the middle, the essence receptacle. This then initiates exactly the same action as when using the disenchant spell with the profession.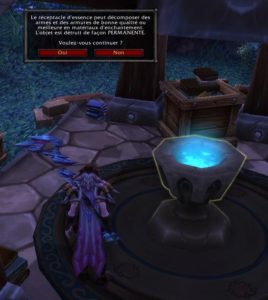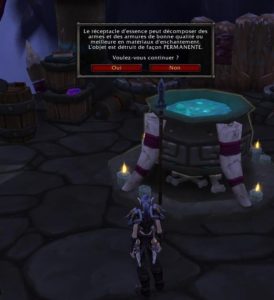 With commands, you can get Fractured Time Crystal for Draenic Dust.
In order to be able to build this building, you have to complete a series of quests that allow you to obtain the level 1 plan:
Alliance : Awakening Shadows (the quest can be found in an item received, the Gift of the Draenei).
Horde : Bladeblade loot (a chest is to be collected on the right after this quest returned).
1 level
Allows you to honor orders and produce enchantment items and disenchant items for those who are not enchanters.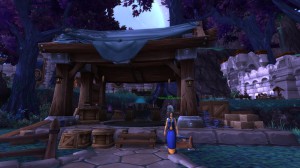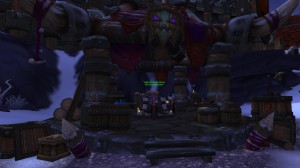 The NPC of the cabinet gives a quest inviting to carry out our first order (quest which will be followed by a similar quest asking to carry out our second order).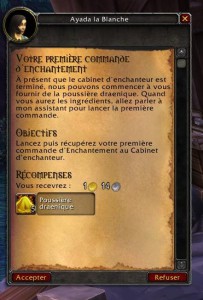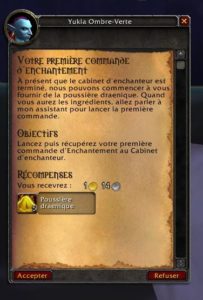 Just speak to the Enchanter's Assistant and bring him 5x Draenic Dust for crystals.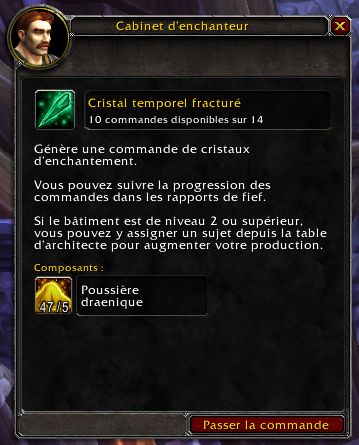 2 level
Allows subjects with the Enchantment trait to work here. These then give you a unique bonus. Also allows up to 14 commands simultaneously.
To get the level 2 blueprint, you must be level 96 or complete the Talador Outpost questline. The boss costs 750 gp or is free with the Outpost Building Assembly Notes obtained from completing the Outpost Quest.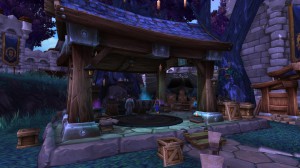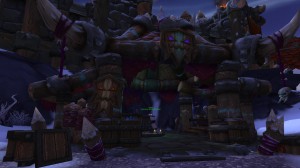 Assigning a subject with the Enchantment trait gives access to specific enchantments that modify the color and style of our weapons. Here are some of the most popular skins:
Enchanting illusion: Butterflies: as if the weapon had a great enchantment.
Enchanting illusion: Invisible: as if the weapon is not enchanted.
Enchantment illusion: Poison (special for thieves): as if the soul has poison
A level 90 subject with Enchantment has a 50% chance to double the results of orders. This goes to 100% if the subject is level 100.
3 level
Allows you to have up to 21 commands at a time.
To purchase the blueprint, you must first have completed the achievement Still Work! which asks to honor 250 orders in our stronghold.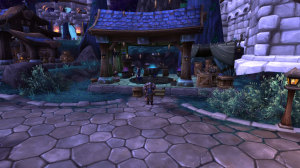 Thanks to Daydream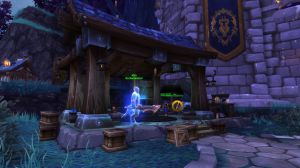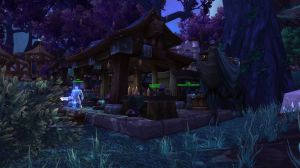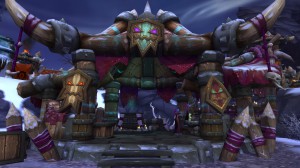 Feel free to send screenshots of your level 3 building!