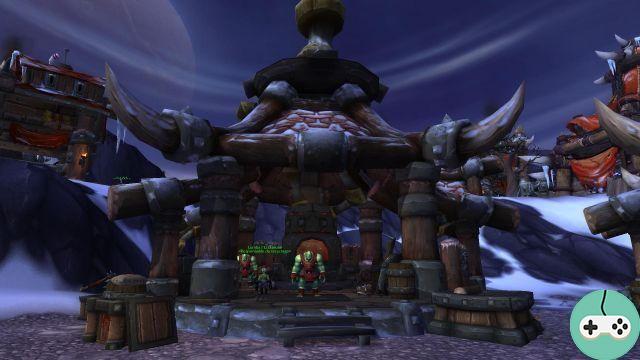 The sorting center turns waste into valuable resources.
Although it is a small building (therefore installable in its stronghold from level 1), the Sorting Center is not linked to a particular profession. It is therefore intended for all players and will improve the profitability of missions by obtaining more equipment. This will make it possible from level 2 to equip their subjects more quickly and even at level 3 to recover objects for our characters.
In order to get the blueprint of this building, you have to complete a series of quests that start at level 96 in our stronghold:
Sifflepince bolts: we are asked to go to Sifflepince bolts in the Spiers of Arak
On site, spore problems with fungal eradication, unwanted dirt, spore dispensed
A continuation of the quest leads us to investigate a crash: The Jackpot. We still have a few more suites (Everyone on the bridge and Preventive insect control) before joining Kimzee (Follow this car!).
We must now deal with the goblins and flying machines in What to do a good job, Stealthy Skimming and The Field Test).
A final series of quests: Sporicide, Avoiding the worst, Horse remedy before finally returning to the stronghold: A beautiful outbreak.
Kimzee then proposes to become a subject of our stronghold, our uncle now taking care of the Bolting.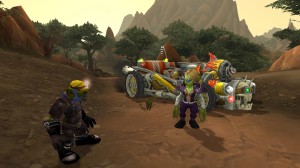 1 level
Allows you to occasionally collect equipment during missions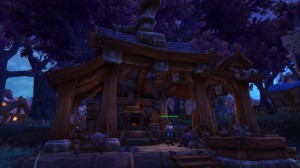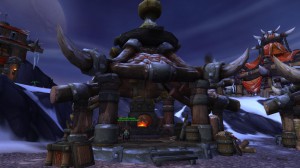 The NPC in the center gives us a quest that allows us to use a Small Bag of Salvage for the first time. You have to throw it in the incinerator next to the quest giver.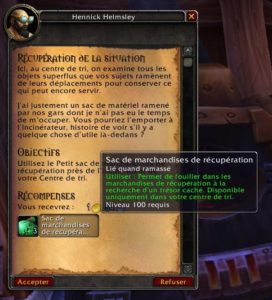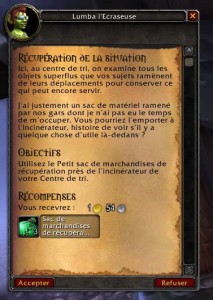 In exchange, I obtained magnificent salvaged gray pieces that were completely useless.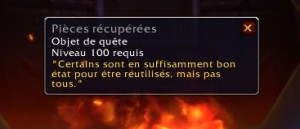 2 level
Increases your chances of picking up material during missions. Also allows you to discover objects for your subjects among the recovered material.
To get the level 2 blueprint, you must be level 96 or complete the Talador Outpost questline. The boss costs 750 gp or is free with the Outpost Building Assembly Notes obtained from completing the Outpost Quest.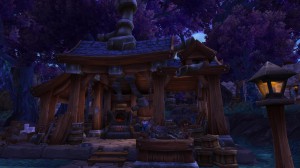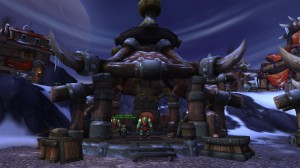 From level 2, the building can produce:
Armor: Blood Saturated Armor Set, Heavily Reinforced Armor Upgrade, Blackrock Armor Set, Reinforced Armor Upgrade, Clasp Armor Upgrade, War-ravaged Armor Set
Weapons: Blood Saturated Armament, Stunning Power Weapon Upgrade, Blackrock Armament, Strike Weapon Upgrade, Balanced Weapon Upgrade, War-ravaged Armament
3 level
Greatly increases your chances of picking up gear during missions. Additionally, you can now find player items among the collected material.
To purchase the plan, you must first have completed the achievement Recover It Pays, which requires you to obtain 100 items during missions. The Level 3 Sorting Center can contain many interesting items: Big Crate of Salvage. Thanks to Wow head, here are the images for third 3.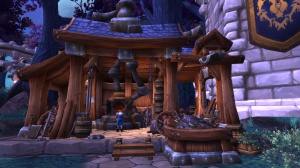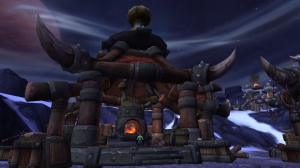 Feel free to send screenshots of your level 3 building!