Albion Online is a Sandbox MMO and it can happen that we do not necessarily know where or how to start. This short guide will allow players to start on a good basis.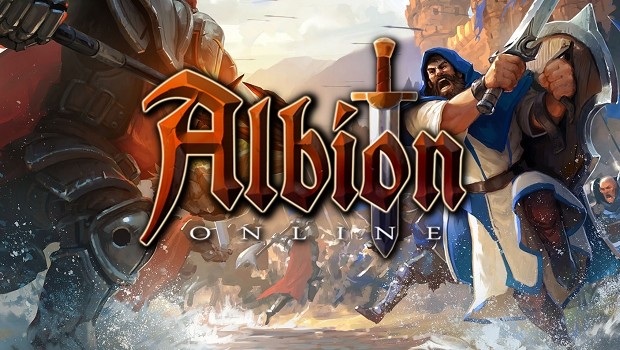 Creation of your character
When you start the game, the first thing to do is to create your character, future hero or heroine of this brand new adventure.
To do this, nothing could be simpler, just go to the interface on the left of your screen, then select the gender. Then, the rulers allow you to adjust the hair, the beard (for men), the type of underwear, with a range of colors, from white to black for each of the sections. Otherwise, more simply still, it suffices to select the random mode.
Then comes the time to create your nickname. Your character is finally ready to embark on the moor, his main point of arrival.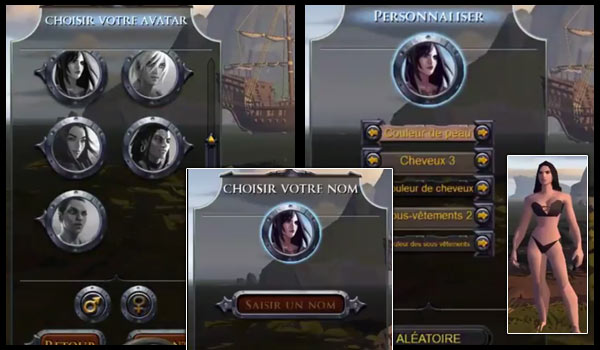 First step and first equipment T1
Often, the first steps are quite disorienting. Especially when you arrive half-naked, without any weapons or tools to start in totally unfamiliar territory. But rest assured, this territory is completely neutral, you are not risking anything for the moment!
You must therefore start by equipping yourself! The first thing to do is to start harvesting enough wood and rough stone to forge your first tool: the skinning knife. Tool that will allow you to skin rabbit skins to get your first clothes and weapons.
We advise you to make your equipment as you go, otherwise you will not unlock the learning points related to it. For a complete first equipment, you will need to collect a certain number of T1 resources:
18 rabbit skins
26 rough stones
30 wood in the rough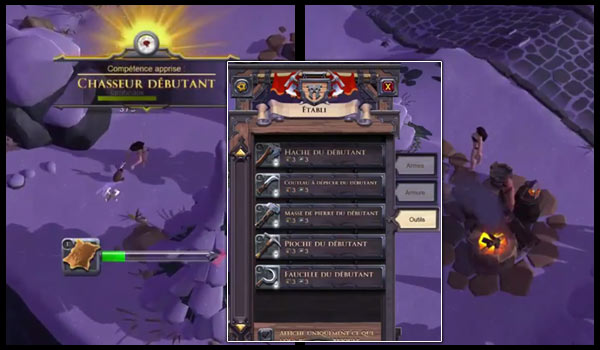 Once these resources are in your possession, you will proceed to the first workbench, located shortly after entering the moor, and forge your first outfit (beginner's armor, beginner's helmet, and beginner's boots with unique spells) and your first tools:
The beginner's skinning knife
Beginner's ax
The beginner's pickaxe
The beginner's sickle
Beginner's mass
Your T1 equipment is finally at your fingertips! And at the same time you have just unlocked your first skill points: beginner gunsmith, apprentice blacksmith, beginner fighter ... You can start heading to the village where many activities await you if you want to progress.
The Village
To display the map of the village, you just need to take the keyboard shortcut M and you will have access to all the shops and other buildings that will allow you to reach T3 without too much difficulty.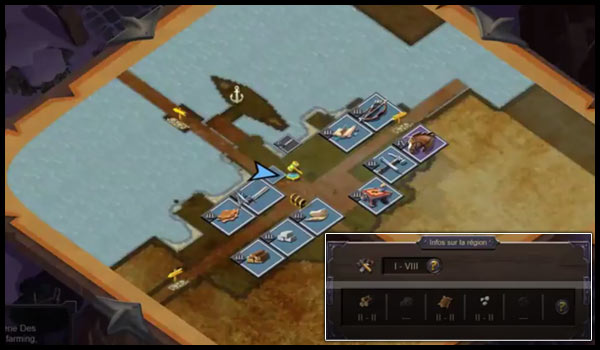 What do we find in this village?
A moored boat to join your guild or other territories
A workbench in which one can forge weapons, armor and tools T1
A forge in which you can forge weapons, armor and study from the upper third for a combatant orientation
A weaving workshop to refine cotton (T2) and other fibers into fabric, up to T3
A tannery to refine the skin resource towards leather, up to T3
A sawmill to refine your wood resources up to T3
A stone workshop, to cut blocks up to T3
A tool factory
A repair station (tools, weapons and equipment wear out over time, so remember to go and repair them after each outing and each fight)
A saddlery
A hunter's pavilion for archer orientation
A smelter to work T2 and T3 ore
A mage tower for magical equipment for mage orientation
A chest, your chest in which you can store all your excess resources (be careful, an overloaded hero will move very slowly)!
All of these buildings will give you access to refining and transforming your lower level resources to higher level resources, which will then allow you to forge your T2 and then T3 equipment. Do not forget that you will always have to keep some lower level resources to create higher level: to refine animal skin and obtain T2 leather you will need primary resources in T1 and T2. Do not forget, therefore, to find out, before going to harvest, about the resource requirements of the item or element you want to obtain.
How to get T2 resources
By using the keyboard shortcut K, you will display the general map on which you are with the different zones located around the village. By clicking on each of the zones, the region is displayed with a window and an information insert on the available resources. Once the area has been identified according to your needs, you just have to go there and start your harvest of resources necessary for your evolution towards T2.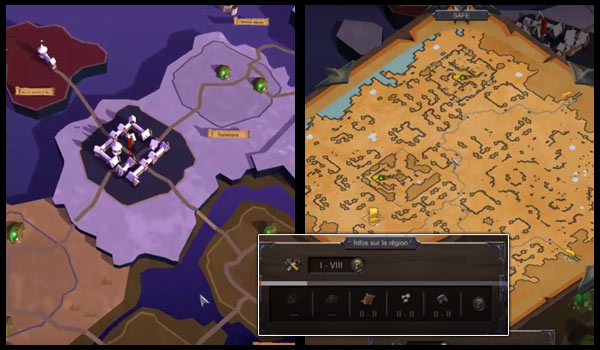 How to get T2 equipment
The resource requirement will vary and will depend on the direction you want your character to take.
A T2 mage will need:
8 ore bars in T2
4 leathers in T2
36 fabrics in T2
18 T2 boards
A T2 Archer will need:
18 T2 leathers
32 T2 boards
A T2 warrior will need:
52 T2 Ore Bars
8 T2 leathers
4 wooden planks T2
It's time for you to start heading to the various accessible areas around your village and go harvest the resources you need. In addition, a mount would not be too much to transport and go faster in your travels (knowing that a horse halves your load).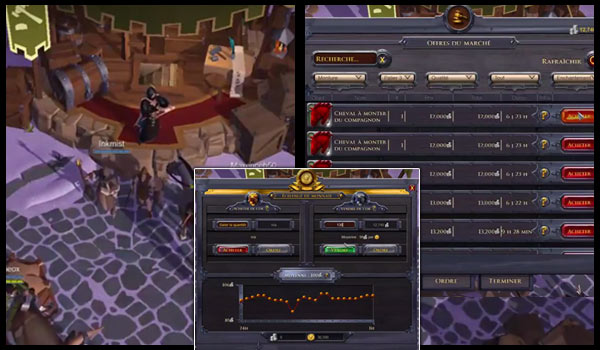 So, how to get a mount right now: just go to the Sales Hall (L'HDV), located in your village and check if any mounts are available. Compare the selling prices, then go to the gold market (fourth icon at the top right of your screen), sell gold for silver coins for the amount needed and return to the HDV to obtain a horse directly in T3. However, you must have accumulated a total of 9 renown (obtainable by killing T000 and T2 creatures) before you can climb. In the meantime, put it in your trunk, otherwise it may weigh you down.
So first you will have to go get your resources on foot.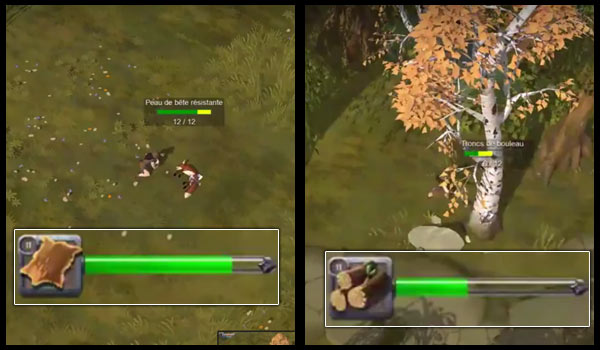 Once you have obtained your primary resources (Raw resource) in T2, you return to the village, then go to the various refining buildings in order to obtain the secondary resources (refined resources).
How does it work?
When you click on the target building, two windows will appear on either side of your screen (your inventory on the right and the available building refinement items on the left). You click "craft" to get what you need to forge your T2 gear. You then go to the forge, hunter or mage building, depending on your orientation, equipped with your refined resources, then you create your T2 equipment. The same goes for your tools.
Be careful, if you do not increase the level of your tools, you will not be able to harvest the higher level resources.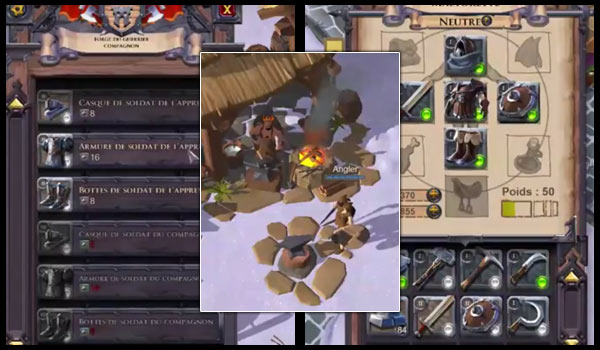 You can now equip yourself by clicking on your inventory and applying all the new T2 items to areas of your silhouette, as well as choosing the spells you want to apply to the equipment.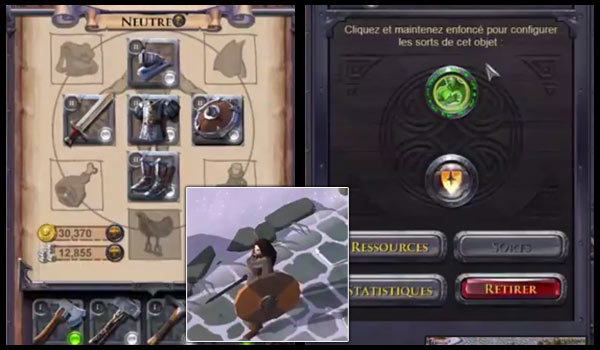 You are finally ready in T2 to attack a T3 equipment, subject of a future Guide. We will come back to various details later, such as:
How to recognize the different resources, the different possible orientations by detailing the panel of fate, and a few other additional surprises.
If you also want to test Albion Online, you can register by going through the Official website.
Have a good game and good quest!