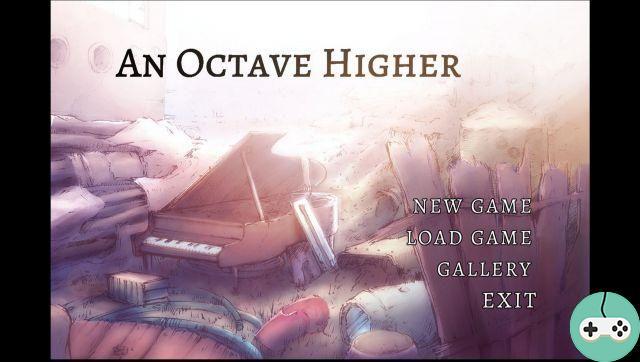 If you enjoy video games and reading, Visual Novel is for you. Kind of virtual book in which you are the hero, An Octave Higher is available on Steam. Valve's platform is welcoming more and more VNs, which will delight fans of the genre and allow it to be known to more people.
Is An Octave Higher a worthy representative of the genre?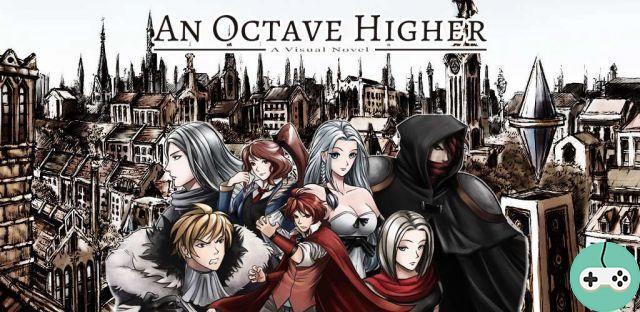 Presentation
Developed by Kidalang and published by Playism, An Octave Higher takes us to Overture, capital of an empire that has discovered and uses magic on a daily basis. Explore Overture, meet the inhabitants of this fantastic and magical city, make choices that have direct consequences on the lives of the characters and the future of the capital.
But in this world where magic defines your rank, troubles arise. The rumor of a revolution spreads, making the city nervous. Does she really need a revolution?
We will follow Elise, Franz and Frederic, each with their own goal but being brought together around a project: a broken piano.
At Overture, everyone knows that healing magic can't restore an inanimate object, but when Elise puts her hands on the piano and tries to get it back on track, things take an unexpected turn. Will they manage to repair the piano while the tumult of the revolution rumbles?
The decor is set, it's time to immerse yourself in history!
This music...
The welcome screen charms me from the start: sober with its bright image and music whose notes fly away, leaving the impression that adventure awaits us.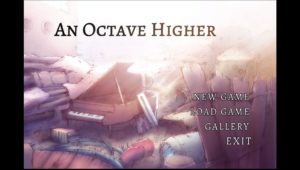 We land in the center of an arena whose luxury is more like a theater. This place is used for a magical game whose objective is explained to us. Here again, I can only salute the music that fits the mood.
We follow Frederic who has to face a woman named Woolf on the birthday of the young Lord's father. The fight is fierce, the cold and mysterious side of Woolf annoys Frederic.
Visually it is successful. These first characters encountered remain simple without appearing, like a drawing, neglected, the magics used are shimmering, full of life. It's just a drawing but you would almost expect to see it come to life.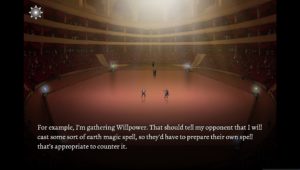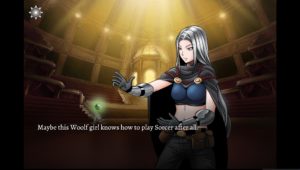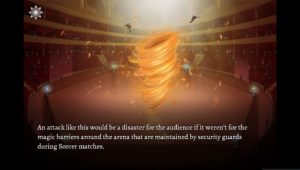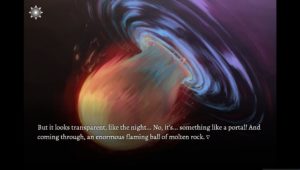 After this first scene, we change character and scenery. We now follow Franz who starts his day playing teachers, willy-nilly. We attend his magic lesson, like a student.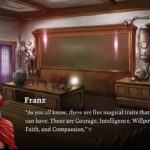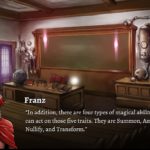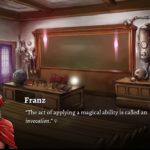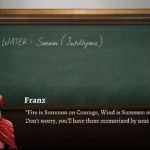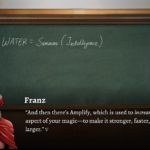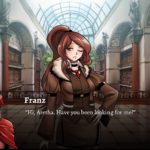 The day continues, we observe the different decorations, this somewhat particular universe where public transport is flying. After all, this is the city of magic.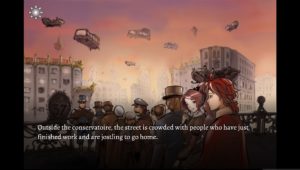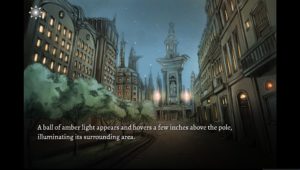 The music always accompanies the scenes impeccably. sometimes classic and calm, sometimes more joyful or even insolent, it adds another dimension to the story.
We still change character and scenery, we explore another part of Overture. We will share the daily life of several characters.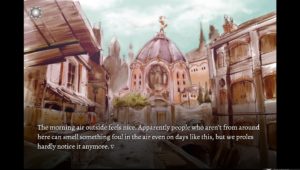 Visual Novel: a genre apart?
It remains difficult to share the experience of An Octave Higher. Here, we do not have complex gameplay to describe, enemies to analyze. Describing a visual novel is quite a complex task, like reviewing a book. You must already like reading before embarking on a NV. If you run away from a book, don't read any dialogue in a game, this genre isn't for you.
I advise you to have an excellent level in English to play it. Explaining Overture, magic, how this particular world works can be pretty tough. It is also very well written, the dialogues are worked on, the emotions well transmitted and certain descriptions so precise that you will imagine the scene illustrating them come to life. In addition to the music there are also some sound effects to accentuate the lively side a little more.
You follow different characters and you will have choices to make. Think of it as a road that splits into several paths. Your answer may surprise another character and change their way of perceiving you, modify your next step, etc.
An Octave Higher has several endings, 5 or 6 based on Steam Achievements, enough to spend time trying to get them all.
For 11,99 € here is a very good "book"! After 3 hours of play I am at 21%. I still have something to take care of!
In addition, two mobile versions are available on iOS and Play Store. The lite version is free while the full is € 7,52.
Version lite
part of the full version,
2 different paths,
3 different points of view,
a large panel of characters,
backup at any time,
gallery
Version full
6 different endings,
a real end,
3 different points of view,
a large panel of characters,
an easter egg caché,
backup at any time,
gallery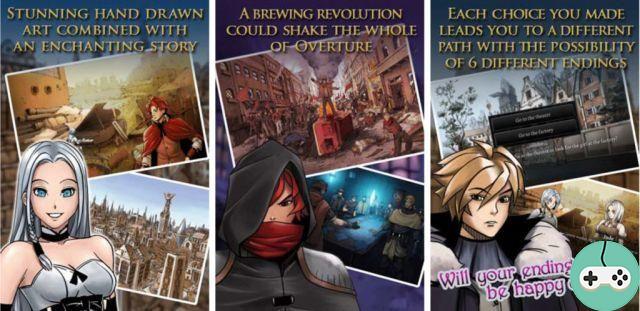 It's up to you to choose which medium will suit you best to embark on this great adventure.