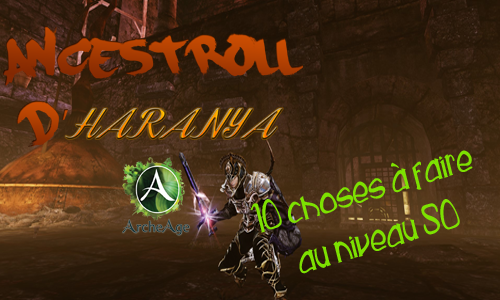 Today, I'm going to talk with you about a few tips and tricks so you don't get bored at level 50 on ArcheAge. I hear a lot of players complaining and yet the content is such that I can not get off the hook to make my videos even though I have been level 50 for a few days after the game was released!
So here is a non-exhaustive list of 10 things to do on ArcheAge at level 50 to fill your playing time.
Wild PvP and War
Obviously, PvP is in the spotlight and it is with pleasure that we will go and get our heads full with enemies. The continental zones being able to return to war following too big conflicts, it is a godsend to gain points of honor or experience for its classes. The Halcyona war takes place regularly and allows you to win medals to exchange for a necklace, it is organized and is played camp against camp with the destruction of diamonds.
agriculture
Indeed, lovers of rural recreation, you will be served! Costing few craft points, dozens of players do just that with their days and cultivate immense fields, wild or not. It does not earn gold coins and "components" to craft new items.
Hasla
I have already talked about it in this article. A difficult passage but necessary to have good equipment.
Piracy
Reserved for upper levels, the sea opens its doors to pirates and trade pack thieves. Be careful, and do not hesitate to indulge yourself in the joy of maritime barbarism as soon as you feel like it!
Arena
Fans of organized PvP, the arena opens its doors to you. Whether it's 1 on 1 or 5 on 5, the intensity of the fighting will revive your fighting spirit. Store Honor Points to unlock numerous perks.
Fishing
A function in its own right, fishing is the center of interest for many players! Both fun and financially interesting, let yourself be carried away by the sound of the waves and the seagulls, take out the hooks and go!
The Trades Packs
Now that you are level 50, embark on the solo crossing and dare to carry your trades packs alone. Don't be afraid of pirates anymore and fight proudly! Find my video on trades packs in this article.
Handicrafts
I preferred to separate agriculture and fishing from the rest because they are really two complete axes and we can play 100%. The craft will be more general. Do not hesitate to collect materials and minerals to forge yourself an armor or a high level weapon! Fill your house with beautiful items, create chests and workshops for your farms ...
L'exploration
The world of ArcheAge is full of many secrets, you can discover them by exploring all areas and seabed, sunken chests and ancestral cities await you!
The JcE
It has been argued that ArcheAge is primarily PvP and it is true. But a big axis players against environment should not be neglected. The available dungeons offer an important challenge, without forgetting the "World Boss" or the Kraken!
You can find me on facebook and on YouTube, do not hesitate to subscribe!