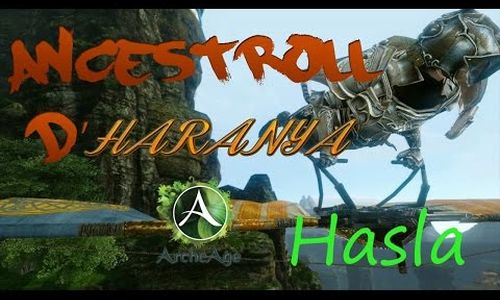 A few days have passed since my last appearance on Games Managers with a lot of positive feedback, it's super cool. I have a lot of ideas for the future of videos, it's going to be crisp! Today, for this second video in your company, we are going to talk about Hasla and her relics that are more than hard to have. We really feel that the game is coming out of the Koreans! It will take you hours and hours to assemble the different brands, in numbers of 150, to create the weapon you desire.
Passwords?
Hasla is a small region located on the Haranya continent, the penultimate quest area of ​​the Firrans and Haranis, level 50 area. Brain torture, but you have to go through it. It is necessary to recover on certain monsters present in small quantities, very specific marks which fall one by one ... And no question of "aggro". There the first who hits the creature is not necessarily the one who gets it. Often, the monsters fall in "free-loot" and we can recover the mark after 5 minutes.
Brands, but what do I do with them?
The Marks of Hasla, relics of the past, allow when you recover 150, to create a rare and powerful weapon, a lute or a shield. There are 7 of them: honor, loyalty, compassion, courage, bravery, conviction and sacrifice. Each mark corresponds to an object.
If you own a mark from each category, for a fee and crafting points, you can recreate 5 copies of the desired mark.
Be careful, do not venture there below the last levels, PvP is very present there and even within its own nation. No laws, no rules, just farming.
Do not hesitate to subscribe to my YouTube channel or to the Facebook page where you will regularly find videos on ArcheAge (tutorials, PvP, music, gameplay ...)