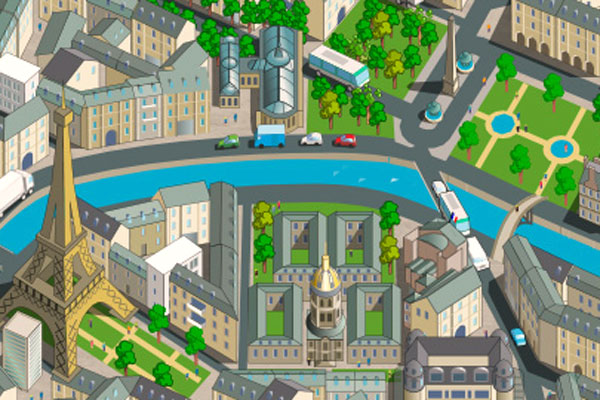 The City of Paris put on line last Tuesday a breathless "serious-game" which puts you in the place of various Parisian actors. It's up to you to play and transform Paris. Clim'Way Paris is the Parisian version of an educational game developed by the publisher Objectif Prod in partnership with Cap Sciences. The Urban Ecology Agency of the City of Paris collaborated with the game publisher in order to adapt the concept to the Parisian challenges.
The pitch
The aim of the Clim'Way Paris game is to reduce Paris' carbon footprint, by preparing the capital for the year 2050. Be careful, if your actions are too slow, you could be hit hard by the increase in prices of energy and heavy flooding. Reducing greenhouse gases is everyone's business, which is why you can take action in all areas: housing, transport, town planning, consumption, waste, etc. as a citizen, but also as businesses or public authorities.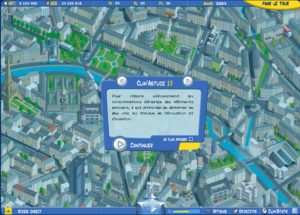 Territories such as the City of Paris are implementing Territorial Climate Energy Plans in order to fight against climate change. They concern all the actors of the territory. They should enable cities to reduce greenhouse gas emissions (GHG) and energy consumption (NRJ), ensure the development of renewable energies and adapt to new climatic conditions. Your mission is to carry out a Climate and Energy Plan for Paris.
How to play ?
Each year points, Public Authorities (PP), Companies (PE) and Citizens (PC) are awarded. They correspond to the investment capacity in the City of each actor for the current year. These action points are to be spent on various environmental objects and will help reduce GHG emissions, reduce energy consumption and prepare Paris for possible disasters. All of these actions will constitute your "Climate Energy Plan".
You have 46 years (46 laps) to implement this Plan and achieve the objectives set.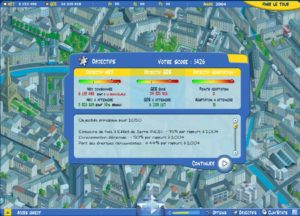 Thinking well before spending your points on the most judicious actions and acting quickly and well are the keys to success. In fact, each year GHG emissions and energy consumption will increase if public authorities, businesses and citizens do nothing for Paris. To do this, you will need to spend your action points as best as possible so as not to drag the city into a series of catastrophes.
Positive points / Negative points
An immersion in the environmental issues that await us all
Good replayability thanks to its backup system
A city that changes based on your actions, we believe it.
A lack of bad choices, despite the presence of some negative actions.
Action points not quite well distributed.
A menu of actions not very intuitive.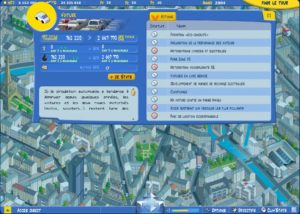 Tips and tricks before you start
Public policy is at the start of all projects.
Certain choices of actions allow you to increase the number of points you receive each month, it is your priority.
Beware of the various traps, some actions, although attractive, cost a lot in points for a symbolic result (the Eiffel Tower for example).
Back up regularly, this will allow you to correct your mistakes.
And now you are ready to embark on the adventure and perhaps you will manage to transform Paris in this way: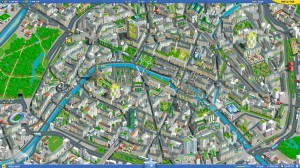 Conclusion
Clim'Way Paris is a fairly addicting serious game and above all well anchored in the heart of Parisian issues. You can decide whether or not to build a Tramway in Paris and launch the Vélib and Autolib there. Despite a few bugs and a slightly complicated menu, he kept me busy for hours and pushed me to think about the best way to allow the City of Paris to adapt to climate change and the future difficulties that await us. 'by 2050. In fact, the educational objective has been reached and I therefore recommend that you spend a little time on it for this aspect but also because the way of approaching the subject will make the subject of environmental protection and much more pleasant action plans to put in place.