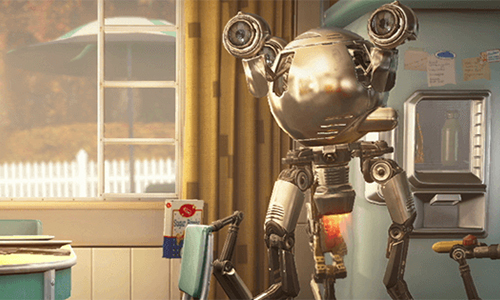 Fallout 4 comes with its own set of companions, and the first one you'll pick up right out of the vault is Codsworth, your personal food processor who takes care of you and your home early in the game, before things turn into disaster. .
In a new post on the Bethesda.net site, the studio reviews their design and here's our rundown.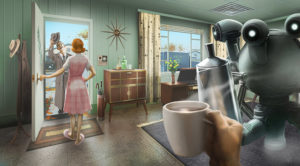 Stephen Russel is the actor who played Codsworth in Fallout 4, but also the one for Mister Handy, quite similar to this first, in Fallout 3. He indicated that he must be embodied so that it cannot be seen as a mere heap of junk or a robot. Thus, he embodied him as a "thinking being in his own right, capable of feeling joy and frustration, pleasure and pain, affection, anger, enthusiasm, fatigue.".
For its design, made by Dennis Mejillones, there are different points we can talk about. Its overall appearance has been designed so that it looks like consumer appliances, with references to everyday objects such as a toaster or a blender.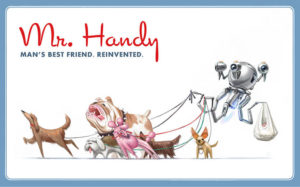 An important point of Codsworth are their eyes. The eye support was inspired by a 50s scooter. They were intentionally made big to make it look cute, they have irises for depth, and they are animated to represent emotions. since he does not have a mouth, or he cannot tilt his head, for example.
Sa round shape was chosen because everyone likes this shape, especially for balloons, giving it a harmless appearance. On this point, it was thought until poor with as an example his flamethrower which is brightly colored.
Codsworth nevertheless has a dual appearance : if we are looking for trouble, it will change its appearance and go from a cute round ball to a threatening robot with lots of cables and connections.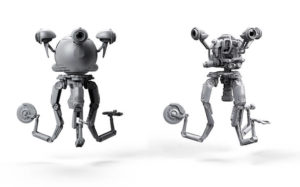 Mejillones admits all the same that his work on the appearance remains almost incidental as the work on the dialogues, by Emil Pagliarulo, combined with the acting of Russel, could be enough for any design of the character to make him endearing. and interesting.
Do you often play with Codsworth on your adventures? Did you feel all this hard work going on an adventure with him?