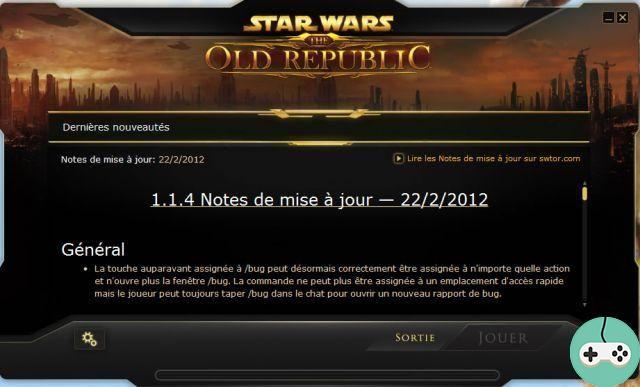 Here is the patch notes deployed today February 23 during the daily maintenance. Apart from the big change on the cooldown, we now have a fairly mundane patch notes, without noticeable changes. I therefore especially remember the new user interface configuration options but also the correction of various concerns (quests, ZL ..), the removal of a flaw in war zones and the removal of the link with the / bug command ( very annoying on a spanish keyboard!).
1.1.4 Release Notes - 22/02/2012
General
The key previously assigned to / bug can now correctly be assigned to any action and no longer opens the / bug window. The command can no longer be assigned to a quick access slot but the player can still type / bug in the chat to open a new bug report.
Classes and Combat
General
Using indirect targeting abilities (such as area of ​​effect abilities) will no longer mark players as available for PvP if a marked player from the opposing faction is in the ability's area. The ability will have no effect on the player marked for PvP.
Imperial Agent
Secret agent
Medical Therapy: Kolto Probe and Salvage Nanotechnology now correctly take advantage of this ability.
Bounty hunter
Spécialiste
Carbonite Freeze: Combat Tech PvP armor will no longer prevent this ability from stunning enemies.
Transactions and contentious areas
operations
Eternity chamber
Soa's threat level to his primary target no longer drops when he casts Mental Trap.
Karagga Palace
Heavy Maker G4-B3 now has lower health points on Normal difficulty.
Objects
Sellers
"Show Usable" now correctly only shows items that can be equipped.
Missions and NPCs
Missions
Republic
Unlikely Allies: Resetting the quest no longer requires abandoning and resuming it in order to complete it.
PvP
War zones
General
Fixed a flaw in the waiting interface that allowed players to be overcrowded in a war zone. Imbalances can still occur under certain circumstances but the issue can no longer be intentionally triggered by players in this way.
Alderaan Civil War
The East Turret no longer fires twice under certain circumstances when captured by the Imperials.
Open PvP
Ilum
The / stuck command no longer teleports players to the location of their death.
User interface
General
Adding a command / version
Added several new options regarding the appearance of the cooldown:
Show Readiness Flash: Activates a bright flash when an ability's cooldown expires.
Show General Cooldown Prep Flash: Activates a bright flash when the general cooldown expires.
Cooldown Style: Changes the visual style of the cooldown.
General cooldown style: Changes the visual style of the general cooldown.
Cooldown Text Settings: Displays the remaining cooldown time superimposed on the ability icon in the quick access bar.
Bugfix
The Sort button in the guild window now works correctly.
Items placed in a quick access bar are no longer removed from it when learning new abilities.
Using Shift + Right Click to split a stack of usable items no longer uses one of those items.
Some UI preferences (such as quick access bar lock and minimap zoom) will no longer reset when changing zones.
Fixed various bugs
Players are no longer occasionally logged out when purchasing crafting materials from the Galactic Trade Network.