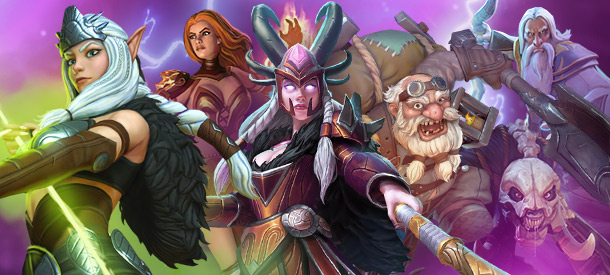 The teams of the German company Gameforge were last week at the e-sport bar Meltdown for an afternoon to show us the latest news from the publisher. On the program, three games that we were able to test after a little reminder on what Gameforge is and its definition of FreeToPlay (F2P)

Gameforge and the F2P
A little reminder was made to start. Gameforge is:
About twenty games
Translations in over 50 languages
Games distributed in 75 countries
450 Million accounts (even if they are aware that an account is not necessarily an active person or a player)
A network of over 11 volunteers for translation and stuff like that.
They also wanted to describe the idea of ​​F2P according to Gameforge:
No barrier to enter the game, just an email address and a password are enough!
"Time has value" it is with this maxim that Gameforge wants to value playing time, two ways:

No game time limit. So don't have to wait 12 hours for example before being able to replay a game
Some things can be obtained faster for real money, but all that is needed to win can be obtained in-game by playing enough.

Aesthetic objects are the only exception. These are the only things that for some can only be bought for real money but they are purely aesthetic elements, so there is no "Pay To Win".
The games are distributed digitally and globally. Why should the player pay for a CD?
No in-game ads.
And this other principle granted to the players: "Play first, and then pay then if ever. According to the desire and the means of the player."
Orcs Must Die : Unchained !
One of the games presented belonged to the famous series Orcs must die with the title Unchained which follows the first two! The Senior Producer present declared that the first opus was a single player game, the second had brought cooperation with other players. The third: Unchained, brings him the Player vs. Player (PvP) component! It is therefore an evolution from one opus to another.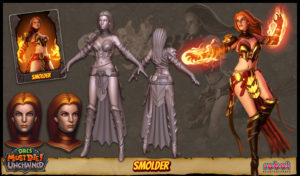 Here is a champion full of panache!
I am not going to present again this mix of MOBA and Tower Defense which we had offered you a glimpse here and there. Instead, I'll take stock of the current state of the game, and some additional information we have:
The game has been in closed beta since June 2014. Since then, there have been regular updates, based on player feedback, as well as ideas from Gameforge (publisher) and Robot Entertainment (developer)
After these many regular updates, it was decided to stop the beta for 4 months for a very big update with a recent reopening in closed beta 2.0 mode.
We can hope for an open beta release for the summer.
A definitive release of the game on PC and PS4 (because yes it will also be released on PS4!) Is planned before the end of the year.
There will therefore be a PS4 release which will make it the publisher's first title on this console. This game will of course be available in free-to-play.
The game is basically over, at least for everything gameplay-related. The last things to do are more like polishing the game.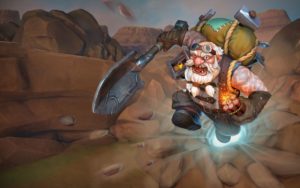 Quick, the dynamite will explode!
Who wants a big hug?
For the aspects of the game itself more than its history:
A social hub has been added to make the experience more interesting.
Twitch has been integrated directly into the game to allow easy livestreaming.
A Spectator mode tool is currently missing, especially for e-sport, one of the famous polish shots to pass.
There are currently 7 player heroes available, however a total of 20 are ready! The 13 currently unavailable will be released after the game debuts and the first player feedback.
Two maps exist, a third is in development.
The stopwatch has been removed to avoid having too many draws. At the moment there is not enough data to tell the duration of a game, whether some are really going too long or not.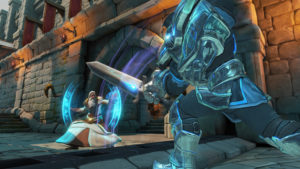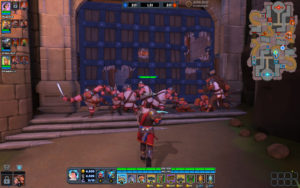 Finally concerning the technical details, note that:
The game is reserved for 12 years old and over
It is in free to play mode
A personalization of the heroes is possible, it is the appearances of those who are paying.
The game will be released in many languages ​​(and that's pretty good):

English
spanish
German
Italy
Spanish
Portuguese
Turc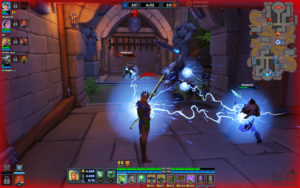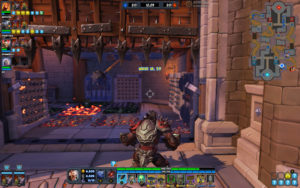 A rather ambitious program, for an addictive game after only one or two games played! The handling is quite easy, some according to the Gameforge team will have an easier time handling the Tower Defense part of the game, while others the third person combat part. It is according to the playing habits of each one!
I must say that this game won me over from the first part and I will wait impatiently for it to be released definitively so that I can play it from time to time ... after that it is free to play! So why deprive yourself ?