Released just a week ago, this adventure game developed by Daedalic Entertainment takes us on the last episode of the Deponia series. The game puts us in the boots of Rufus, a goofy anti-hero who has made it his business to save Deponia from destruction.
From the tutorial, the game puts us in the mood for the title: the hero complains of having to type a tutorial for the third time! You will understand, Goodbye Deponia does not take itself seriously and it's nice!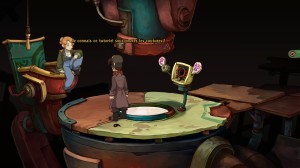 In this short introduction, you learn the basic commands. Nothing transcendent here, we find the classics of a point-and-click: pick up, combine, study, pose. We must therefore pick up a part, combine it with a second of our inventory to repair the machine and hop, finished the tutorial, forward for the adventure. You will notice above that the game is subtitled in spanish, the audio being in English.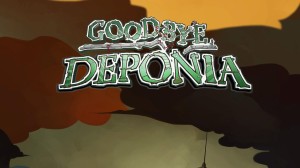 The story is a direct continuation of the previous opus, Chaos on Deponia and we find ourselves in a ship on rails, speeding towards its goal. At the beginning, you feel a little lost and out of the story. The characters know each other and send each other little spades that fall flat (in any case, for me who discovers the game and the universe) even if it seems to amuse them a lot. Despite everything, we smile and Rufus, the left and selfish hero, has a lot to do with it. And we find ourselves getting attached to it!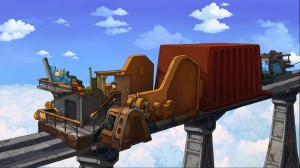 After a few scenes, we meet an unlikely photographer, a fan, who allows us to brag about our previous exploits, the good opportunity to remind new players of the main lines of the first 2 Deponia in a completely integrated way (even if it is is a bit dependent on the woman, Goal, his girlfriend, whom we should save in the moment that turns while we chat, attached to the kind of pipe we see below in the middle).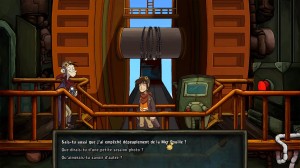 And the adventure progresses ... We meet NPCs more special than the others, with reasons as personal as they are strange to invite themselves in the story. Each time, we take pleasure in listening to them until we have tried all the dialogue options. I'm not going to tell you the story of this final episode, Goodbye Deponia. Will Rufus be able to save the planet? How should we take this title, a farewell to the heroes or to the world?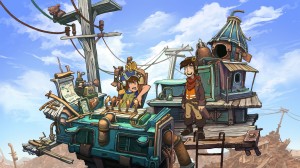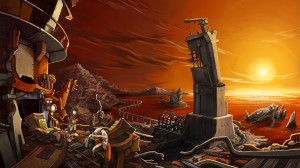 Each place we visit is made up of fixed boards between which we can navigate via fixed access points (door, closet, or just sides). On each board, you can find objects and interact with others. We will therefore have to loot everything we find and fill our pockets, any object can be used later!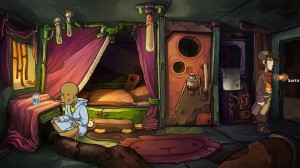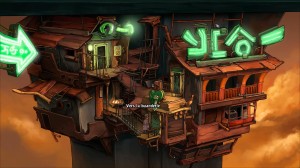 Fortunately, we have room in our inventory, filled with things as diverse as they are varied as here: dust, salt, pepper, a corkscrew, a key, a pillowcase and an outfit! The inventory is opened with the mouse wheel (although you can choose to display it differently).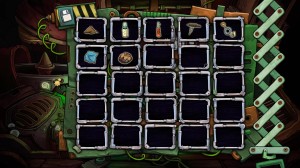 The puzzles are, as always, sometimes a bit far-fetched even though overall I've seen a lot worse on this side. Put a hanger in the mouth of a pelican, normal you say? In addition, mini-games are offered: explained and optional, they are presented in a variety of ways even if they are always based on logic (analyze the behavior of x objects to reach a position y).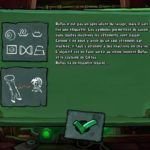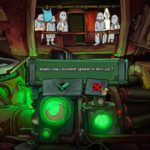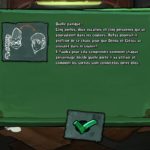 Once a place has revealed all its secrets, the machines are repaired and the leaks sealed, we move on to another place with music!
You will not know more, I will not give you the end: you will have to play if you want to know the fate of Deponia (at the same time, I myself have not yet finished the game which has a good duration of life) !
In conclusion, Goodbye Deponia is an adventure game, beautiful, fluid and enjoyable that I recommend to you. If you like point-and-clicks and stories, don't hesitate. Obviously, if you like action and freedom, this is not your style of play (whatever ... Rufus is capable of creating an explosive situation at the most calm and unexpected times)!
Goodbye Deponia is for sale on Steam for 17.99 € (-10% still today, 19.99 € otherwise). A pack, Deponia Trilogy, with the 3 games is at 47.99 €.