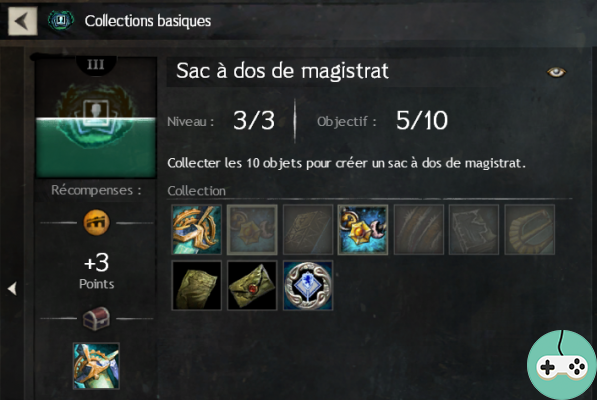 You are not without knowing it but with the arrival of the extension, we have the possibility to create thanks to the collections of new high backbones. These three new dorsals are in the effigy of the three orders of Tyria that we could meet in the base story: Sighs, Vigil and Durmand Priory.
Attention, despite the choice of statistics in this one, the news with the arrival of the extension are not present (viper, commander,…).
You should know that even if the appearances for each backbone are different, the steps are the same for all three. You will need to get the rare, exotic, and finally elevated ridge in order.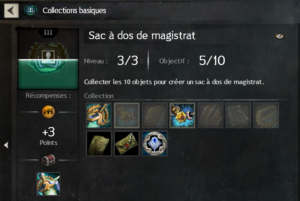 Rare dorsal
Exotic backbone
Dorsal Elevated
Backpacks can be obtained by completing Chapter 6 (Prisoners of the Dragon) of the base story of the expansion. You will have to redo the story with three characters to unlock each backpack and associated collections:
Order of Sighs: Initiate's Backpack
Order of the Watchers: Recruit's Backpack
Durmand Priory: Novice Backpack
This collection will allow you to unlock the exotic backbone of an order. You should know that you will have to redo the same steps for each of the backs. Make sure you take the right items according to your collection (Sighs, Watchers or Durmand)
Rare Backpack: Complete Chapter 6 "Prisoners of the Dragon"
Resilient Belt: Complete Chapter 7 "Valuable Effects"
Golden Buckle: Complete Chapter 10 "Curious Observations"
Waterproof padding: Complete chapter 13 "Hidden Knowledge"
Dragonbound Lanyard: Complete Chapter 16 "Bodies and Souls"
Maintenance Oil: Against 500 Aircraft Parts from an Itzel vendor (Emerald Edge)
Kohires: For 500 Aurilium Ore from an Exalted Vendor (Auric Basin)
Sharpening Crystal: Against 500 Crystals of Lines of Force from a Nunock vendor (Verdant Depth)
This collection will unlock the backbone of the order you have chosen. Some parts are the same regardless of the backbone, think about unlocking all three to save a little time.
Exotic Backpack: Complete the previous collection.
Raised Item: Complete the achievements of Act 1 (Watchers), Act 2 (Sighs) and Act 3 (Priory)
Rations of Orders: Buy a ration of an Order from the Aurilium Collector (Beginning of Auric Pool) and bring it to the corresponding Order Weapon Vendor
Weapon Collections: Complete the weapon collection of each order. You must have a character affiliated with each order as well as a hundred gold coins for each collection
Order Guides: Each of the guides is linked to a map resource and will be available to the corresponding merchants. The guide value is 1000 card resources.
The last five objects require exactly the same events to be completed in the extension (the names are just different in the collections). The events are as follows:
Defeat Mayatl the Ferocious in Emerald Oree (South of TP of Camp Itzel). Requires mastery of Direction Itzel
Defeat the Tarnished Traitor in the Auric Basin (Under Dry Up). Requires mastery of Exalted Development
Defeat Potoni the Colossus in the Verdant Depths (At the top of Camp Nunoch). Requires mastery of Nunoch Demonstration.
Complete the Regent Chak meta-event at 75% or more (Verdant Depths)
Defeat Mordremoth at Dragon's Retreat