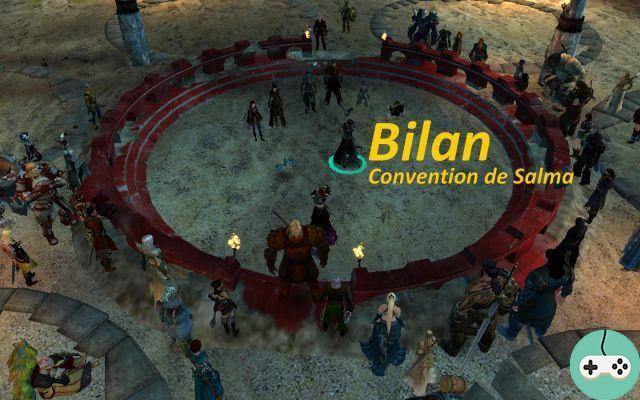 Remember, on October 2, I told you about an event on the server Jade sea : The Salma Convention, created and directed by Esprit d'Orr.
This event went superbly well, everything was square and meticulously prepared. No one bothered us during the interviews with the guilds, the players were warm and it really felt like a gathering of players who had come to attend, but most importantly participate, at the server's first community event!
Bags, the administrator and responsible for the project Spirit of Orr, communicates to us an assessment of this event.
Good evening everyone,
Those who were present yesterday undoubtedly noted that the Salma Convention went very well overall. Nearly 15 guilds came to present themselves on stage or in the convention space and at least 150 people who marched among the stands of Fort Marriner and the central stage (without a ticket office it is impossible to give exact figures but we should easily approach this number if not much more). There was hardly any noticeable hitch and the visitors behaved in an exemplary manner, thus allowing the smooth running of the animations. Some visitors were even able to discover the practice of role-play in joy and good humor, at the same time allowing us to expand our close-knit community. All of these are very positive points for us and the success of the event reinforces Esprits d'Orr in its mission.
I would like to thank all the members of the Esprits d'Orr staff who made this Convention possible as well as all the partners who advertised to us and some of them came to support us at this event.
A big thank you also to the Company of Jade Hunters who relayed the information on their interactive map and organized a PR event for the convention, as well as to all the guilds who came to introduce themselves to the community.
Yours.
Bags
For my part, I followed this event closely but my screens are of lower quality than those offered by Esprit d'Orr, so I am offering you their gallery.
Hoping to see a new event of this quality soon,
Good day to all !