Summary:
Basic dynamic events
Dynamic regional events
Presentation
Dynamic events are events taking place in a persistent area of ​​the world that are triggered by the result of player actions. They have several possible outcomes, depending on player actions during the event. Once triggered, an event takes place even if no player takes action.
Events are designed to replace traditional quests in MMORPGs. All players are notified when a new event takes place around them, and all players can take part, without having to first interact with an NPC. On the contrary, NPCs may even seek help from players. I have already had several times, during my quests, a woman come running towards me and shout "Help us! The centaurs are attacking our village!".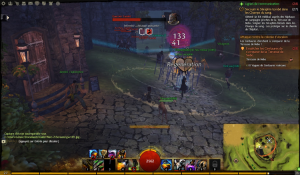 All players participating in an event receive a reward, which is not shared between players. In addition, it is not necessary to create a group to play this event together. In return, the events see their difficulty dynamically change depending on the number of players participating. It should be noted, however, that participation requires being active, not just standing in the region where the event is taking place.
Events create a constantly changing world: a player who crosses an area they have visited before will be able to benefit from a different experience thanks to dynamic events.
Here is a small presentation VOSTFR:
More info
Basic dynamic events
Dynamic events are profoundly changing the world of Guild Wars 2 and come in many forms. A triggered event will be signaled to a player by the message "A new event nearby" :
: This icon represents a harvest. For this type of event, you will have to pick up the requested items and bring them to the NPC who will have this icon above him. Example: apples, golem arms, ...
: This icon represents a combat zone or a monster attacking you. For this type of event, you will have to take part in the area and slap the enemies present.
: This icon represents a requested repair. For this type of event, you will need to repair buildings, catapults or various mechanical elements. Obviously it's not that easy and some monsters will get in your way.
: This icon represents an operation. For this type of event, you will need to operate a building such as a cannon, catapult, or other items. To operate means to maneuver / drive the building in order to shoot your opponents or build dams to prevent the progress of enemies.
: This icon represents requested protection. For this type of event, you will need to protect one or more allied NPCs so that they survive during their journey. Very often merchants want to rally one city to another but they need protection for that. It can also be high ranks to protect, food or others.
: This icon represents a flag, an area to be controlled. For this type of event, you will need to control a certain area for a little while so that it belongs to you.
et : These icons represent monsters. These icons will appear during dynamic events. These are the monsters that you will have to kill to advance in the event. The clenched fist represents a basic monster while the horned skull represents a boss: Very often a veteran monster therefore stronger than the others.
You may also encounter this icon which represents an event to be triggered. Go talk to the NPC indicated by this acronym so that he initiates an event.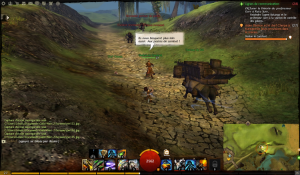 Dynamic regional events
dynamic region events (or Meta-event) are signaled to the player by a sentence to the right of the player's screen. For example :

In this image, we can see that the region is calm : Centaurs and Humans are calm, no front lines.
This can change quickly over the course of your travels and could turn into many other events.
Here are some of the Beta events:
The Centaurs Train Dogs of Stone in order to be more combative for their next attacks. Stopping this stone dog training will give you an advantage for the events to come.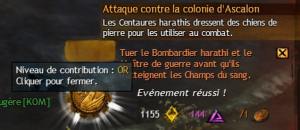 Taminis Chiefs (Centaurs) Gather and Define Attack Strategy. You need to find this Centaur reunion so they can't organize themselves.
For my part I could not find the location of the Tamini attack strategy and another stone dog training had been missed ...

... So which brings us to this. You missed event A + You missed event B. The Taminis have their dogs and are organized! It will hurt there ...
So we need fend off two enraged Taminis hordes and kill their Mughal champions!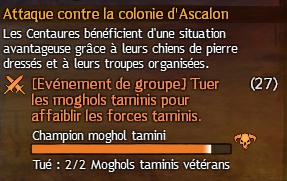 Always stronger, the Taminis seek to seize the city of Nebo, depriving us of a teleport point, repairs and merchants ... We also lose a

quest impossible to do if the city is in the hands of the Centaurs. We must therefore prevent this!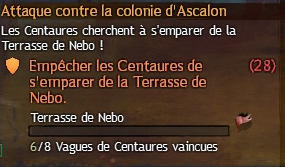 If we let the enemies get too comfortable, they can even besiege the city so that no one can exit or enter! Players inside this city have catapults available but can also shoot protected by the ramparts. Outside players can sabotage the trebuchets and thus push back the siege.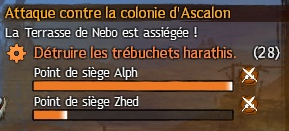 Although you can ignore these events and go your way, continue to chop your wood, mine your iron, kill your monsters and complete your quests; I advise you tohelp a minimum all the same the region so that it doesn't fall back on you later. It would be stupid to finally want to get out of a region but to be unable to do so because of roadblocks at the gates of the regions or even that all the towns were captured!
Rewards
Dynamic events offer players who achieve them various gains depending on their involvement in this event:
Experience , in order to increase your level of experience of course;
Du karma , used to purchase Cultivated Weapons and Armor (Race Specific), PvP Weapons and Armor, Kitchen Component Pouches, and other special items;
As well as a budget reward ranging from a few copper coins and money to the glittering gold coin "ki brille"!