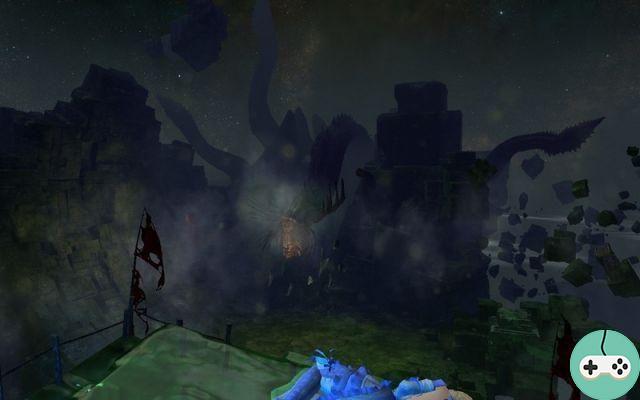 Solid Ocean is one of the 9 Fractals present in the new dungeon Mist Fractals. This fractal represents the "bonus" part with the special boss.
Summary:
Presentation
Loyalty card
Strategy
Rewards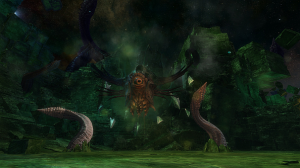 Presentation
Defeat the special boss!
Loyalty card
here is full detailed dungeon map.
The rest of the article will explain point by point how to succeed in this dungeon.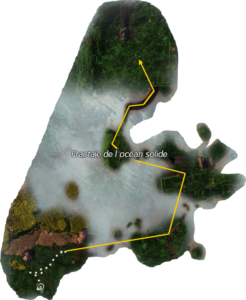 Make me bigger!
strategies
Associated successes:
Solid Ocean Fractal Stabilizer: Finish the fractal
Open tomb: Successfully kill all mobs in the fractal (ALL mobs, even small level 1)
Strategy:
This Fractal is unlocked after completing 3 Fractals, all levels even 2/4/6/8 ...
Le big boss
You just have to go from island to island while killing all the mobs for success, remember to kill the small creatures level 1 as well.
In front of the boss, tap his 2 tentacles. He will not appreciate that his tentacles are tickled and 4 other of these members will appear + water colossi.
The first part of the quest is to kill a number of Colossi, no great difficulty. Whenever you go to kill a tentacle or a colossus, reflective crystals will appear, allowing you to survive as well as kill the big critter. This one sends a laser beam on one of the members of the group randomly. In order to see which one will be hit, a skull on an orange background appears above the target player.
This ray will kill the targeted player instantly! Be sure to dodge at the right time in order to survive.
The only way to kill the beast is to have a reflecting crystal when the ray hits you. This will charge the crystal. All you have to do is target the big beast and fire a shot at it with its own laser.
When its health reaches 15%, all party members will be targeted. At least one player must survive to deliver the final blow.
This done, bravo to you! The chest of this Fractal very often gives exotic but also bonus Fractal Relics?
Here is the exploration of the Solid Ocean by the SadoExpédition :
Rewards
Each time you level up, the difficulty increases and the rewards are better. So you will earn more Fractal Relics and more items!
Relics of Fractals rewards according to the difficulty chosen
Level 1 to 5: 5 Relics of Fractals;
Level 6 to 10: 6 Relics of Fractals;
Level 11 to 15: 7 Relics of Fractals;
Level 16 to 20: 8 Relics of Fractals;
Level 21 to 25: 9 Relics of Fractals.
Daily safe
Levels 2 and 4: Bag of gold + 15 relics
Level 6 and 8: Bag of gold + 20 relics
Level 10+: Bag of gold + 25 relics and a possibility of obtaining a ring Ascension.
There will also be some changes depending on your difficulty level:
From Level 10: Bosses begin to inflict new Agony condition. Coagulated Mist Essence Balls can be dropped. Rings can also be obtained from bonus chests;
From Level 21: Infused Rings can be obtained from bonus chests (+5 Agony resistance).
Obviously, equipment drops all the way through your dungeons?
Thank you for reading me and I tell you very soon for new guides!
Feel free to send me your own version or images of the Solid Ocean, that would make us very happy and other players could also enjoy it?
Also if you feel like writing for gw2-guide, the procedure can be found here!
Thank you !
source
Inspired by Artificial Wave, spanish Wikipedia GW2 and my experiences.