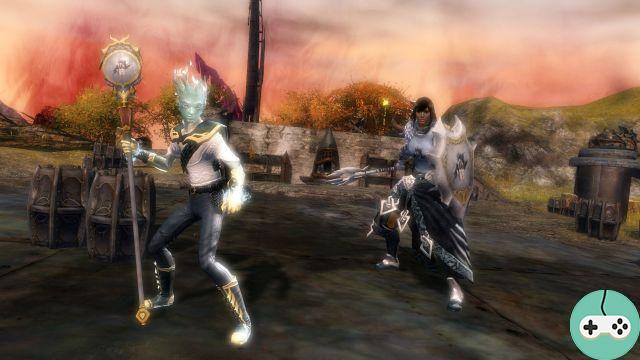 Scheduled for September 9, the feature pack is a collection of work done solely on the game's features. The first week was devoted to Player vs. Player modes. This second week puts more emphasis on the overall experience of the game with a bit of Player vs. Environment.
Mega server improvements
Since April 2014, there is a mega server to bring together more people and that the cooperative aspect takes precedence.
World Guilds
Already established in China, the system is landing in Europe and North America. This means that all the old sub-parts (by world) will be federated in the same place, in a single guild: bank, influence, improvements ...
The total amount of awards may exceed 250 when switching to the global system.
You will have to go back below the threshold to gain more.
The same goes for consumables.
Any upgrades you would have unlocked, no matter in which world, will be available in your world guild.
If you unlocked the same upgrade on multiple worlds, you will be refunded its influence and award cost.
The largest chest your guild owns among the worlds will become the only guild chest. Items stored in other chests will be stored until you collect them in locations that will disappear when empty.
Guild missions
The mega server system will now be accompanied by a reservation subsystem that will automatically activate as soon as a member of a guild joins a map to do a mission there, and will give priority to players in his guild for join this card. At the moment, the number of locations is limited so it is aimed at small and medium guilds. Larger guilds will have other upgrades in the future.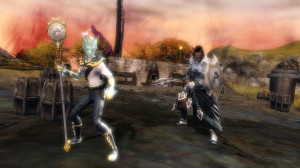 Other
Problems on the mega server have been resolved and you will be able to change the card (if it becomes empty) via a message displayed on your screen. If you volunteer, you will receive an increase in movement speed by 15%, karma gain by 5%, and experience with each enemy killed by 10% for 10 minutes. The system makes it possible to complete the cards not folded and to always find an ally nearby.
The default chat filter has been removed: it is not always easy to talk to strangers, but it also blocked communications. If you have issues with harassment, you can report it in-game.
There are plenty of other leads on this path.
General improvements
From now on, all players in an instance must leave it for it to close. There is no longer any notion of the owner of the instance (the first player to enter it before).
For crafting, when you open a recipe, from this page you will be able to access the recipes of the subcomponents. This will save you from having to search every time.
Several game performance updates.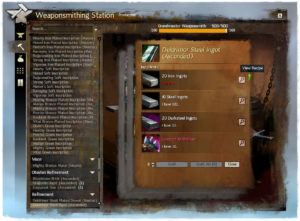 Items and loot
Objects related to progression
The recipes for these items are intended for advanced craftsmen, and monsters will drop versions of these weapons with stat combinations that suit even leveling characters. Their rarity can go as far as the exotic.
Craftsman backpack
They are only available through crafting and will look different depending on your trades. You will be able to use it from the first levels of the game and will adapt more to combat in terms of statistics than normally.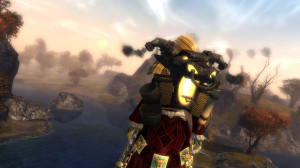 Best Booty
It is always annoying to fall on staves when you are a warrior, which is why you will be less likely to find items unrelated to your profession. What to have more chances of finding the rare pearl.
For new players
Whether it is for new beginners to the game, or those who return after a long absence, the developers have transposed many improvements present during the release in China, on the European and North American versions.
The user interface at the top right of the screen will display beautiful green arrows to guide the player to progress.
This system will be customizable in the options.
The game's features will be introduced more smoothly to new players so as not to overload them with information (although these features have been usable for a while).
There will be a new level-up screen to introduce these functions.
There will no longer be a need to learn all the skills for each type of weapon. If you unlock 3 skills with a weapon and pick up a new one, you will have 3 skills.
The statistics will increase in stages, to make it more meaningful.
The level and personal history rewards are much more rewarding.