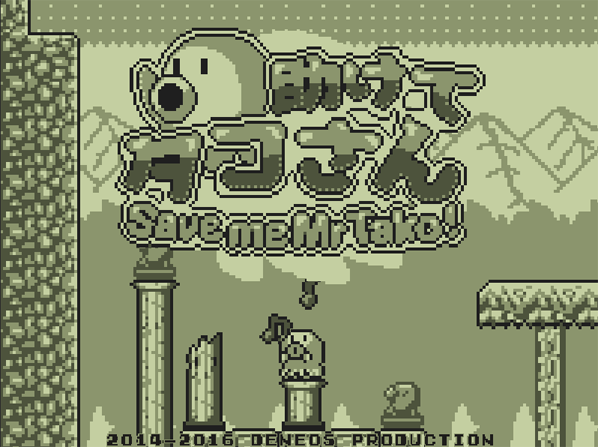 During Lyon eSport, a Game-Zone space was established to present several games from independent studios or student projects. Save Me Mr Tako is a game developed by a young spanishman at the occasion of the 25 years of the Game Boy. Below you can find an overview of the game as well as our impressions of me and Shana.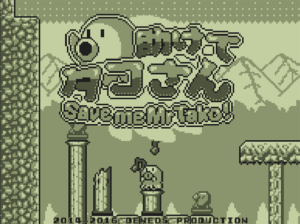 Save Me Mr Tako is a platform game with an RPG side. Basically, you embody an octopus rebelling against the authority of his kind for help humans. The catch is that your character is a pacifist and doesn't want to hurt people who stand in his way. As you travel through worlds to save humans, you will be able to spit black ink to cripple your enemies. However, it is not unlimited and you will have to collect some to be able to continue your epic. Be careful though, you don't have no room for error, just hitting an enemy kills you instantly.
To help you in your adventure, you will have access to many powers materialized by a hat (1 worn + 1 in reserve). In your hat wardrobe, you will have the possibility of having a whip, a shield or even lasers. In short, a great range of skills that you can recover throughout your journey through the levels. In theory, hats are not necessary to complete a level but above all they are very useful.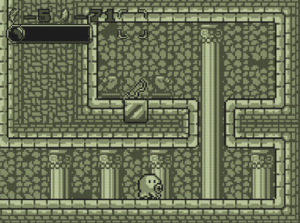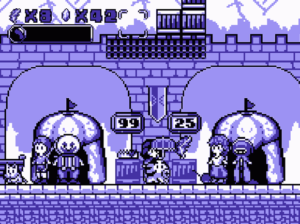 Regarding the interface, the different elements will all be useful to you during your journey. We have respectively:
Feathers that match your life
Crystals used in the store out of the worlds
Ink representing your gauge to be able to paralyze monsters
On the game side, Save Me Mr Tako is a 2D horizontal scrolling game as could be the games of the time. The levels are represented by doors like Super Mario 64 and will take you to various regions (ocean, villages, dungeons, ...). Regarding the gameplay, the game will be compatible with all controllers. Finally, a runner mode will be available at the exit of the game to face your friends in team races where only the score will count.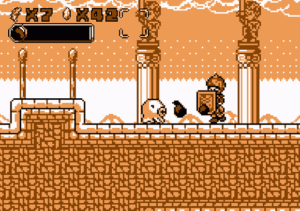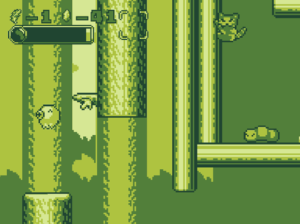 If you want to know more, you can find the developer interview on his game:
Talish's opinion:
I was rocked by games like Secret of Mana and the retro universe. Finding a game from this era in our current context (running well on PC) is a real godsend. Basically, Save Me Mr Tako is a good platform game with a universe of its own. RPG connotations bring more to the game and a certain dimension to it. I expect a lot from the game when it comes out because the quirky universe and its different aspects really pleased me.
Shana's opinion:
This game was originally produced and designed for the Game Boy's XNUMXth anniversary. For this, the choice was made to constrain the technical and graphic constraints of the Game Boy, as well as the gameplay constraints. We find here the Game Boy aspect in a platform game that will make players who have owned this console nostalgic. However, the game may be less appealing to "young" players accustomed to more elaborate graphics. Hats off also to the developer who works almost alone on this game (if I'm not mistaken, he only collaborates with someone other than for the music).