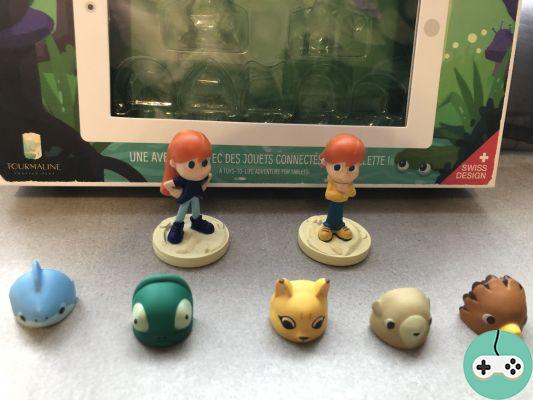 You certainly know Disney Infinity, or even LEGO Dimensions and Skylanders, these minifigure games that combine a video game with physical objects, often pretty minifigures that look great in a display case and make you want to collect them. It is on this rather risky niche, because often very unprofitable due to the high production costs of the products, that the independent Swiss studio Tourmaline has positioned itself with its game. Oniri Islands, recently released on Android and iOS. Thanks to a physical pack of two figurines with their five small masks, we went on an adventure:
The game is preferably played on a tablet, in order to provide a sufficiently large game screen: the creators recommend a minimum of 8 inches as indicated on the game's product page. The application is free and there is a version " Key "accessible in the shop section, it is a paid version playable with the finger, even if of course you will lose all the appeal of the title. As one of the creators explained to me:
We don't put it forward because the real Oniri experience is the option with the miniatures. Indeed, the gameplay and the game mechanics have been specially designed for this toy-screen configuration.
To fully enjoy it, you will need to buy the pack sold for € 49,99 on the official Tourmaline website (a nice Christmas present by the way!).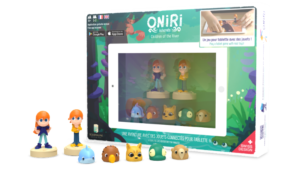 The figures are made of conductive plastic, of good quality, with a solid base that will withstand any drops. The painting is well done and the pastel colors are very pleasant. The small masks, in classic plastic, fit easily on the heads of the characters by positioning themselves behind the ears from where they no longer move. On the other hand, these masks are purely cosmetic: they are not recognized by the game (so that if one is lost, it does not impact the game experience).
Oniri Islands tells a nice story with a Granny as the narrator. As Tom and Mina, a brother and sister, were taking a bath, they find themselves embarked in a strange world traversed by the Oniri River, an unsuitable place for the living who turn into statues if they do not escape. very quickly. Fortunately, when she was little, Granny also visited Oniri and she can therefore guide her grandchildren through this mysterious adventure sprinkled with unexpected dangers, not to mention a good dose of beautiful discoveries. Children aged 6 and over will appreciate this pretty tale according to the age indicated on the pack, even if personally I recommend a few more years, the themes covered being despite everything quite dark and serious (and in particular death, and what happens after death). Note that knowing how to read is not mandatory, all the texts are duplicated.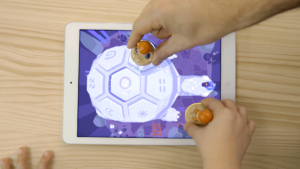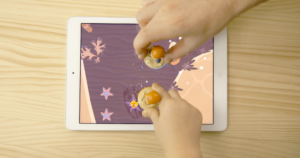 The game combines phases of exploration, in a strange fantasy universe, with puzzles mainly based on the transport of elements or interaction with the scenery. Ad hoc tooltips provide information on what to do, ensuring players are never stuck. Although this game was designed for two players, a single player can quite move the two figures (which is also sometimes easier, even with two players, for some passages which require a certain coordination).
During our test, the handling of the figurines was sometimes a little hesitant, they are not necessarily immediately recognized and collisions occur between the circles of the two characters, so that neither of the two is recognized anymore. With a little practice it gets better, and by the end of the first chapter we were able to walk side by side without difficulty, and even navigate narrow passages without getting in the way. In fact, it's all about pressure: you have to press hard enough on the screen so that the figurine is detected using the three connectors under its base, while maintaining this same pressure over time so that the game does not lose. not the connection. Of course, the screen must be perfectly clean for this to work and preferably not have a protective film.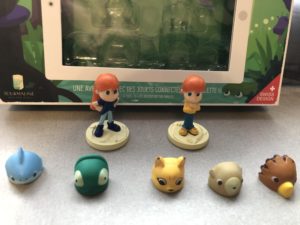 There are currently 3 chapters available. The first chapter is played in about 30-35 minutes depending on the players (ages, habits with video games, types of players: those who want to see everything, those who take their time), the other two are a little longer and it takes forty minutes to an hour of play each. Depending on the success of the game, the studio plans to complete the adventure with two more chapters.
Conclusion
Despite some handling difficulties as mentioned above, the fact of interacting with the game thanks to a physical object totally changes the way of playing and offers an unprecedented experience of collaboration between the two players.
In any case, we will retain the innovative and original side of what turns out to be a very nice game. Especially since it can be played as a duo, but also solo, Oniri Island is therefore without hesitation an experience to live between brother and sister, or between parents and children, to spend an excellent afternoon embarked by these adorable little figurines in a world of dreams and nightmares.
Oniri is an experience that we recommend to live in a quiet place, at home for example. It is a game that was designed for two people, children, parent and child, or even between friends and / or as a couple. Sound is important as the narrator's voiceover tells the story and guides you, so having the game sound turned on in a location where there is not too much noise is preferable.
If you live in Switzerland, you will find it in a few shops: Mix-Image (Lausanne & Geneva), King Jouet (Carrouge) and Bulle d'Asie (Vevey). The box is also available at the Maison d'Ailleurs boutique in Yverdon-les-Bains. For stores in Europe, the studio works with a spanish distributor, the objective being to sell Oniri in brands such as Fnac, Boulanger, or Cultura. It will also soon be sold in the Games Café store. Otherwise, the box can of course be ordered on the official website and, with the promo code ONIRI_GIFT, delivery costs are free until December 31:
Pack Oniri Islands - Children of the river - € 49,99